Marketing and Security Drive NFC-enabled Innovation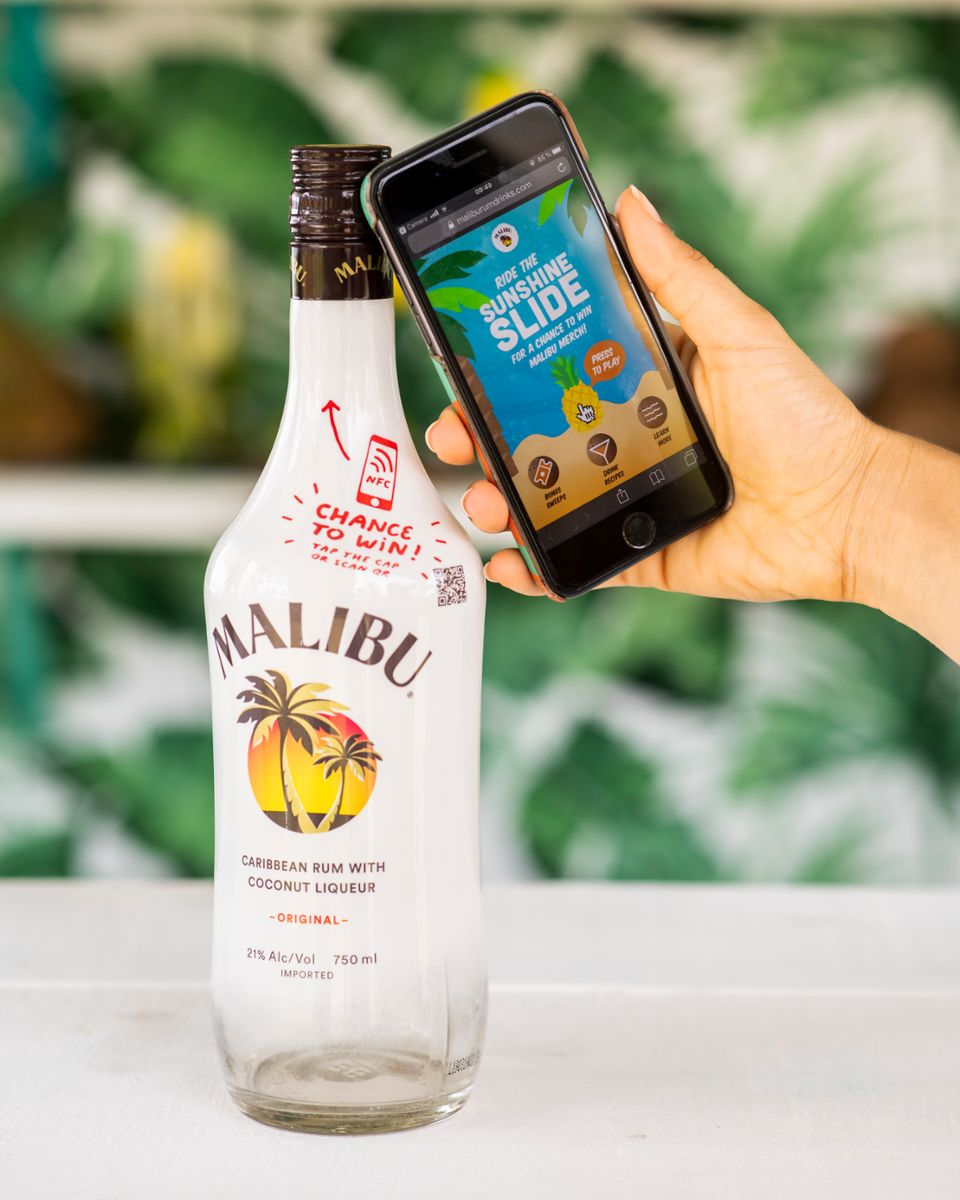 As a product typically driven by tradition and heritage, wine isn't the first alcoholic beverage many would consider to be innovative in its packaging. Rather, stereotypical images of glass bottles, natural corks and chateau-adorned labels immediately come to mind. While the use of new materials, like cans, is something that has only recently become more acceptable for more than just bargain brands, there are some companies that made the move toward alternative and more sustainable materials sooner than others—and they're being rewarded for it in the marketplace.
Now, even though new packaging technologies have become available, wine brands aren't as active in applying these tools as, say, their spirits or consumer packaged goods (CPG) counterparts. Part of the dilemma was that, for a long time, the technology was more expensive—there just weren't many affordable, reliable options. But today, beverage alcohol brands are able to take advantage of new products and methods, at a much more palatable price point, that solve a multitude of problems, including collecting consumer data and ensuring the legitimacy of the product, and at the heart of those solutions is near field communication (NFC).
The use of NFC-enabled packaging in the beverage alcohol space is growing, albeit off a small base, as wine and spirits companies look to build bridges that lead directly to their drinkers. For those brands with heavy retail presences, NFC-enabled capsules, corks, screw caps and labels have provided the opportunity to circumvent on-premise gate-keepers and engage with the end consumer one-on-one to tell a brand story. For those utilizing a more direct-to-consumer model, NFC facilitates an easy interaction that builds upon the tasting room experience and keeps club members connected—much more so than simply receiving and opening shipments.
What is NFC?
NFC has played a part in many consumers' daily lives. It fuels Apple Pay and Google Pay, and many credit card companies have issued cards that require just a tap against a payment reader. NFC is a way to wirelessly transfer data by enabling two devices embedded with NFC chips placed within centimeters of each other to communicate and share information (such as credit card numbers or images) through a wireless link. Because it is such a low-power technology, it does not require a unique link or pairing code. It's a natural evolution from radio frequency identification (RFID) into a much simpler and faster method of data transfer.

In a wine industry marketing example, the NFC chip-enabled devices most often discussed include closures, capsules or labels, as well as the consumers' smartphones. Until now, however, the technology has most frequently been used by wine and spirits companies as an anti-counterfeiting measure.
Anti-counterfeiting and Other Security Measures
Anti-counterfeiting measures themselves are not a novel concept in wine, though the use of NFC chips as a tool to do so is relatively new.
For more than a decade, there have been measures security-conscious designers and brands could take to ensure that the wine bottles collectors held in their hands were real, and those measures worked in much the same way the United States Treasury employs special inks and holograms to fight counterfeiting. AV Unique Label from Authentic Vision uses QR codes and holograms on labels; Prooftag uses translucent polymers, QR codes and a datamatrix on a strip that would be applied to the neck and foil of a bottle; and SICPA offers a range of similar products.
At the outset, these were the solutions for high-end, rare or cult brands that dealt with collectors, auction circuits or overseas buyers. Revenue loss was an obvious reason for the measures, but damage to a brand from subpar wine was the bigger threat.
Today, more producers outside the collectors' sphere look to prevent potential harm to their brand's images and are proactively turning to new, more secure, packaging solutions to thwart the risk.
One of the first NFC-focused products launched widely in the United States was InTact, a smart capsule created through a partnership with packaging manufacturer Amcor and Belgium-based marketing company Selinko in late 2016. InTact takes advantage of some key security features inherent to the NFC technology: it can monitor the location of the bottle from winery to warehouse and from the warehouse to its final destination—the retailer and/or end consumer. It can also detect whether the capsule has been removed or damaged, thereby stopping potential counterfeiters from opening and drinking, and then re-filling, re-sealing and re-selling that bottle with cheaper, lower quality wine. An NFC chip also offers one other obvious additional security advantage: it cannot be replicated as easily as the highly-visible QR code.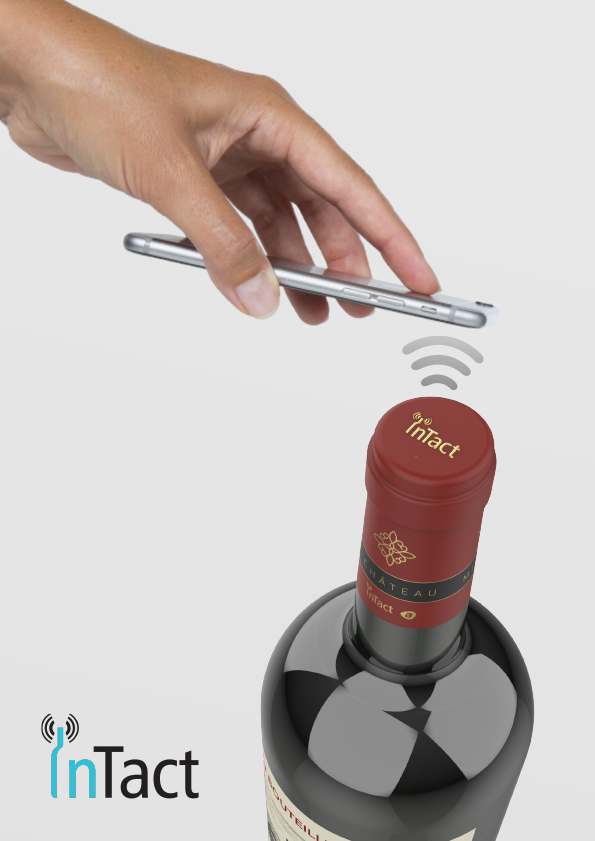 Since the launch of InTact, several product manufacturers have gone a step further and launched products that incorporate the chip into the closures themselves, and wine and spirits brands are taking note.
In the spirits world, counterfeiting has become a problem, particularly in some of the fastest-developing spirits markets of Eastern Europe, Asia, Latin American and Africa—a recent Euromonitor report estimated that 30 to 50 percent of all alcohol sales in Russia are actually illicit vodka. With this data in mind, savvy producers are increasingly implementing measures to stop potential imitators in their tracks.
In early 2019, Corticeira Amorim, one of the leading natural cork suppliers, launched its Tap Series, a range of bartop cork stoppers for spirits brands to help in the fight against this particular threat. According to Amorim, embedding the chip within cork itself adds an extra layer of protection that makes harder for thieves to operate—because cork is not a natural, local product where counterfeiting is strongest, it cannot be easily, or cheaply, sourced.
Guala Closures Group also jumped into the NFC game with the debut of its Nestgate range of NFC-enabled closures in summer 2019, featuring seven caps for wine, spirits and olive oil.
Vigneti Massa, a wine estate in Italy's Piedmonte region, saw the benefits of NFC technology, and uses Guala's closures in conjunction with a blockchain platform produced by Luxembourg-based software company Compellio to provide unique identification codes for every bottle, ensuring traceability of bottles along the supply chain.
Walter Massa, joint owner of Vigneti Massa, will launch the cap with the 2018 vintage. "One phenomenon that is not talked about much is the counterfeiting of great wines," Massa said in a statement. "The NFC system guarantees the fight against counterfeiting and the 'black market' for these pearls of nature, assuring their authenticity and traceability."
Moving from Anti-Counterfeiting to One-on-One Conversations with End Users
While theft prevention is critical, a few wine and spirits producers have picked up on the marketing implications of NFC technology as well. By teaming up with software companies that connect bottles and content to the Internet of Things, brands are able transform traditional packages into lively and experience-based tools. Unique coupons and access to wine club-only offerings, as well as content related to the production of the liquid inside, are only a few of the ways that a handful of wineries around the world have made the most of the software.
When Amcor and Selinko first launched InTact, one of the highlighted benefits of the capsule was that ability to connect a product to the Internet of Things, without the hassle. A consumer need only hover a smartphone near the capsule and brand-generated content would appear on-screen—and it didn't require the consumer to download a separate app. It was a simple, non-obtrusive way to start a relationship with a wine drinker.
This feature encouraged brands using the platform to step up efforts and do more than simply drive customers to the website. Instead, strategic marketing and collecting consumer insight became the focus.
NFC chips are often provided unique identification numbers, which foster the use of geolocation, allowing interested brands to collect data to better understand which cities and retail locations its most engaged consumers are living and shopping. Emboldened with this information, targeted marketing in the right regions and among the right demographic groups could lead tactical product teams to stronger sales.
Copper Cane Wines & Provisions was the first U.S. winery to implement Guala Closure's e-Wak NFC aluminum closure and use it for its Böen brand. As most bottles of this brand are sold in outlets other than its own website and tasting room, Copper Cane needed a way to connect and engage with potential customers earlier in the purchasing process to drive home the initial purchase and further sales.
Those interested in Böen need only follow the "Tap our Cap" instructions (shown on the top of the cap and on a callout collar) to be tranpsorted to a website that features imagery of the winery's vineyards and farmhouse. Through the site, Copper Cane offers more information about how and where the wine was made, food pairings, and a social media element with a hub for drinkers to share their experiences with the brand. The technology for e-Wak was developed by Guala and SharpEnd, an agency that works with fashion, spirits, food and other CPG brands to connect packaging, retail and experiential activity.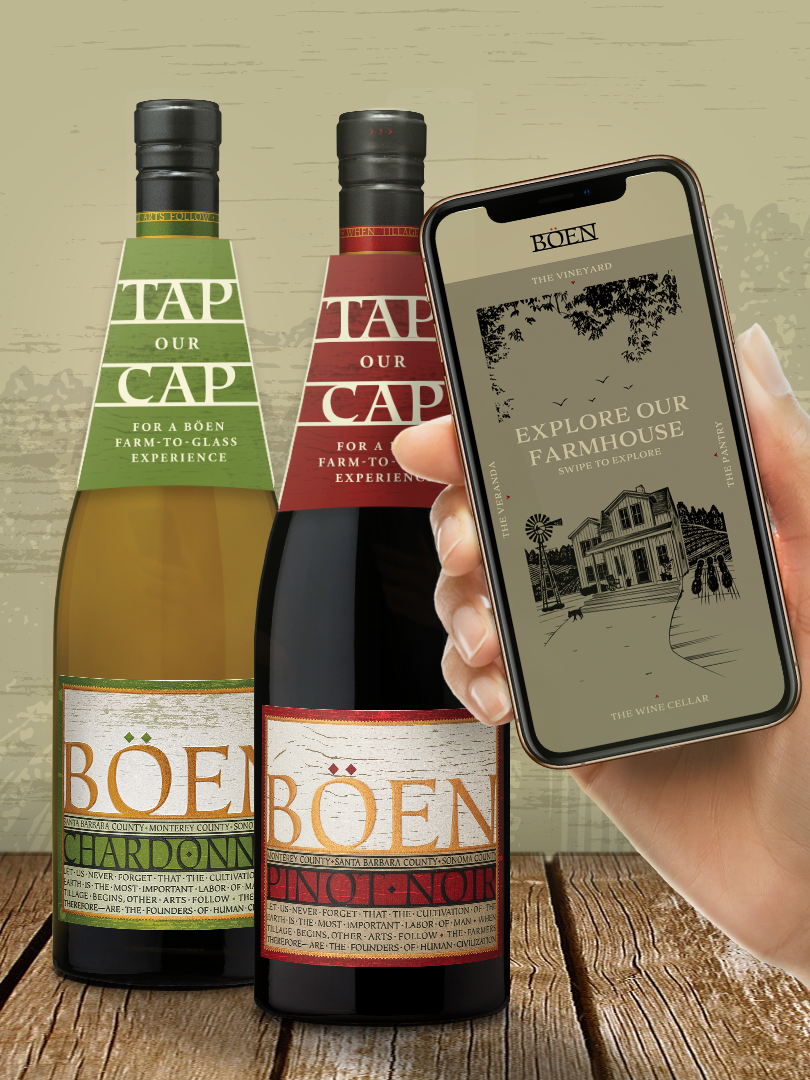 In Italy, Massa is also using Nestgate NFC-enabled closures as more than a security measure. Massa's consumers tap on the wine's cap and are taken to a portal to create their own virtual cellars, as well as find more information on tasting notes, reviews, and vineyard and winery specs.
Pernod Ricard also used the Nestgate line for 300,000 limited-edition bottles of its popular Malibu rum to support The Malibu Games, a marketing campaign that encourages its drinkers to become the "global icon of summer."
"Malibu has transformed its bottles into media touchpoints, allowing conversation in a space that is notoriously saturated," global brand manager Caitriona Murphy said. "Our bottles with connected closures help keep the brand relevant post-purchase, providing services and experiences to the consumer beyond the liquid itself. By transforming the one asset Malibu knows its consumers come into contact with, we're able to connect with our target audiences on a much deeper level, through the experiences we offer."
Audiences in Texas and Ohio, where the special bottles were distributed in the summer of 2019, were able to access exclusive content related to The Malibu Games and join in by playing a mobile game called Sunshine Slide. If players did well, they could win prizes and, thus, the spirits brand gamified the relationship between rum and drinkers.
Brazilian cachaca producer Cana is using Amorim's Tap Series to help connect to its community of drinkers while better understanding consumer behavior patterns—a feat typically hindered by the nature of the three-tier system. With its app, the spirits producer facilitates a continued connection after the drink with reward tokens (another method of gamification) awarded for engagement, authenticity verification and a social platform.
NFC technology is not just confined to closures and capsules, either. BottleVin, Inc., a marketing and analytics platform, is incorporating NFC chips into its labels, and many of its winery clients, including Reynolds Family Winery, Balboa Winery and Bricoleur Vineyards, are taking advantage.
This article is from the April 2020 issue of
Wine Business Monthly
.
To read this, and other feature stories,
click here
.
by Erin Kirschenmann
Erin Kirschenmann is the managing editor for Wine Business Monthly and has been with the company since 2012. In addition to production responsibilities for the monthly trade magazine, she writes about business, technology, sales and marketing topics, and oversees content for WBM's eight conferences. She has spoken on industry trends at numerous conferences, including the Unified Wine & Grape Symposium and the World Bulk Wine Exhibition and guest lectures on wine, media and public relations. Erin has served as a judge in the Concours Mondial de Bruxelles since 2016 and at the Central Coast Wine Competition. She earned her Bachelor of Arts from Sonoma State University in communications with a journalism emphasis. Find her online @erinakirsch or via email at erin@winebusiness.com