Crisis Sales Surge is "Stunning" but Not Sustainable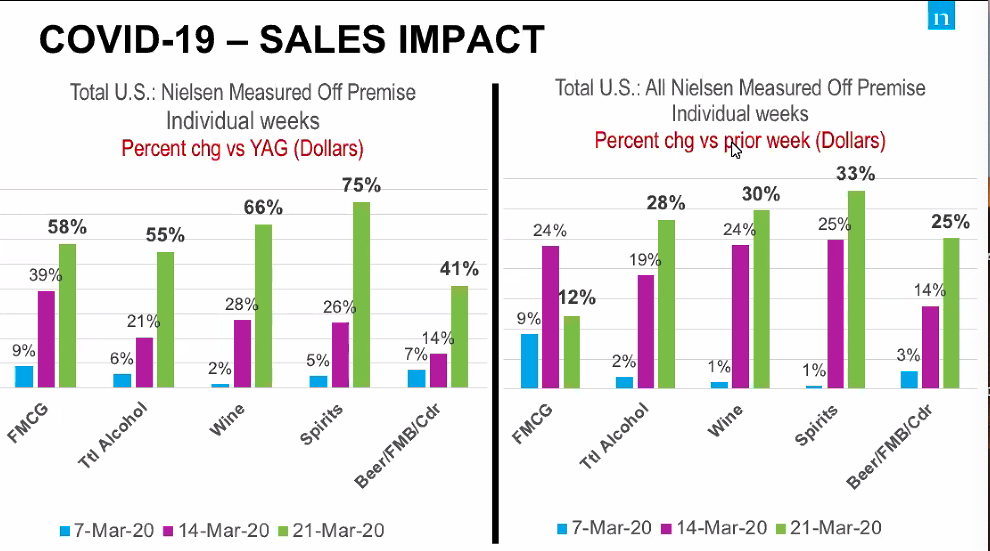 It may feel as if the world is ending, but the wine industry just had a holiday sales surge.
In the week ended March 21, wine sales rivaled that of the week of Christmas and were equal to sales during the week of Thanksgiving. Spirits saw its second biggest sales week after Christmas and beer sales rivaled those of Fourth of July.
"It's not just huge, it's stunning," said Nielsen's Danny Brager in an April 3 webinar hosted by the Wine Market Council (WMC). "It's very large and very broad (and) likely running well ahead of consumption."
While the numbers may be similar to what's seen during a holiday, no one is partying. The sales have been described as "pantry stocking" by shoppers stuck at home because of shelter in place orders issued by state authorities to slow the spread of the Covid-19 illness.
High-priced Champagne was the one wine type that hasn't seen a significant increase. "Celebrations might not fit the current environment right now," Brager said.
Brager is Nielsen's vice president of beverage alcohol practices and has been issuing weekly reports on the off-premise sector since the Covid-19 crisis began. He said with on-premise sales essentially shut down nationwide, off-premise sales have to grow by nearly 18% to get the entire total U.S. alcohol beverages market to break even on volume sales.
In the week ended March 21, wine sales value compared to the same period a year ago was up 66%, and the week prior was up 28% against the previous year. Week-over-week sales have also been strong as more shelter in place orders have spread across the United States and it's become clear the crisis will take longer to abate than may have been previously thought.
Brager said in looking at sales increases across multiple states, the smallest he found was 40% indicating that even in states where it took longer for the crisis to have an effect, such as Florida, shoppers were still stocking up.
Such sales growth isn't likely to last, and Brager said he'll have fresh data on Monday, April 6 for the week ended March 28. This latest data likely will indicate if consumer spending has slowed now that shoppers have stocked up.
Sales could slow further if the crisis extends longer, and the already bleak economic outlook for the U.S. worsens with more laid-off Americans exhausting their savings.
Brager said previous crises have shown that Americans drink wine regardless of the economy and wine consumers have tended to be better insulated from economic downturns.
While wine sales overall are up, the largest brands have benefited the most. Brager said the top 10 retail brands increased their market share by about a percentage point to 24.5% in the week ended March 21. Each share of the total market is about $171 million worth of sales. "Everything else is up, but share-wise they're benefiting even more."
By package type, cans saw 100% sales growth in the two weeks ended March 14 and March 21 compared to the previous year as 3L boxes saw 60% sales growth in the week ended March 14 and nearly 140% growth in the week ended March 21. In that same week, 5L boxes were up more than 60%.
Hard seltzers, which had been the sales growth leader in the beverage alcohol sector prior to the crisis, continued to see strong growth gaining 456% over the previous year for the week ended March 21.
With so many Americans staying home, e-commerce for all goods has doubled but the growth for alcohol has been even stronger, growing by 243%, according to Nielsen and Rakuten Intelligence data.
Sprits, up 400% during the second half of March, saw the biggest gains but wine has long held a 70% market share in this sector and so its growth has been off the largest base.
The webinar also included insights on e-commerce shoppers by Christian Miller the owner of Full Glass Research and who conducts research for WMC. Miller said Covid-19 impacts appear to follow a similar timeline of awareness, impact, effects and emergence. Florida appears to be in the awareness phase, while New York City is undergoing the impact and South Korea appears headed toward emergence. "We're seeing repeatedly similar patterns across markets," he said.
The surge in sales may continue as more major markets enter the earlier phases of the crisis, but such double and triple digits gains are obviously not sustainable and likely will only last a few weeks.
Back in 2018 when the council conducted a survey on online wine shopping, it found most consumers hadn't adopted the method and those that were shopping online were doing it for the convenience, to find a better price or specific brand. Deterrents where the cost of shipping or having to be present to sign for a delivery.
The crisis, however, has forced millions more Americans to buy wine online for the first time and they're likely to continue to do so.
Wineries need to effectively manage their web presence to appear in search engines for wine sales and delivery or work closely with "click and brick" retailers that have a robust online sales platform and delivery system. Such retailers and apps like Drizly already appear to have a dominant position in web searches for online wine sales.
He described wine club members as a "safety net" for wineries, which should broaden their marketing outreach to consumers that may have purchased wine directly from them in the past but aren't club members or to consumers who live within the local area. This outreach should be different than existing club members where the focus should instead be on encouraging them to enjoy any allotments they have been saving. "That's the perfect setting for a virtual tasting in my opinion," he said.
Dale Stratton, the WMC's new executive director, said it would be repeating much of its earlier work on understanding the motivations and preferences of online wine shoppers in the coming weeks as well as other projects to assess Covid-19's effects, which will be wide ranging and lasting. "No matter what tier of business you're in, the landscape and the manner in which shoppers behave will be different."
by Andrew Adams
Andrew Adams is the editor of the Wine Analytics Report and contributes to Wine Business Monthly