Eastern Winery Exposition Held in Lancaster, PA -- Just in Time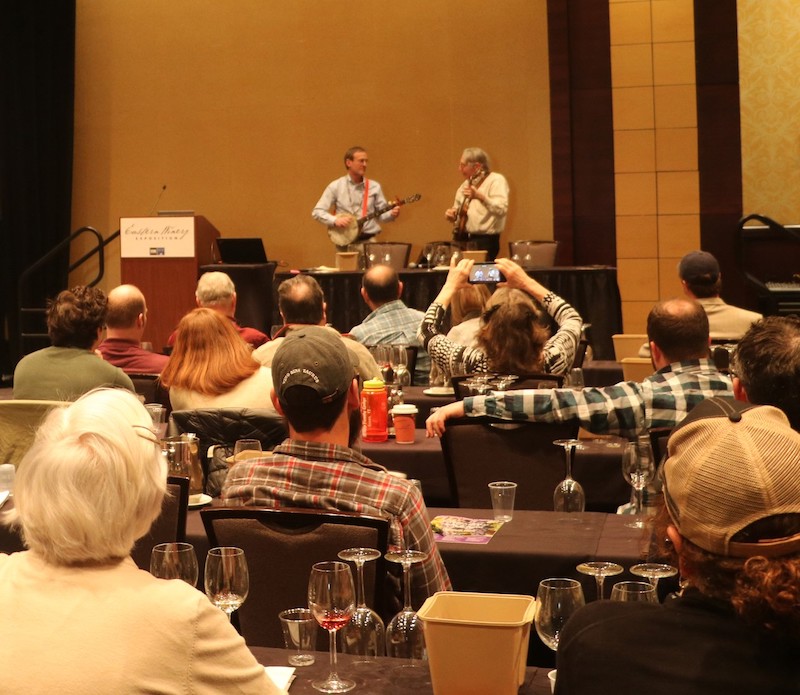 The 2020 Eastern Winery Exposition (EWE) took place in Lancaster, PA from March 10 to 12. This year there were no snowstorms or icy roads; instead the weather for EWE was mild, temperatures were warm and the daffodils were blooming. While the threat of the coronavirus increased as the number of cases of COVID-19 rose in the United States and the stock market plunged, almost 1,100 people attended EWE, a record high for the conference. The trade show was sold out months in advance, only a few vendors dropped out at the last minute, and many exhibitors reported record sales at the event.
A few of the speakers could not attend or were not permitted to travel to the conference for the final day. However, their power point presentations were in place, and the speakers were able to call or skype into their sessions and present their talks.
A number of sessions during the conference addressed different aspects of sustainability, from land use and viticulture to the options for packaging the final product, wine.
EWE workshops
Two of the three workshops on Tuesday, March 10 covered a variety of sustainability issues. Greg Jones, professor and research climatologist at Linfield College in McMinnville, OR set the stage for the workshop on "Climate Change and Sustainable Viticulture." As a climatologist, he looked at temperature and precipitation trends across the country and the world, noting that temperatures have warmed significantly, but not at the same rate in every region. He mentioned one example of the rise in temperatures: there is now a vineyard in Norway at 61° latitude, which is much farther north than grapes have grown in the past.
While in general, winter temperatures have warmed, reducing the cold hardiness of grapevines, climates don't change on the average. "Winter freezes don't go away," Jones said, "We're just not as prepared for them." He commented that warmer soil temperatures and spring air temperatures may result in earlier bud break in vineyards, but spring freezes still occur. Flowering may be affected by cloud cover and rainfall; veraison and harvest may occur earlier and with more variability. In other words, grapevine phenology is showing compressed phases, with each beginning four to eight days earlier than in the past.
While the amount of precipitation varies from year to year, Jones noted that a warmer world atmosphere holds more moisture. The Eastern United States has been wetter since 2000, and temperature trends in Pennsylvania show more days above 32° F and more days above 50° F. Both the season for heat waves and the length of heat waves have increased. As the planet warms, a 2° F increase in average temperature will shift where we can practice cool climate viticulture and also affects the varieties of grapes that can be grown in warm climates.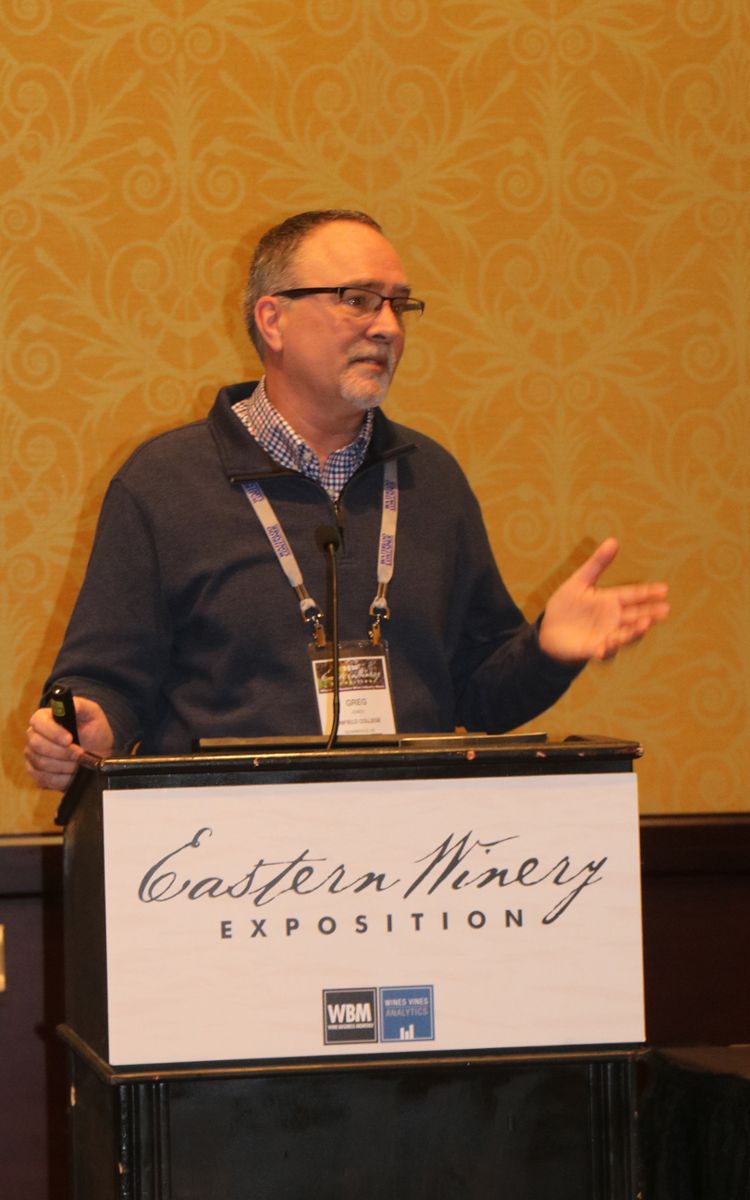 Bryan Hed, research technologist at Penn State University, and Mizuho Nita, assistant professor and extension grape pathologist at Virginia Tech, discussed disease management in a wet season and looked at the tools available to combat these diseases, including a review of the conventional and organic/low impact fungicides. Two other sessions covered the challenges of applying organic production methods at Ankida Ridge in Amherst, VA, and Carolina Heritage Vineyard and Winery in Elkin, NC.
During the workshop's final session, Lucie Morton, internationally-known viticulturist from Charlottesville, VA, and Dennis Rak, owner of Double A Vineyards in Fredonia, NY, reviewed the status of the National Clean Plant program and New York's certification program for virus free materials, as well as other factors that growers should be aware of, such as graft union integrity and fungal infections.
At a second workshop on "Eco-Friendly Packaging Options," speakers included the following:
George Hall, sales manager at Waterloo Container, described the company's line of lightweight glass bottles, and Phil Plummer, winemaker at Montezuma Wiinery in Seneca Falls, NY explained why he uses those bottles and their environmental and other benefits;
Michael Mitchell, winemaker at Cape May Winery and Vineyard in Cape May, NJ, talked about the winery's growler program that uses their tasting room wines-on-tap, and Lee Hartman, winemaker/vineyard manager at Bluestone Vineyard in Bridgewater, VA, discussed the use of growlers at Bluestone Vineyards;
Dave Moynihan, president and founder of AstraPouch®, compared flexible packaging such as the AstraPouch and Bag-in-Box to glass from a technical stand-point; Steve DiFrancesco, winemaker at Glenora Wine Cellars, explained the "green" benefits of the AstraPouch; and Justin Rose, winemaker at Rosemont of Virginia in La Crosse, VA, spoke about why he uses 1.5 liter BIB packaging;
Tim Benedict and Roger Kissling discussed the use of cans for wine and cider; and
Don Huffman of Vinventions and Justin Rose talked about the environmental and other benefits of PlantCorc, a new natural cork made from sugarcane, and Peter Weber of the Cork Quality Council presented current developments in the cork industry.
The third workshop reviewed the gamut of fortified wines, from high-proof fortification choices and quality control practices, to Madeira-style wines. Included were white port, Vin Doux Naturel wine, ruby and vintage character port-style wine, tawny port, and classic solera-system sherry wines. Speakers included Peter Bell, winemaker at Fox Run Vineyards, Penn Yan, NY; Damien Blanchon, winemaker, Afton Mountain Vineyards, Afton, VA; Matthieu Finot, winemaker, King Family Vineyards, Crozet, VA; Chris Pearmund, managing partner, Pearmund Cellars, Broad Run, VA; Tiffany Farrell, winemaker, Haak Vineyards and Winery, Santa Fe, TX; Conor Quilty, winemaker, Unionville Vineyards, Ringoes, NJ; and Carlo DeVito, owner, Hudson-Chatham Winery, Ghent, NY.
The EWE conference program
The EWE conference program included multiple sessions on three tracks: viticulture, enology and money/marketing/management. In addition to the workshop on sustainable viticulture, two sessions during the conference focused on other aspects of sustainability.
One of the Money and Management sessions featured a discussion by Scott Scarfone, landscape architect with Kimley-Horn in Baltimore, MD, who said that as a landscape architect, he "cares about what this looks like, and its ecological aspects." He suggested that parking lots at wineries have pervious pavement, with bio-swales between the parking rows. These bio-swales are not wetlands but should drain water within 48 hours and be lined with plants that can tolerate living in water for 24 to 48 hours. The swales should have overflow drains that carry the excess water to a rainwater containment basin, or lake.
Scarfone stressed that a diversity of long-lived, low-water tolerant native plants should be matched to the soil type and their exposure to wind and sunshine. He also suggested that wind direction should be considered, with an evergreen screen planted to break the impact of the wind; that low mow turf should be considered; and that the orientation of the building layout should take into consideration the amount of the building facing the sun, and when the sun rises and sets.
In discussing the sustainable features of a winery building, Melanie Friedman, owner of FMD Architects in Fairlawn, OH, talked about the importance of considering water and energy efficiency, indoor air quality and the materials used in construction. She also mentioned that comfort of the building's occupants should not be forgotten. The acoustics and sound control should be addressed, and it helps to maintain a connection to the view outdoors that creates a more pleasant experience for tasting room guests.
The viticulture session "Revisiting American Heritage Varieties" began with viticulturist Lucie Morton talking about American heritage varieties in the light of sustainability. She shared some of her recent experiences visiting French producers growing American heritage varieties that remain important to these "rebel" winemakers who embrace them in spite of their legal status as "prohibited" in France. Nathan Held of Stone Hill Wine Co. in Hermann, MO, discussed and poured samples of the winery's Ozark Hellbender wine, a three-grape blend of heritage varieties in Missouri that is named after the endangered Ozark Hellbender salamander. A portion of the proceeds from every bottle of Ozark Hellbender sold is donated to the Saint Louis Zoo for conservation of the Hellbender salamander. Held believes a winery can craft a great wine using American heritage varieties and, with a great story, achieve market success. The wine is currently Stone Hill's best-selling wine. Tiffany Farrell, winemaker at Haak Winery in Santa Fe, TX, talked about and poured samples of two of the winery's Blanc du Bois, a complex vinifera hybrid that is fungal and Pierce's Disease-resistant.
License to Steal Wine Marketing Conference
The License to Steal (LTS) conference is designed to attract winery owners, general managers, marketers, tasting room staff and event planners and offered three days of programming dedicated to wine marketing issues and ideas. Chaired by Donniella Winchell, executive director of the Ohio Wine Producers Association, LTS included "steal sessions" where attendees shared ideas on various topics such as marketing strategies and the impact of seltzer products. The LTS program began on Tuesday with a workshop that addressed topics such as basic insurance issues, TTB rules and regulations, how to develop a successful marketing plan and how to create a sense of place that will help make a winery a destination.
EWE's Lifetime Achievement Award
Richard Leahy, EWE's conference program director, presented the conference's lifetime achievement award to Robert B. Deford, president and owner of Boordy Vineyards in Hydes, MD. Deford studied viticulture and enology at the University of California, Davis, and became the president and winemaker of the winery when his family purchased Boordy Vineyards in 1980. The winery's original owners were Philip and Jocelyn Wagner, who first planted French hybrid grapes in 1937, established a nursery, and founded the winery in 1945.
Under Deford's leadership, the winery grown to be the largest in Maryland and produces 55,000 cases each year, according to Wines Vines Analytics. The original vineyard in Hydes is planted with white wine varieties including both French hybrid and vinifera grapes and a second vineyard on South Mountain near Burkittsville, MD is planted with red vinifera varieties.
Boordy wines have won many awards for their vinifera and French hybrid wines. The 2017 Albariño won gold and best in class for white vinifera at the Atlantic Seaboard Wine Competition two years in a row and the 2016 Albariño won gold medals in the Finger Lakes International Wine Competition and San Francisco International Wine Competition. Their 2014 Cabernet Franc Reserve won a Double Gold Medal in the San Francisco International Wine Competition.
Leahy commented that "The honoree has made a successful and model Eastern family farm winery business. Dr. Joe Fiola, Maryland's grape extension agent, says 'The transition of this winery to a world class operation under his ownership has been amazing to follow and is glowing example for wineries in the Eastern U.S. He is tireless supporter of on-farm research to continually improve the quality of grapes and wine produced in the state and openly shares the results with others in the industry.'"
Atlantic Seaboard Wine Association – 2019 Monteith Bowl Trophy
The Monteith Bowl Trophy is presented annually to individuals or organizations that have made
"exceptional contributions to the development and sustainability of the American wine industry" by the Atlantic Seaboard Wine Association (ASWA). The trophy for 2019 was presented to Dr. Joseph A. Fiola, specialist in viticulture and small fruit at the University of Maryland Extension by David Barber, secretary of ASWA before the afternoon sessions of EWE on March 11.
Fiola was recognized for his more than 30 years of academic experience in viticulture and enology research and extension. He is responsible for the statewide viticulture extension program and works with experienced growers to maximize fruit and wine quality as well as with new growers on site evaluation, determining the best suited varieties and establishing their new vineyards. His research program includes both cultivar testing and clonal comparisons of new and imported varieties as well as cultural practices. He also conducts small batch winemaking studies of experimental enological treatments of those varieties. Fiola produces a newsletter, "Timely Viticulture," on a regular basis and recently published a workbook on Sustainable Practices for Wine Grape Growing in Maryland.
The Monteith Bowl Trophy was created by Tiffany & Co. of New York for the Vinifera Wine Growers Association (VWGA) and was first awarded in 1980 to Dr. Konstantin Frank, founder of Dr. Frank's Vinifera Wine Cellars in Hammondsport, NY. The VWGA was renamed in 2008 to reflect the organization's expanded regional focus and the ASWA now promotes American wine produced in the 17 Eastern states, including all those that touch the Atlantic Ocean, plus Pennsylvania, Vermont and West Virginia. The organization holds a wine competition annually and the awards are presented at a ceremony on Capitol Hill under the auspices of the Congressional Wine Caucus.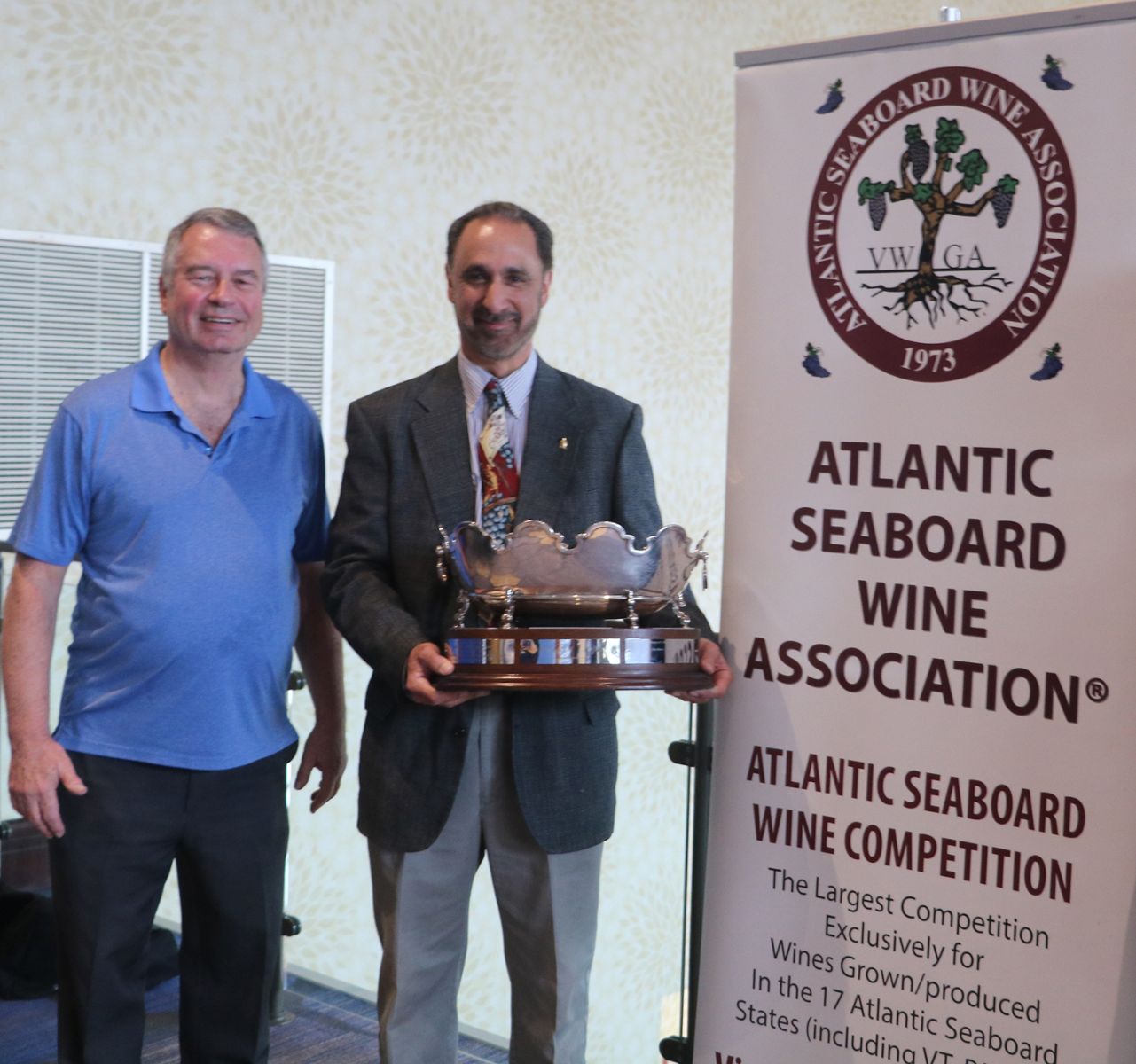 ASEV-Eastern Section's auctions for scholarships
The Industry Celebration Dinner on the evening of March 11 was followed by the ASEV-Eastern Section's live auction of winemaking equipment, tasting room supplies and wine-related items. According to Renee Threlfall, Section Administrator for ASEV-Eastern Section, the live auction, combined with the proceeds raised at the Section's silent auction near the tradeshow, raised more than $10,000 in scholarship funds for enology and viticulture students east of the Rocky Mountains. Last year's live and silent auctions at EWE contributed to scholarships for seven students at four universities.
Next year's EWE
The Eastern Winery Exposition will return to the Oncenter Convention Center in Syracuse, NY on March 16-18, 2021. More information will be available at www.easternwineryexposition.com.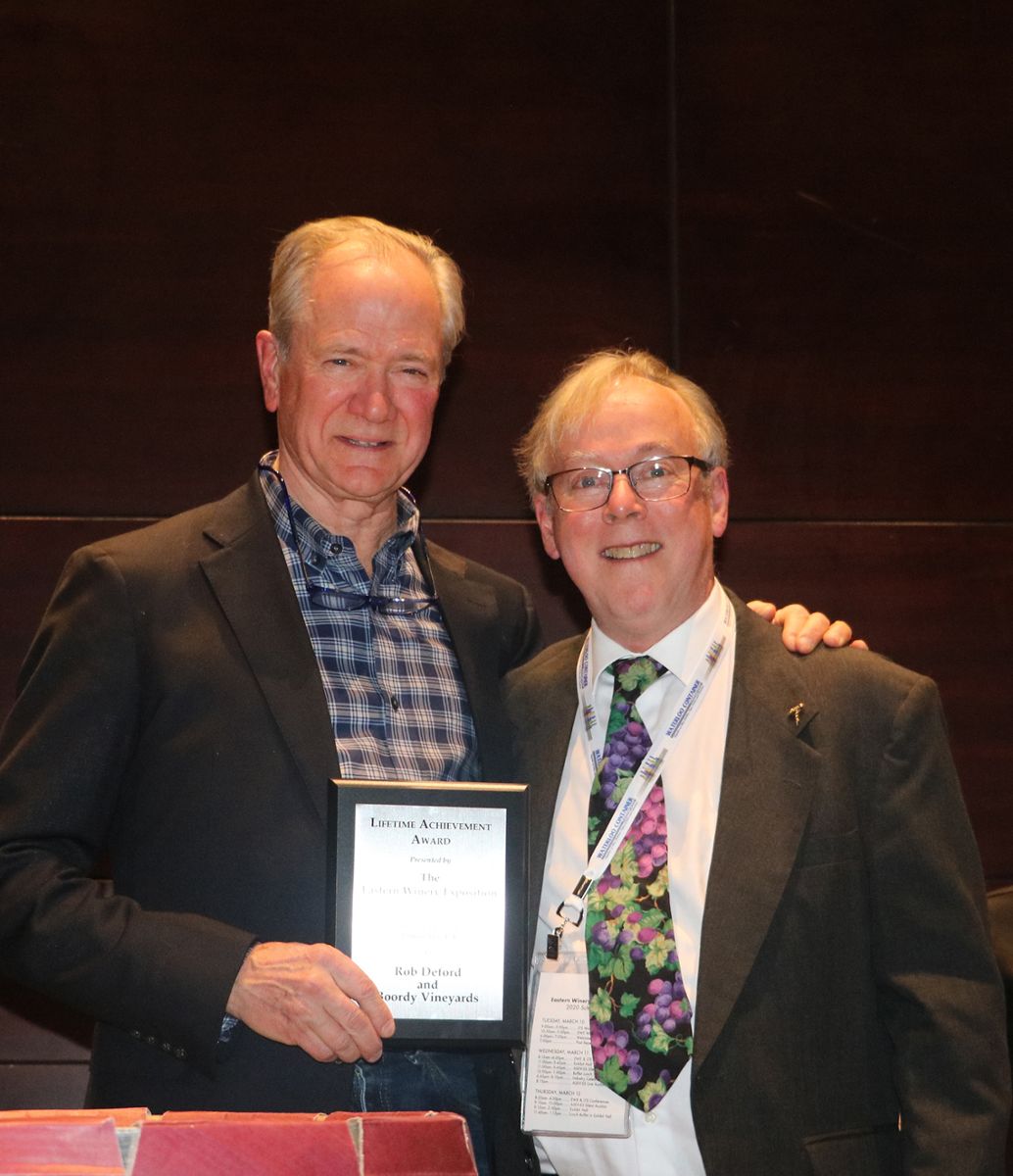 Rob Deford, owner of Boordy Vineyards in Hydes, MD, received the Eastern Winery Exposition's Lifetime Achievement Award (left) from Richard Leahy, EWE conference program director