Historic Concannon Winery and Vineyard Property in the Livermore Valley Listed for Sale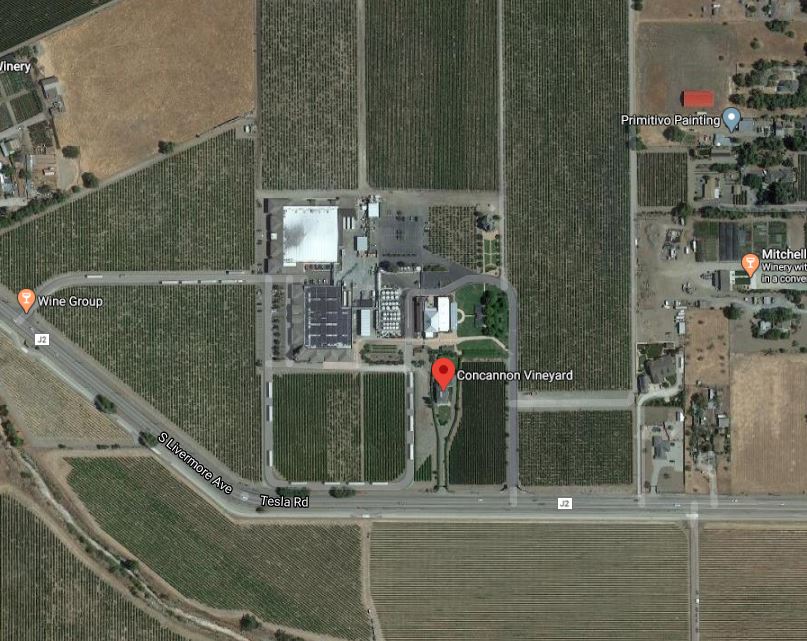 The Wine Group is selling one of its prime holdings, the historic Concannon Winery and Vineyard facility in the Livermore Valley, according to a real estate listing.
The 230-acre property, which introduces itself as the second-largest winery in the Livermore Valley, is home to a tasting room and offices for The Wine Group, two bottling lines, a tank farm and more than 180 acres of vineyards, according to the brochure. The site includes a wastewater treatment plant facility and two residences, as well. The sales price for the Tesla Road property was not listed.
It is unclear where The Wine Group's administrative offices which are currently located at Concannon would move. Company representatives could not be reached immediately for comment.
The History of Concannon
James Concannon founded the winery in 1883 after he immigrated to the United States from Ireland and settled in the Livermore Valley. He was among the first to study and produce Bordeaux-style wines. John Concannon, the fourth generation, continues to work at the winery, according to the company's website. The winery became known over the years for its Petite Sirah production.
The Wine Group acquired Concannon Vineyards in 2002. The acquisition at the time was described as part of an effort for The Wine Group to pursue premium wine customers, according to news articles.
In 2008, Concannon Vineyards celebrated its 125th harvest and $30 million worth of renovations and improvements, according to a press release issued in September 2008. That included the restoration of the Concannon family's 1883 home and a new winemaking facility. David Kent, the then CEO of The Wine Group, said the Concannon estate was "one of the most advanced solar-powered, organically farmed operations in the world," according to a 2008 press release.
One of its neighbors since its beginnings includes family-owned Wente Vineyards.
Wente Vineyards owned Concannon in an LLC with two outside partners between 1992 and 2002, according to Wente. The LLC sold Concannon to The Wine Group in 2002. On Monday, Wente CEO Carolyn Wente noted her family's winery has been neighbor to the Concanon Family and Winery since 1883.
"We have worked through the years with the various owners of Concannon Vineyard to enhance the Livermore Valley Wine Country and its vineyards and beautiful wines. Whoever may purchase the winery and vineyards, we look forward to their involvement and contributions to the wine community. "
The Wine Group produces roughly 53 million cases of wine annually, making it the second largest wine producer in the US, according to Wine Business Monthly's annual WBM 50 list. Its brands include Franzia Wines, 7 Deadly Zins, Big House Wines as well as premium wine producers such as Benziger Family Winery and Imagery Estate Winery. Its production faciities include the former Paul Masson winery in Madera south of Merced.