Another ADA Lawsuit Alleges Website Not Accessible to the Blind: This time the Target is the Wine Enthusiast Catalog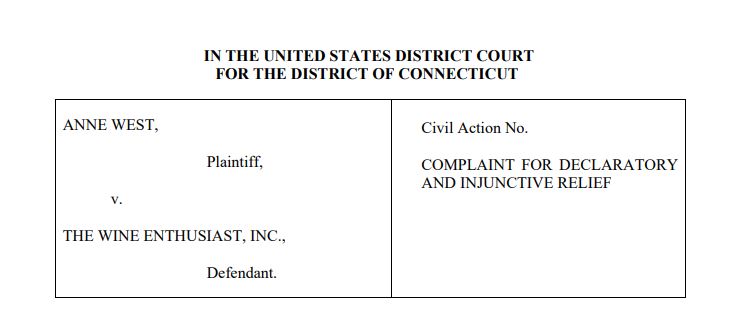 A woman who was born blind has filed a federal lawsuit against Wine Enthusiast Inc., according to court records.
Anne West, a business owner based in Hartford, Conn., alleges Wine Enthusiast's catalog website is not accessible to individuals with visual disabilities and does not comply with the federal American with Disabilities Act, according to the complaint filed Tuesday in Connecticut. She seeks an order to have the New York –based magazine take necessary steps to become compliant with the federal law, according to the court filing.
Wine Enthusiast's website mentioned in the lawsuit, https://www.wineenthusiast.com is an online catalog of products and services. Customers can research products and services, find retailers, sign up for product or contact consumer service by phone or email, the lawsuit noted. The site sells furniture such as bars and consoles, glassware, cookware and wine buckets and other wine-related items.
West is totally blind; her mother had rubella, according to the lawsuit. West uses screen readers - software programs that help the blind use computers and websites. The screen readers give users auditory rather than visual cues when navigating websites. West uses JAWS – of Job Access With Speech - on her computer with Windows 20 and VoiceOver on her iPhone 8, according to the complaint.
She alleges that The Wine Enthusiast has denied access to its website to about 1.8 million Americans with vision issues because the website is "largely incompatible with the screen reader programs these Americans use to navigate an increasingly ecommerce world," according to the complaint.
The lawsuit seeks a court order to require the New York-based magazine to undertake a number of actions, including hiring a web accessibility consultant, according to the document.
West cited a 2018 letter from Assistant Attorney General Stephen Boyd of the U.S. Department of Justice who, she said, confirmed that "public accommodations must make the Websites they own, operate, or control equally accessible to individuals with disabilities."
West has filed other ADA lawsuits, according to court records. She and another plaintiff sued DocuSign Inc. in the Western District of Pennsylvania, alleging the site is not accessible to blind people, according to the complaint filed in May 2019. That case was settled in August and dismissed in October, according to court records.