Misconception That Riesling Doesn't Sell: Advocates at Anderson Valley Festival Say Riesling Wins Young Drinkers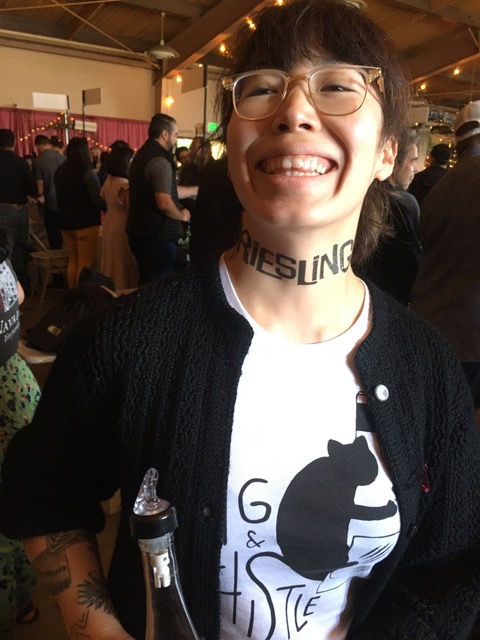 Boonville, Calif.--In a Northern California wine region known mostly for its Pinot Noir and sparkling wines, another variety--Riesling--took the spotlight during a seminar and wine tasting on Feb. 22.
The versatile, shape-shifting white wine most closely associated with Germany is winning new consumers in America despite the overpowering popularity of Chardonnay. That was the message from several speakers during the "Why Riesling?" program at the Anderson Valley Winter White Wine Festival in Boonville, Calif.
"We have found that it's not that you can't sell Riesling, it's just that you choose not to," said Andrew Nelson of Fool's Errand bar in San Francisco and creator of Companion Wine. He and Angel Davis, co-owner of Fig & Thistle bar in San Francisco, founded the West Coast Riesling Society to help promote the variety.
"Can't Get Enough of It"
"We have this dive bar basically, and Riesling is now arguably our most important variety," Nelson said. "People come in and ask for Riesling. Young people can't get enough of it." Fool's Errand pours three different Rieslings by the glass every day, he said.
"There's a misconception that it doesn't sell. People often come in now and say they want anything but Chardonnay. We say Chardonnay is going through its Riesling moment," Nelson said.
Whether made in Alsace, the Rheingau, New York's Finger Lakes or Oregon, Riesling is not exactly booming in popularity among U.S. consumers, but it has become an insider's choice and proved that it's here to stay.
50,000 Hectares of Riesling
Introducing the Riesling program at the Anderson Valley Winter White Wine Festival in Boonville, Calif., author John Haeger said, "Riesling does get its fair shake in the world, and then some. This not a variety that's going away."
He described Riesling as the seventh most widely grown grape variety on earth, out of about 1,400 commercially grown varieties. Its rank has varied from fifth to eighth in recent decades, but has stayed at plus or minus 50,000 hectares (124,000 acres) for many years, said Haeger, who wrote the 2016 book "Riesling Rediscovered: Bold, Bright and Dry".
Haeger described how a grape variety has inherent varietal attributes in its genome, but also carries cultural attributes in the stories about it, its image in the public's mind, and the effects of its geography, history and the kinds of wine historically made from it.
"Those properties of a wine related to image and related to story are as powerful and important to the reputation and well-being and spread and to the appreciation of a wine variety, as are any of the genetically coded attributes," Haeger said.
Riesling in Europe got caught up in two World Wars and then in style wars beginning in the 1980s that made makers of sweet wines and dry wines bitter enemies. "I can't think of a varietal that carried as much baggage into the 21st century," Haeger said.
But along with that negative baggage, Riesling carried an ability to adapt and thrive in varied environments, so it is not among the varieties predicted to be pushed out of their traditional regions by climate change in this century, Haeger said.
The view from a former sommelier and now professor of beverage studies at the Culinary Institute of America at Greystone, Christie Dufault, was that the wine intelligentsia love Riesling and it has made its way onto many sophisticated wine lists.
"The Mountaintop of Complexity"
"We do see a little of this evolution on our palates," Dufault said. "Sometimes we arrive at Riesling and believe we have found the mountaintop of complexity, subtlety, grandeur and range. The range is just phenomenal."
Dufault presented a Ravines Finger Lakes Dry Riesling Argetsinger Vineyard 2015, describing the New York growing district as having incredible climate challenges, and "producers who are willing to be very challenged." Nelson showed a Tatomer Kick-On Ranch Riesling 2017 from Santa Barbara County.
Visiting from Oregon's Willamette Valley, Janie Brooks Heuck poured the Brooks Winery Ara Riesling 2017, one of 18 to 23 Riesling bottlings the winery produces each year. Winemaker Jim Klein of local Navarro Vineyards presented a Navarro Riesling Deep End 2018 produced from 40-plus year-old vines in the Valley Foothills Vineyard of Anderson Valley.
To revisit Riesling's roots, Kirk Wille of Loosen Bros. USA in Oregon presented one of Loosen's classic German wines: Dr. Loosen Erdener Treppchen Riesling GG Alta Reben 2017.
The Winter White Wine Festival, a successor to the International Alsace Varietals Festival, introduced a new concept and varied activities for consumers and trade members under the direction of the Anderson Valley Winegrowers new executive director Courtney DeGraff and a team of volunteers.
DeGraff said attendance at the seminar was 125 and more than 400 at the wine and food tasting that followed, featuring about 70 wines from Aligoté to Gewurztraminer to Picpoul Blanc and white Pinot Noir.