DeLille and Sparkman Cellars Create New Tasting Rooms at Hollywood Station Business Park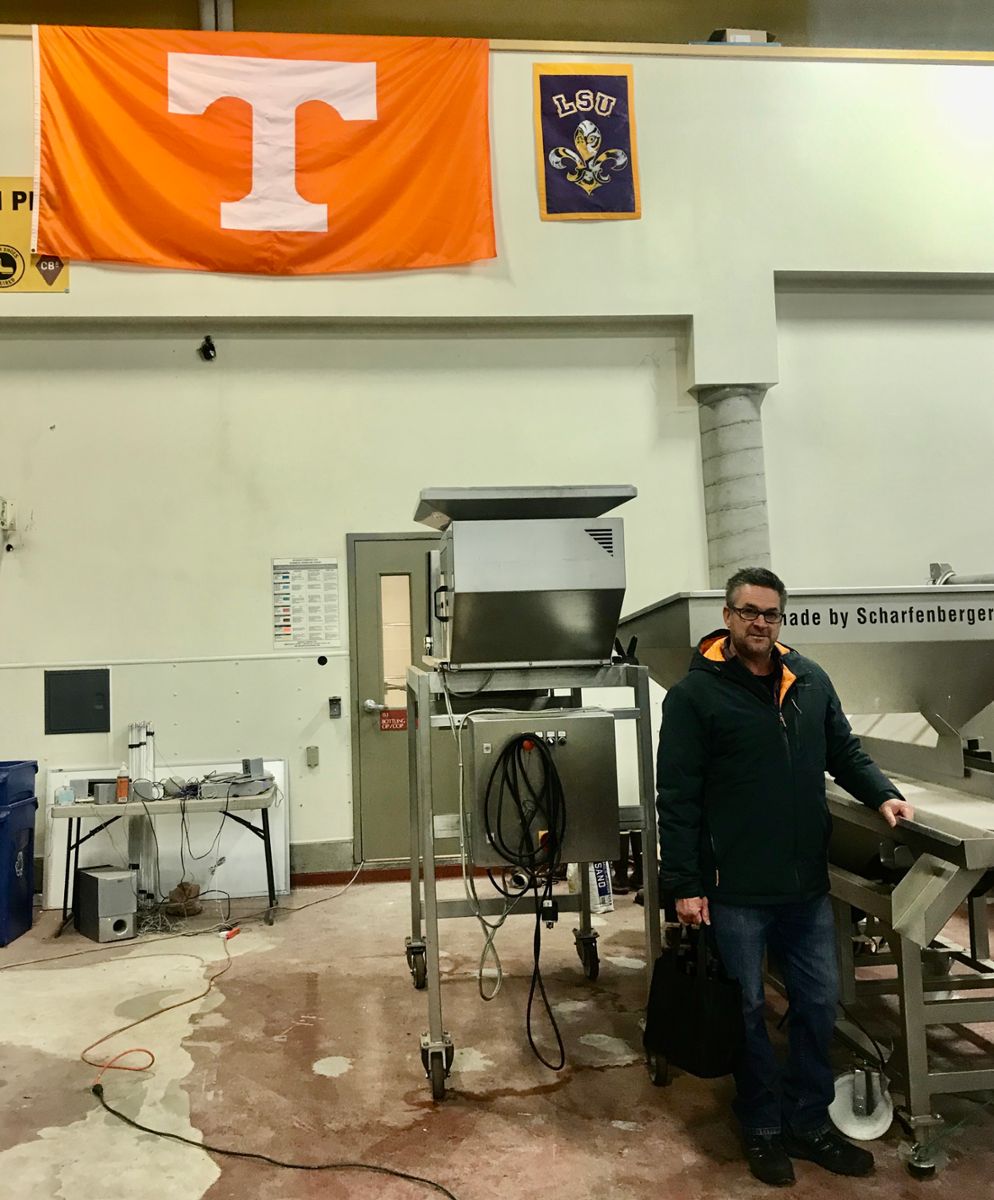 Woodinville, Wash. - In a bold move, two iconic Washington wineries are helping reshape Woodinville's wine tasting scene. DeLille Cellars and Sparkman Cellars now anchor the newly revamped Hollywood Station, former home of the Redhook Brewery bottling facility. The revitalized business park, located directly across from Chateau Ste. Michelle and next door to Willows Lounge, also counts Teatro Zinzanni dinner theatre and Wheelhouse restaurant among its tenant roster.
DeLille Cellars: Marriage of Art and Science
DeLille Cellars officially opened their new 30,000 square foot, three-tiered tasting, wine club, event, office and production facility in November 2019. Architect Kate Cudney of Hinge Studio helped the winery repurpose the existing space. Cudney and her team stripped the building down to the concrete pad, poured new floors, repurposed the first floor structures, and added two floors, engaging a host of artists and artisans to add a bit of Bordeaux luster to the industrial structure.
"And so a lot of the things you see in the building are about that," says Cudney. "They're about this marrying of the precision of the structure and the engineering, and then layering things that are decorative, and fun, and playful, and about discovery and magic."
To that end, modern light treatments caste a soft glow over inviting, artfully appointed guest conversation areas and adjustable tasting spaces. Whimsical murals, including a gilt Bordelais lion, accent expansive walls. A warm, wooden staircase winds to sumptuous, second-floor private tasting rooms, and a third-floor wine club lounge replete with fireplace, luxe furnishing, and outdoor patio with roll-up doors opening to serene greenbelt views. Long-time DeLille wine club members delight at the ample, French-inspired unisex restrooms, a vast improvement over the old tasting room's lone restroom.
"We couldn't build a French chateau in the corner of Redhook, so Kate helped us with this," adds DeLille CEO Tom Dugan. "But our focus is really bringing people in, and doing seated tastings, and sharing DeLille's story, and then, obviously, our love for Washington wine. And because of our growing wine club, we've got two floors devoted just to our best customers - some cool spaces, private tasting rooms, library room."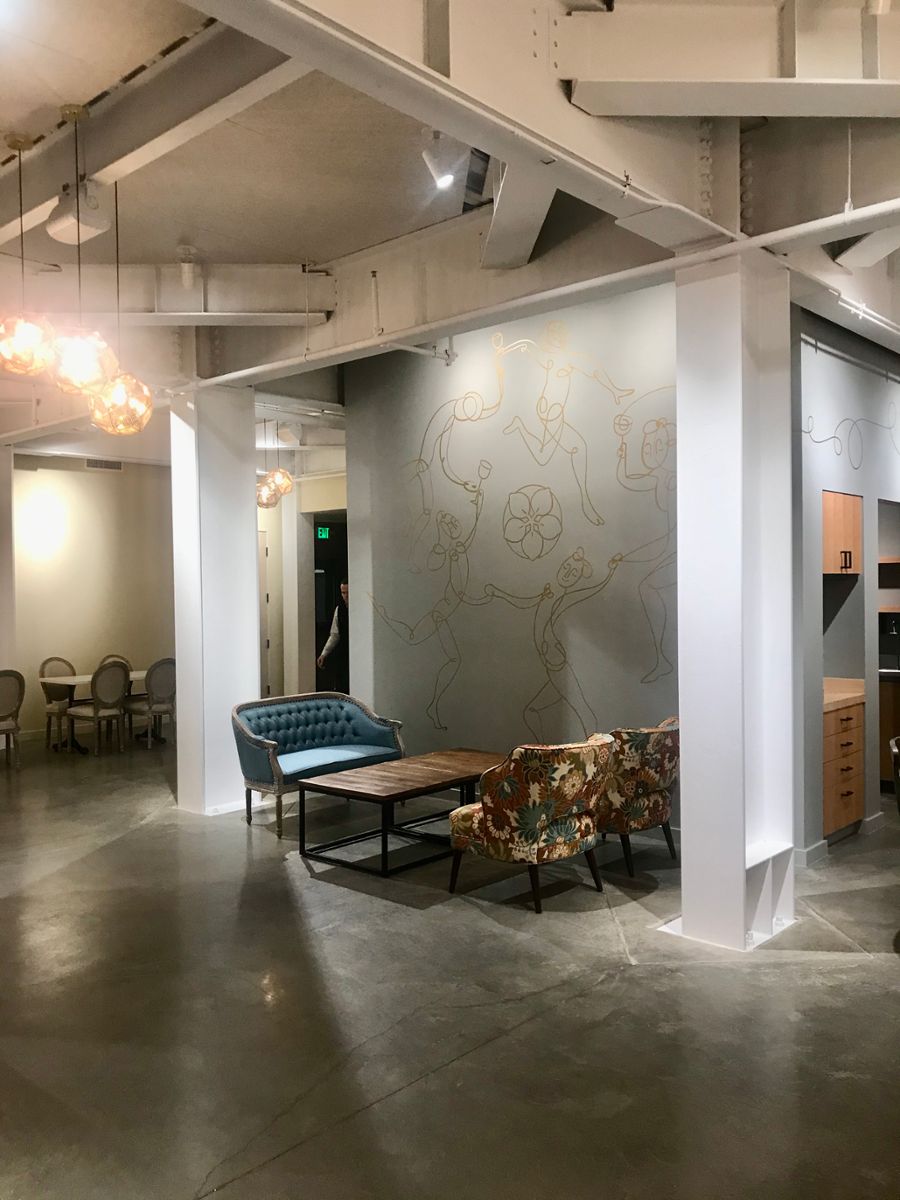 Sparkman Cellars: Immediacy, Intimacy, and Interaction
Sparkman Cellars rolls out their adjacent 30,000 square foot space in Spring 2020. The new space includes a 5,000 square foot wraparound patio that feeds into an intimate tasting room featuring interesting wine flight combinations. The tasting room, in turn, feeds into a private wine club member lounge showcasing exclusive library and bespoke offerings. The tasting room also funnels to a 3,800-square-foot, fully-convertible barn with vaulted 26-foot ceilings and inside the production area for winery, private, and corporate events. Glass roll-up doors link each space visually, creating a sense of immediacy, intimacy, and interaction.
"So it's like 'farmhouse meets schoolhouse meets church-house,'" says owner Chris Sparkman, who started his winery with wife Kelly in 2004. "You want to do a blending trial at the end of your conference, we can set that up for you. If you want to do a barrel tasting in the middle of your tech symposium, we can do that for you, too." The Tennessee native, who ran a high-end music club back in Knoxville prior to starting the winery, also counts concerts among Sparkman Cellars' robust calendar of future events; a full catering kitchen supports an array of food and wine functions.
"Couple that with expanded production capacity," says Sparkman. "The previous 15 years were spent in the very back of a very humble warehouse…Now [we] have everything under one roof for the first time in a decade, instead of five, non-contiguous leases."
Best of Both Worlds
Clearly, these adjoining neighbors offer visitors the best of both worlds. While DeLille Cellars pays homage to old world elegance and luxury, Sparkman Cellars nods to new world ease and approachability. Ultimately, both wineries re-imagine guest experiences broadly, both literally and figuratively. "One of the wine industry's challenge is to meet people where they come to you," Sparkman concludes. "That's not our deal. We believe that being nimble, and having a ton of interesting resources to talk about wine, in an accessible way, is not just good for us, and our guests, but it's good for the industry overall. Let's just make it fun. Relax. It's just wine."