Table Wines Rise 6% in January as U.S. Market Grows 4%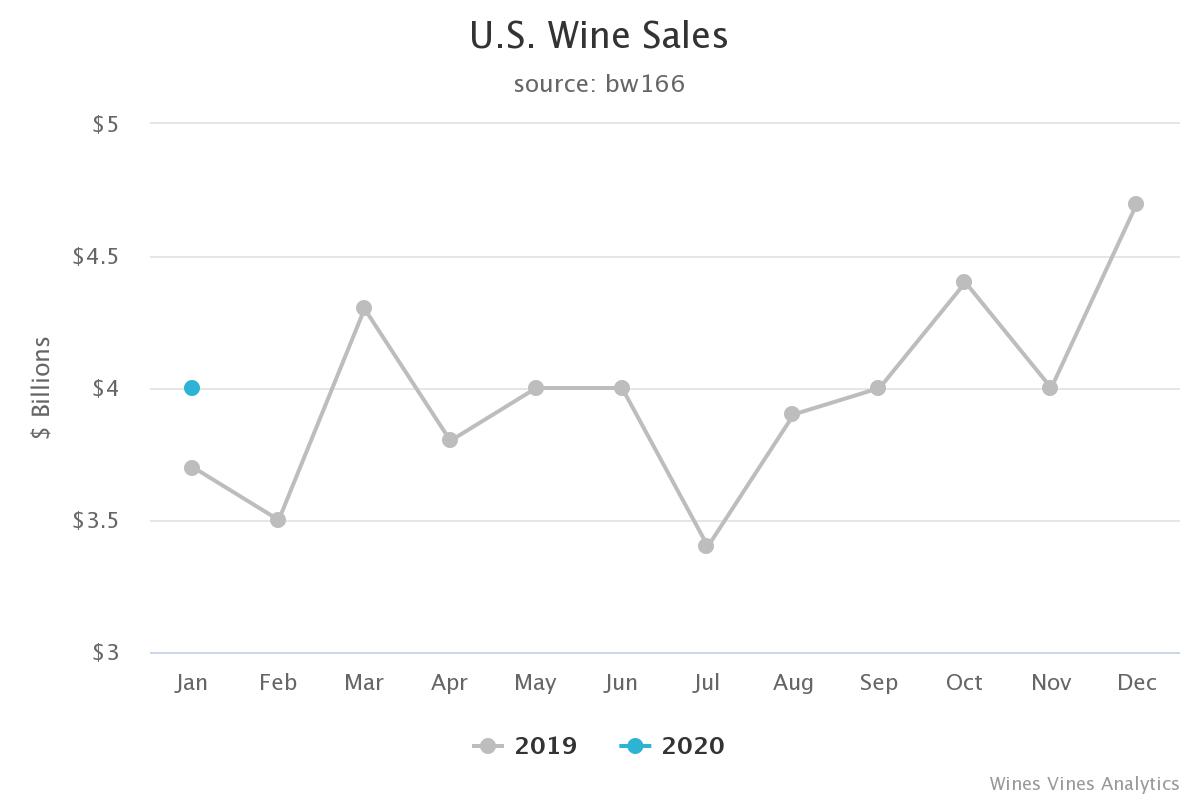 Sonoma, Calif. – The Wine Industry Metrics for January point to two bright spots in the U.S. wine industry: domestic table wines and direct-to-consumer (DtC) shipments.
Domestic table wines increased 6% during the 12 months ended January, according to market research firm bw166, while an analysis of DtC shipments by Wines Vines Analytics/Sovos ShipCompliant indicated an 8% increase in value versus last year to $136 million.
Both segments of the market outpaced overall growth in U.S. wine sales during the latest 12 months, which bw166 reported rose 4% to $48.8 billion. U.S. wine sales are approximately double those of packaged imports, but their growth over the past year was triple that of foreign wines. This boosted overall wine sales in the U.S. in the latest 12 months to $74.7 billion, an increase of 4% versus a year earlier.
While packaged imports saw volumes rise faster than value over the past year, the premiumization trend continues among domestic wines. This was underscored by Nielsen data, which reported a 3% decline in the volume of wines sold at off-premise outlets in the four weeks ended Jan. 25 even as the value of sales remained steady versus last year at $857 million. This was an acceleration of the trend indicated by sales data for the latest 52 weeks, in which the value of sales increased 1% to $11.3 billion while volumes dropped 2%. The lackluster growth highlighted how emerging regions such as Oregon are running ahead of the pack. The state's wineries saw both the value and volume of table wine sales rise more than 13% in the 52 weeks ended January 25.
Seltzers growing fast in on-premise too
Consumers, open to new things, showed a similar enthusiasm at on-premise for hard seltzers. While data from Nielsen CGA showed on-premise sales growing more than 1% to $18 billion in the 52 weeks ended Dec. 28, slightly faster than off-premise sales, hard seltzers clawed their way past sparkling wines (up nearly 9%) and rosé (up more than 4%) in total sales and growth.
The activity comes despite the annual flight to more moderate drinking habits in January following seasonal indulgence during the holidays. Yet if consumers were drying out and contributing to the plateauing of overall growth in sales through both on- and off-premise outlets, they were receiving increasing amounts of wine at their homes. This made the 8% rise in the value of DtC shipments exceptional, with activity in January pointing not only to the ongoing strength of the channel, but willingness among consumers to purchase more expensive wines. The average bottle price of DtC shipments during the month was $34.23, up 4% from last year. This amount to the strongest January pricing reported over the past five years.
Once again, the performance by Oregon stood out. The state's wineries shipped more than $212 million worth of wines in 2019, with an average value of $41.12 a bottle. This was up 3.6% from a year earlier. Approximately 76% of those shipments were the Burgundian varietals Chardonnay and Pinot Noir, which is the state's flagship variety. Pinot Noir claimed the lion's share of shipments, with a value of $143 million in the latest 12 months ($50.89 a bottle), while the value of Chardonnay shipments totaled $19 million ($40.64 a bottle).
Winery hiring activity up
While consumers may be trading up, margins remain thin. Speakers at the Unified Wine & Grape Symposium held recently in Sacramento, Calif., noted that the current market is rare for the combination of plateauing sales and rising costs, particularly around labor. Yet wineries remain active in hiring. Winejobs.com's Winery Job Index leapt 14% to 363 in January versus a year ago with all major subcategories showing greater activity.
Demand for sales and marketing staff increased 18% to an index value of 288, while the index for direct-to-consumer positions, including tasting room and retail staff, increased 8% to 491 followed closely by winemaking and production roles, up 7% to 326.
Total sales and DtC shipments are two metrics tracked monthly in the Wine Analytics Report, which is published by Wines Vines Analytics.
The February issue of the report was released Feb. 18 and features an examination of the mergers and acquisitions market in the wine industry, articles on bringing wine production into balance with consumer demand and more insights on the Oregon and U.S. wine industry.