El Dorado Grape Grower Meeting Feb. 19 on County's Wine Industry Market Conditions
Grape Grower and Vintner Meeting on Market Conditions Effecting the Wine Industry and El Dorado County's Future Prosperity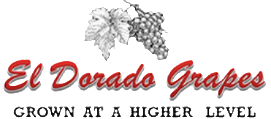 Placerville, Calif.—The El Dorado Wine Grape Growers Association is pleased to announce Lexi Boeger, President of the El Dorado Wineries Association (EDWA), as the special guest speaker at the next grape grower meeting to be held on February 19, from 6:00-8:00pm at the Placerville Veteran's Hall located at 130 Placerville Dr., Placerville. There is no charge to attend. Grape growers and El Dorado Wineries Association members are encouraged to participate.
Ms. Boeger will present to grape growers and vintners the key findings and predictions from recent Silicon Valley Bank State of the Wine Industry reports. In addition, she will share some sobering facts from the last industry economic summit in Lodi. After the presentation there will be an informal discussion and brainstorming between the growers and vintners on current and upcoming market conditions with the goal to begin an ongoing discussion on positive solutions.

There is no charge for grape growers, members of grower or winery organizations or the media to attend. Space is limited. For more information go to edwgga@gmail.com or contact Karen at 707-853-3025 (please leave a voicemail message for a callback).