Winemaker Ali Mayfield Leaves The Walls Vineyards to Join Former Colleague Kendall Mix at Wahluke Wine Company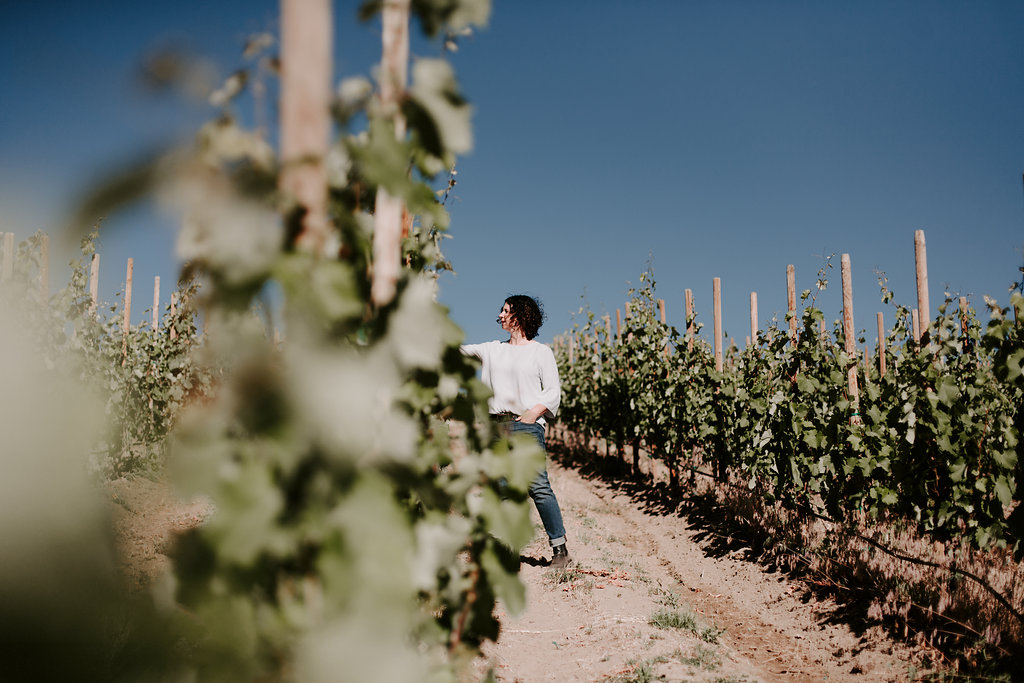 Mattawa, WA – At the beginning of the year, winemaker Ali Mayfield joined Wahluke Wine Company as the white wine and Rosé winemaker and ended up reuniting with a former colleague—Kendall Mix, who has served as head winemaker since 2017.
Mix, who will remain in charge of the red wine program at the winery, is a former colleague from Mayfield's tenure at Corliss Estates in Walla Walla, Wash. In addition to time spent at Corliss, Mix has worked for several high-profile producers, including Robert Mondavi Winery (while also pursuing an enology and viticulture degree at UC Davis), Chateau Ste. Michelle, Canoe Ridge Winery, Tranche Cellars, Goose Ridge and Cadaretta.
At Corliss, Mayfield served as an intern while attending the Institute for Enology and Viticulture at Walla Walla Community College. "I was pretty green in the wine business and Kendall was a great mentor," said Mayfield. To broaden her experience, she then joined Long Shadows, founded by Washington wine pioneer, Allen Shoup, but returned to Corliss from 2008 through 2010. Mix left the company after the 2009 vintage.
"I was heartbroken when Kendall left Corliss, so it feels great to be back working with him," said Mayfield. "I think we'll do amazing things."
Most recently, Mayfield worked at The Walls Vineyards, but joined the Mattawa-based facility to experience a different side of the business and another level of production. Wahluke Wine Company provides a number of custom winery services including grape-to-bottle, tank and barrel storage, and case goods warehousing, and produces nearly half a million cases of wine each year. The crush projection for the upcoming harvest is 10,000 tons.
"After making a very small amount of Washington wine, it's going to be a challenge to produce at that volume," said Mayfield. "But I'll have much more influence on Washington wine."
Mayfield's role in the operation reminds her of why she got into the business to begin with, which does not necessitate being the face of a single brand.
"Every day I'm tasting wine, blending wine, making decisions about wine or I'm in the vineyards," she stated. "I don't need to worry about packaging and branding and labeling and working the market—I can just focus on making great wine and I don't care if my name isn't attached to it."
She also recognizes that the Wahluke Wine Company is positioned to become the premiere bulk wine producer in Washington state. The business is owned and operated by the Milbrandt family, which has deep roots in Eastern Washington agriculture. Brothers Butch and Jerry Milbrandt, fourth-generation farmers who started in alfalfa and potatoes, planted their first vineyard in 1997. Today they own and operate more than 3,000 acres of fruit from award-winning vineyards which is used to make the wines both at Wahluke Wine Company, founded in 2006, and their other venture, Ancient Lake Wine Company, founded in 2014.
Evergreen, one of the Milbrandt's sites, features soils known for high levels of calcium deposits which are said to contribute minerality, and is touted as the source for the best white wines in the state. Mayfield, who championed white varietals with former producers, now has access to the fruit.
"For Chardonnay, right now I'm fascinated with Evergreen Vineyard. The more I taste it—I see the potential of where a wine like that could go," says Mayfield. "And the only way to get your hands on that fruit is through the Wahluke Wine Company."
Her move to Wahluke Wine Company has also provided for a more collaborative process. "It's a team of people—they're young, passionate and driven to make great wine. I knew I'd thrive in this environment," Mayfield said. She also notes that sitting on blending trials with other respected winemakers has further informed her sensibilities. Though Kendall is "the red guy," there are no lines in the sand.
"Typically, if we have something set up in the lab, we'll both taste through it. We have very similar palates and work really well together, says Mayfield. "I'm still wrapping my mind around all the labels I get to work with that have great brand recognition and are getting consistently high scores," says Mayfield. "I feel like we're the best kept secret in Washington."