Wine Institute's to-do list this year includes expanding, updating and protecting shipping laws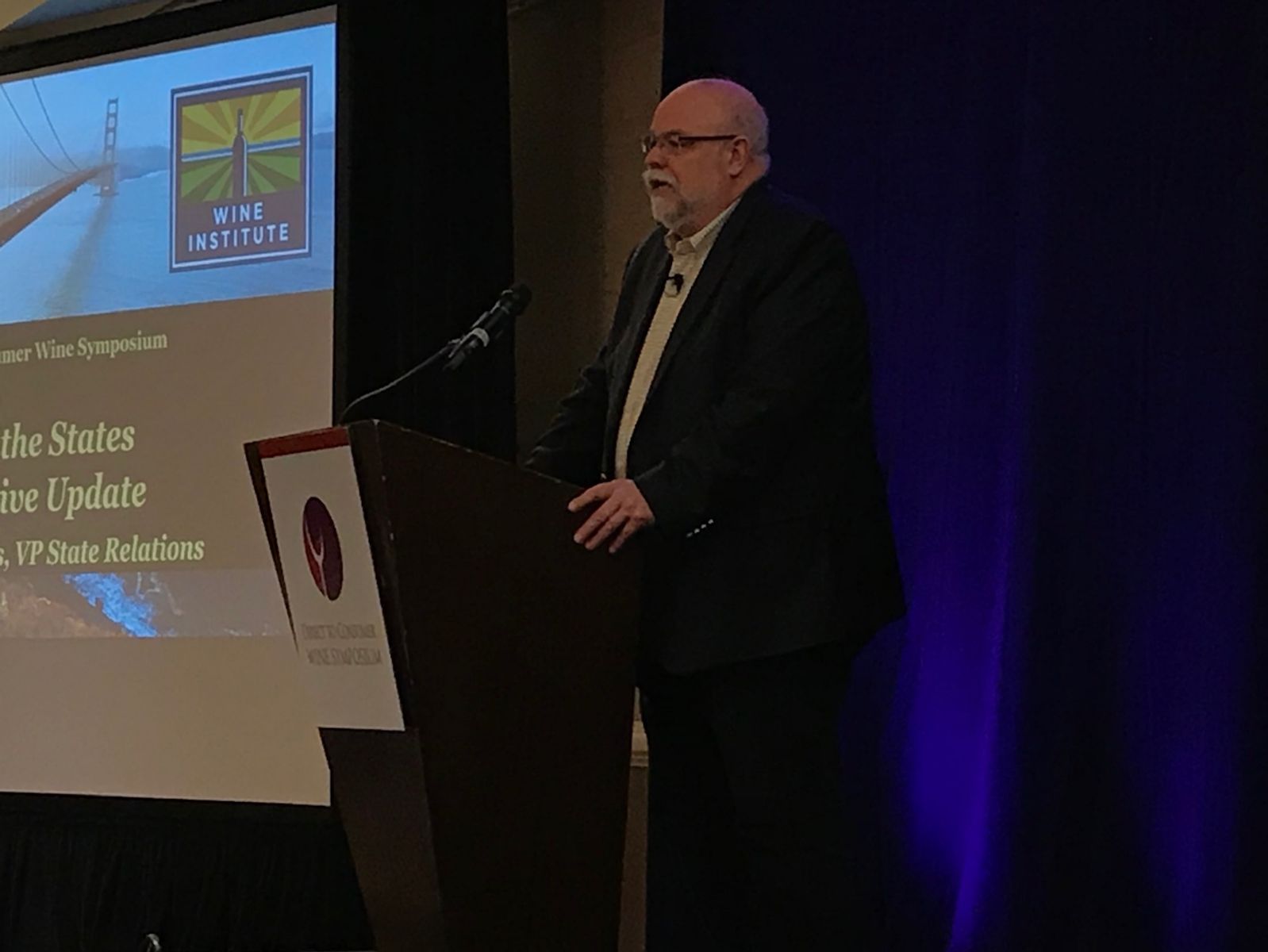 Steve Gross, vice president of state relations at Wine Institute, gave an update Thursday on rules affecting direct-to-consumer wine shipments nationwide during the 2020 Direct-to Consumer Wine Symposium. Free the Grapes!, an organization that supports opening all states to DtC wine shipments, organized the two-day event in Concord.
Wine Institute wants to make it easier for wineries to continue building their businesses and do it in a cost-effective manner, Gross said.
All but five states allow DtC wine shipments. Wine institute continues to try to pass bills that would allow DtC wine shipments in Alabama, Mississippi, Delaware and Kentucky. Wine Institute tried to have DtC bills passed in four of these five states. They all failed.
Wine Institute ran no bills in Utah, another state that prohibits DtC wine shipments. A DtC bill has been proposed. However, Wine Institute does not support a current wine shipment bill because it requires that the wine be ordered through the state liquor system, Gross said. There would be an 88-percent markup. "None of those are workable provisions for our traditional idea of what is direct to consumer," Gross said.
Wine Institute also seeks to remove a rule that allows only wineries producing up to 250,000 gallon a year to ship directly to consumers residing in New Jersey and Ohio; that makes it impossible for larger out-of-state wineries to ship wine by the direct-to-consumer channel.
In Indiana, Wine Institute seeks to undo a statute that prohibit wineries working with a wholesaler in the state from shipping wine directly to consumers. Wine Institute also wants to remove DtC barriers in Arkansas and Rhode Island. Arkansas law, for instance, has a provision that requires customers to place their first wine order in person before the winery can start shipping wine to their residences directly.
Wine Institute also seeks to preserve DtC wine shipments rights in Minnesota and Alaska, where out-of-state can ship wines without paying taxes. There are efforts made in both of these states to put in place a permit system and reporting requirements and require that out-of-state producers shipping wine directly to customers in those two states to pay taxes on these bottles. In exchange, Wine Institute wants these states to allow the shipment of up to 24 cases annually via DtC shipment channels, all in an effort to preserve shipping rights there, according to Wine Institute.
Direct-to-Consumer wine shipment sales, which totaled $3.2 billion in 2019, have drawn the attention of wine wholesalers, regulators and tax officials, Gross said. The state of Texas has begun auditing 1,600 wineries, asking for their DtC shipping records, he said. "More and more states are focusing their attention on enforcement," Gross cautioned.
Virginia raised its DtC shipping permits by $100 last year, Gross said. All of that money is directed to a fund to hire more people to do enforcement, he said. "They're very serious about what they are doing and we're seeing more and more of it."
Wine Institute is also paying close attention to rules affecting common carriers. There have been proposals that would make common carriers unable to ship, including requiring them to report the volume of their shipments instead of their weight. Carriers do not have access to information on the content of the package such as the number of bottles, Gross said.
Common carriers now report to more states so they can more easily figure out if shipping wineries have the correct licenses to ship.