Looking at the Next Decade of Wine
Central Coast industry experts expose predictions for the future of the wine market and advise on successful business planning and management
On March 24, 2020, Wine Business Monthly hosts Central Coast Insights, held at the Paso Robles Event Center. This business-minded conference gathers together some of the top leaders in finance and economics, with educational sessions specifically focused on wine business strategy and development. Get your early bird tickets now.
A key element to the conference each year is discussing the current state of the industry. This year, State of the Wine Business 2020: An Outlook for the New Decade, is hosted by Michael Swanson, senior vice president and agricultural economist and consultant for Wells Fargo and Company who will discuss key market trends and the opportunistic approaches wineries and wine brands can take to form a successful growth strategy and build brand equity.
Following Swanson's lecture, he will lead a panel discussion including industry experts Maeve Pesquera, senior vice president of Daou Vineyards in Paso Robles, Calif.; Jeff Bitter, president of Allied Grape Growers; and Matthew Kaner, co-owner of Bar Covell, Augustine Wine Bar and president of Will Travel for Wine Inc. The group will discuss their professional strategies for managing profitable businesses in the midst of our changing economy and marketplace.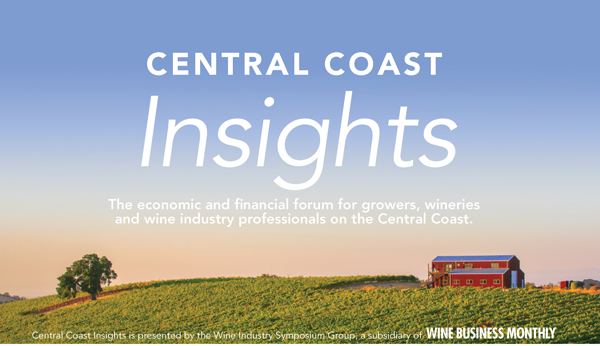 WHEN: March 24, 2020
WHERE: Paso Robles Event Center, Paso Robles, CA - All-new venue!
REGISTER: Early Bird Tickets Now Available—Deadline is February 25, 2020: $375
Regular Price (after February 25): $425
Get More Bang for Your Buck
Central Coast Insights attendees are eligible to attend WiVi Central Coast conference and tradeshow (held March 25, the day following CCI) at a discounted rate. To access the $100 discount for sessions or free tradeshow entry, follow the link in your CCI registration confirmation email (discounts applied at checkout).
More Info
Full details on Central Coast Insights, including agenda and speakers, are now available on the Central Coast Insights website.
Event Contact Details
Phone: 707.940.3920
email: info@WBMEvents.com