Growth is Slowing but Consumer Trends Present Opportunities for the Wine Industry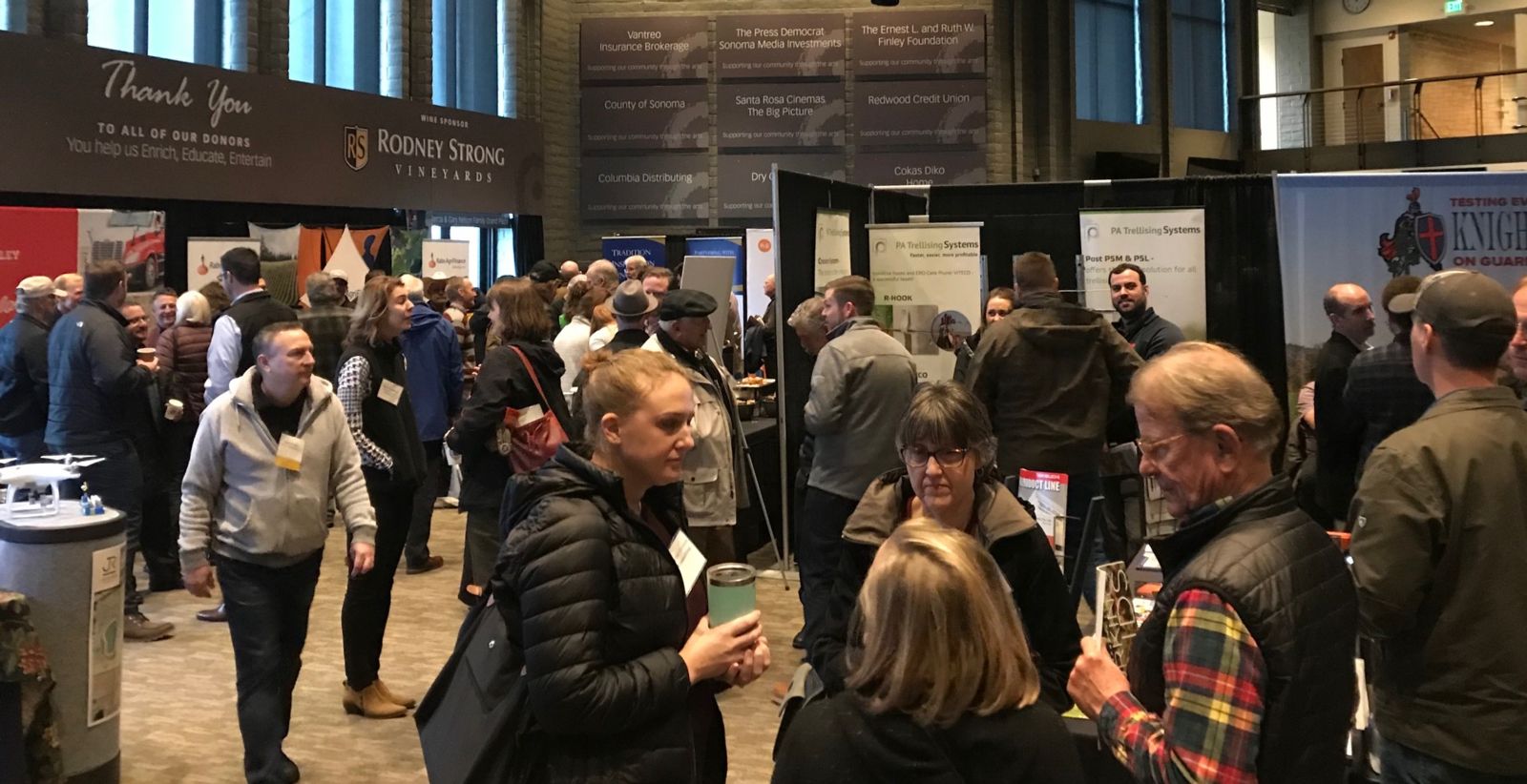 While wines sales have slowed and wineries struggle to attract young customers, there are still opportunities for the industry to tap into.
"The sky is not falling. It's not a panic time. But we're seeing some trends that we need to address and hopefully turn around," Danny Brager, senior vice president, beverage alcohol and cannabis practices at Nielsen, said.
Brager was a keynote speaker at Thursday's 2020 Joint Annual Meeting & Trade Show, an event attended by about 700 people. Sonoma County Winegrowers and Vintners sponsored the event at Luther Burbank Center for the Arts in Santa Rosa.
In the last year, total wine shipments grew 1 percent in volume; still wine shipments expanded by 0.2 percent; domestic wine shipments were flat and imported bulk wine shipments fell by 6 percent, according to BW 166 data.
"We're not seeing the growth we've had in previous years," Brager said.
Still, wine was in 14th position across 300 categories in retail selling channels, according to Nielsen's data.
Sonoma's wine sales are growing in dollars and volume, not at the same rate, said Brager. Both retail shipments and Direct-To-Consumer shipments continue to grow, but not as fast as in the past. Still, 26 of the top 100 Sonoma brands are growing by double digits, according to Nielsen.
Sonoma wines represent 30 percent of Direct-to-Consumer shipments from wineries. Top varietals sold include Cabernet Sauvignon, red blends, Sauvignon Blanc, Rose and Merlot, according to Wines Vines Analytics and Sovos ShipCompliant data. Zinfandel, Chardonnay and sparkling wines were in decline. Sparkling dollars were up but volume was down, Brager said. Growth for Pinot Noir was moderate, he said.
Overall wine consumers continue to trade wine under $10 for more expensive bottles, according to Nielsen data.
Direct-to-consumer shipments of wine continue to increase but not as fast as before, Brager said. Shipments and direct-to-consumer and sales data indicate declining growth over the past two to three years. Direct-to-Consumer shipments of $20 plus bottles are growing by 5 to 6 percent instead of by double digits.
Hard seltzer sales represent a juggernaut. Sales have increased by more than 200 percent, according to Nielsen data. "It's not going away," Brager said.
White Claw represents 59 percent of all hard seltzer sales, according to Nielsen's. "It's like a whole social phenomenon," Brager said during a break, referring to White Claw.
About 42 percent of customers who buy hard seltzers buy the product instead of another alcoholic beverage, including wine, beer and spirit, according to Nielsen's data. About 53 percent of the consumers who are purchasing hard seltzers also other alcoholic beverages, while 5 percent are brand- new alcohol customers.
Wine canned sales continue to rise exponentially, according to Nielsen data. "I don't think it's a fad. I think it's a trend," Brager said. "There is something going with convenience in cans and alternative packaging," he said.
The wine industry should consider smaller sizes. Brager noted consumers like he and his wife are empty nester and drink wine from 375-ml bottles.
Sales of canned wine have reached about $125 million in the last year – or 1 percent of all wine sales. Brager expects that category to grow and present an opportunity for the wine industry. Bubbly is in.
Private labels sales are on the rise, according to Nielsen's data. Retailers want more shoppers into their stores and build sales with stronger margins.
The consumer is changing, Brager said, referring to the health and wellness and sustainability and other trends. "The 'Better for Me' thing isn't going away."
Surveys indicate people, particularly young consumers, drink less because they seek a healthier lifestyle, Brager said.
With that, comes the desire for more transparency, Brager said. Most of the consumers surveyed want to know what they are eating and drinking, he said. Consumers, and particularly young consumers want information, Brager said. Food-type labels resonate with consumers.
Consumers also seek flavors, he said. "That's part of the hard seltzer thing."
There is good news and bad news when it comes to demographics, Berger said. People across all demographics do buy wine sometime, he said. "The problem is they're not buying it enough," Brager said.
Millennials, who are between 23 and 38 years old, and Gen Z populations, who are 21 and 22 years old, represent 34 percent of all populations 21 years old and older. However, they are only 19 percent of all wine consumers, according to Silicon Valley Bank's industry survey. Boomers represent 40 percent of all wine drinkers. But as they age, their wine consumption decreases dramatically. Mature consumers in their 70s only represent 6 percent of all wine drinkers.
Generation Z people behave differently than older generations, Brager said. "We need to understand that behavior."
Wine sales are also low among multi-cultural customers, he said.
Consumers seek experience, authenticity and convenience, Brager said.
Competitors specifically go after the wine drinker, Brager noted, showing advertisements designed by beer and spirits companies. "Thanksgiving beer: it's time to bump wine from the holiday table," reads one of the advertisements. "I'd encourage us to be aggressive and fight back."
There is also a blurring of categories between beer, wine and spirits. There are new products entering the market, including wine spritzer, wine cocktails. Their labels read "wine," Brager said. "The good thing for us it is wine," he said. These products may be an "entrée" to wine, Brager said. "I think that's good for us."
Online sales of wine grew by 20 percent, according to Nielsen's data. Wine represent 76 percent of all alcoholic beverages' e-commerce activities. "That's an area that we need to keep nurturing."