French Ambassador Philippe Etienne meets French wine industry leaders in Oakville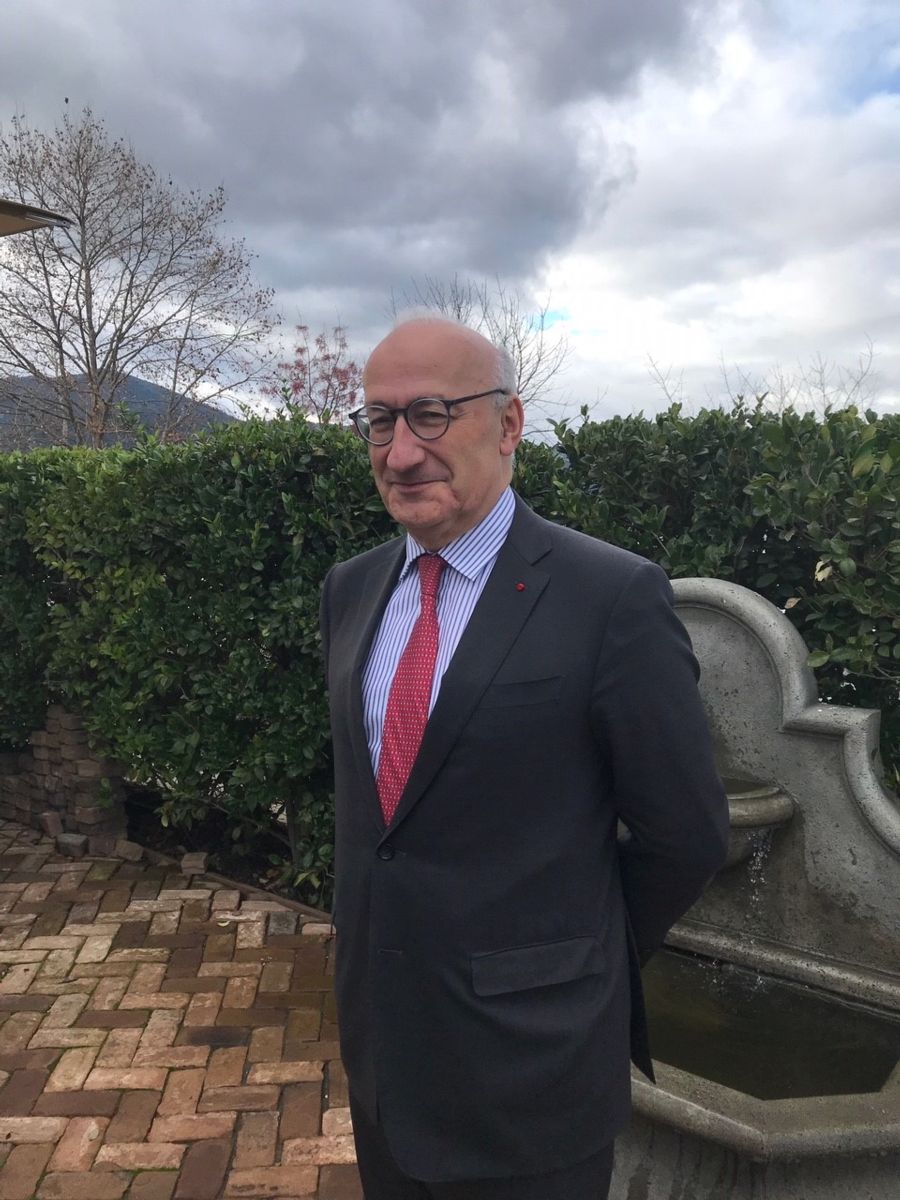 French Ambassador Philippe Etienne visited the Napa Valley Sunday, praising the success of French companies in the Wine Country and reassuring them that discussions are ongoing to resolve the recent tariff disputes between France and the United States.
Etienne, who arrived in Washington DC last year, came to the Wine Country as the US Trump Administration threatens to impose 100 percent tariffs on French wines and other imports over a dispute over a French tax on digital services. In October, the US government imposed a 25 percent tariff on wine imports and other products from France and other European countries in a dispute over European subsidies to benefit airplane manufacturer Airbus.
Etienne came to Oakville's 1881 Napa with wife Patricia and Emmanuel Lebrun-Damiens, Consular General of France in San Francisco and aides. Representatives from the French American Chamber of Commerce of San Francisco and Jean-Charles Boisset, proprietor of Boisset Collection, greeted the officials and guests in French. Boisset's holdings include 1881 Napa, a wine history museum he inaugurated last summer. The Victorian house is adjacent to Oakville Grocery, a historical landmark Boisset also owns.
Boisset welcomed the ambassadors to the region, noting there are large French investments in the wine business. He could not recall another French ambassadorial visit. Seeing the ambassador, Boisset said, shows support and understanding.
Etienne said he came to meet with the French community, including wine producers and other wine industry representatives.
"Wine is culturally and economically important for France and for French-US relations," said Etienne as guests milled about.
When it comes to resolving the tariff disputes, Etienne said he was neither "optimistic" nor "pessimistic". It is up to the US Administration, Etienne said.
France wants an agreement between the European Community and the United States on the aeronautical question and an international agreement on digital taxation, he said.
His country has been telling its US partners that the wine industry should bear the consequences of the disputes, said Etienne, who noted US wine industry representatives have spoken against the tariffs. Wine importers and distributors have testified in Washington DC that thousands of wine industry jobs are at stake.
Etienne also did not rule out a response from France. "I don't what products we would tax but obviously if there are tariffs on the American side, there is always a danger of measures taken by the other side," Etienne said. "Our priority is to solve this by settlement," he added.
Boisset, whose family's holdings include wineries in California, Burgundy and the south of France, opposes the tariffs under discussion.
It's a catastrophe for all of us if it happens. I don't believe it can. It's irrational," Boisset said.
At the same time, he said he is skeptical the latest tariffs will be imposed. "I don't want it to happen."
US customers introduced to French wines will then buy domestic wines, Boisset said, as he stressed the need to have affordable wine bottles to have a young consumer to start enjoying wines. They have a lot of choices, including spirits, Boisset said. "It's very important to have people try wine," he said. "We want to make sure we don't scare people away from the wine world."
Antoine Donnedieu de Vabres, general manager at Eisele Vineyard near Calistoga, said the wine industry could lose a generation of wine consumers.
"It is important to, in this global world, to be able to touch things that come from different origin without artificial, irrational barriers that we put there for whatever reason," Donnedieu de Vabres said, referring to the proposed tariffs.
Boisset said he loves the US and its free market. "I don't believe tariffs is the solution to make a point," he said. "We believe in free enterprise… and free spirited enterprise!"