Keeping Your Wine Business Economically Safe
WBM's Central Coast Insight conference provides expert advice on how to maintain a successful brand as the country rides an economic and environmental roller coaster.
On March 24, 2020, Wine Business Monthly hosts Central Coast Insights, held at the Paso Robles Event Center. This business-minded conference gathers together some of the top leaders in finance and economics, with educational sessions specifically focused on wine business strategy and development. Get your early bird tickets now.
For those concerned about the financial future of the wine industry, WBM has scheduled a session dedicated to key tactics on how to maintain a successful brand and business—no matter what the economy or environment throws at us. Ian Brand, co-owner and winemaker for Le P'tit Paysan, La Marea and I.Brand and Family, will lead the seminar entitled "How to Keep Your Business Steady in a Changing World."
Wineries across the West Coast need to build policies and procedures to prepare for worst-case business scenarios: safety, communication and evacuation plans in case of a natural disaster; financial planning, budgeting and investing in case of another economic downturn. Are you ready?
Join us at CCI and learn what potential negatives impact our industry and what you can do to safe-guard yourself, your employees and your business against them.
About Ian Brand
Ian Brand is the owner and winemaker of Le P'tit Paysan, a small producer focused on showcasing the quality and diversity of the wines that Monterey and the nearby AVAs can create. After moving from Utah to California to pursue surfing, Brand found his real calling at Bonny Doon in Santa Cruz, where he was assistant winemaker from 2004– 2007. He has also been winemaker for Nicholson and Pierce Vineyards and consults for various clients in the region.
About Central Coast Insights (CCI)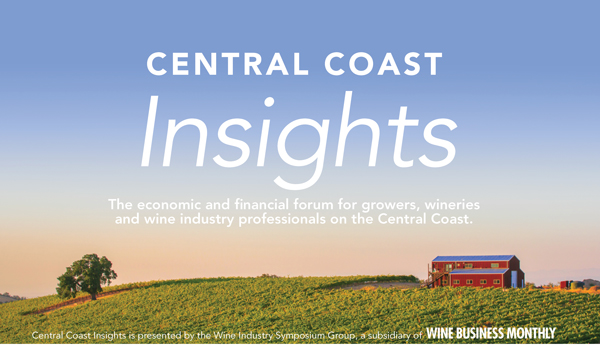 WHEN: March 24, 2020
WHERE: Paso Robles Event Center, Paso Robles, CA - All-new venue!
REGISTER: Early Bird Tickets Now Available—Deadline is February 25, 2020: $375
Regular Price (after February 25): $425
Get More Bang for Your Buck
Central Coast Insights attendees are eligible to attend WiVi Central Coast conference and tradeshow (held March 25, the day following CCI) at a discounted rate. To access the $100 discount for sessions or free tradeshow entry, follow the link in your CCI registration confirmation email (discounts applied at checkout).
More Info
Full details on Central Coast Insights, including agenda and speakers, are now available on the Central Coast Insights website.
Event Contact Details
Phone: 707.940.3920
email: info@WBMEvents.com