2019 Harvest from Connecticut to Minnesota "Difficult" growing season, with one exception: Ohio!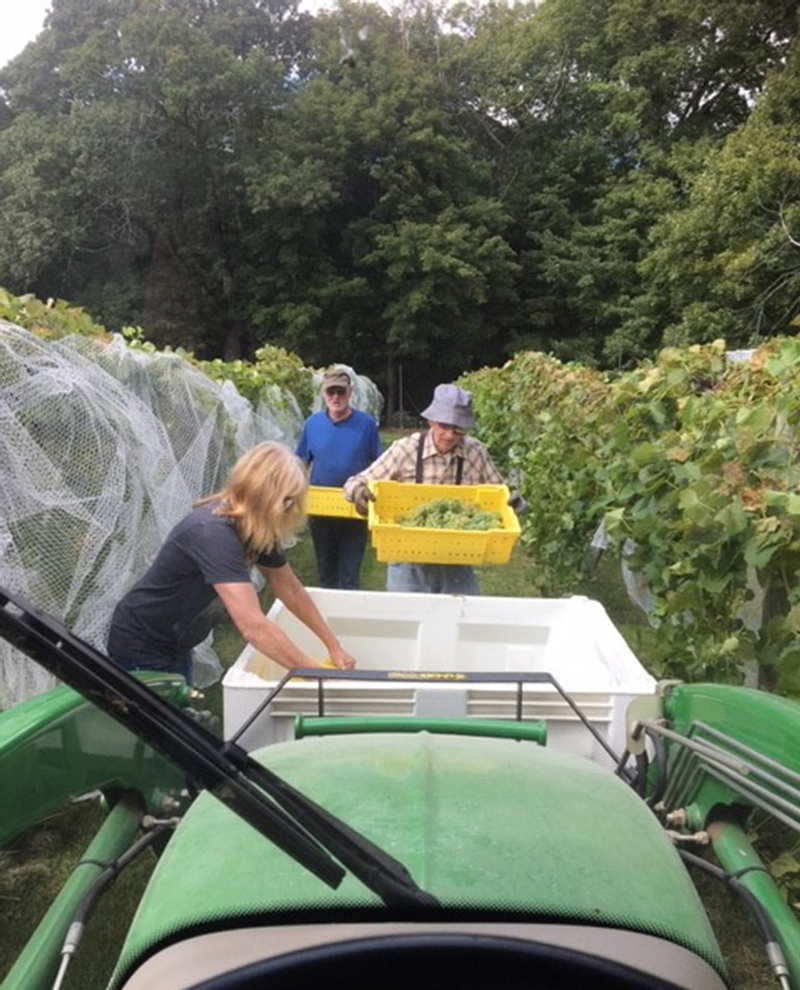 Harvest at Lisa Smiley's vineyard in Cannon Falls, MN in 2019. (Photo credit: Lisa Smiley)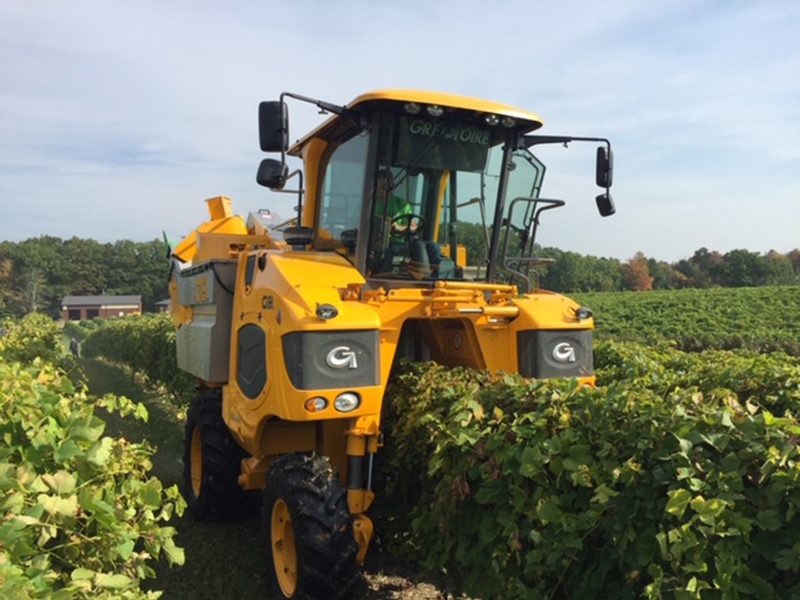 Grape harvester at Debonne Vineyards in Madison, OH in 2019. (Photo credit: Debonne Vineyards)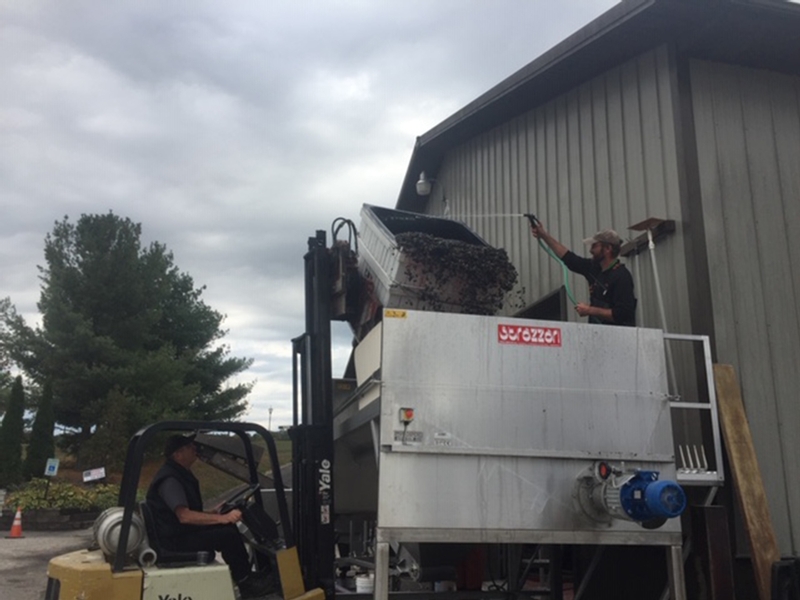 Unlodading grapes at Debonne Vineyards in Madison, OH in 2019. (Photo credit: Debonne Vineyards)

The grape growing season in the East and upper Midwest during 2019 has been described as "difficult," although the problems growers faced in the East were somewhat different than those in Minnesota, Wisconsin and Michigan. The only region reporting excellent quality grapes and good yields is Ohio. Tony DeBevc, owner of Debonne Vineyards in Madison, OH told Wine Business Monthly, "2019 was the best year we ever had. Every variety from Sémillon and Malbec to Concord had quality grapes and a good, solid crop across the board."
Diane Kinney, research assistant, and Dr. Imed Dami, professor of horticulture and crop science at Ohio State University, reported in the October issue of the Ohio Grape-Wine Electronic Newsletter, "While compared to the past three years, the 2019 GDD (growing degree days) accumulation was not the highest. However, the abundance of sunshine, dry conditions, and cool nights have created nearly perfect weather conditions for optimum fruit maturity. We can't wait to taste the wines from the stellar 2019 vintage!"
The harvest news from other northerly areas was not nearly as positive. The Mid-Atlantic region and southern New England had a similar wet weather pattern to that experienced in the South. Rain began during the summer of 2018 and, after a cold winter, continued through bud break and during fruit set. However, by mid-July this summer, the rain stopped, and sunny weather helped to speed up the ripening of the grapes. In contrast with last September, there were no hurricanes and constant wet and cloudy days. The Finger Lakes in New York had about half the rainfall that region normally receives in September and Pennsylvania had near-drought conditions. Both states had consistently warm temperatures that peaked on October 1 with the heat ranging from mid-80s to above 90° F.
The weather situation in the upper Midwest was not the same as the conditions farther east. In 2018, the rains during and after harvest created a situation where the grapevines did not harden off in time to be ready for cold weather. Extremely cold temperatures arrived on January 27 to 31 that were devastating from North Dakota down to Iowa, northern Illinois and Indiana and up into Michigan. What has been described as a "mini-Polar Vortex" brought a very large and cold air mass from Canada across the upper Midwest and temperatures dropped to as low as -40° F with wind chills as low as -63° F.
The effects of such a cold winter were compounded in April by a late Spring frost. In Wisconsin, temperatures fell to about 27° F, which resulted in early budding varieties having as much as a 60% loss of primary buds. Bud break was late by several weeks, which helped especially white grape varieties survive those low temperatures. Warm, sunny weather finally arrived in June, and sunshine and drier conditions during the summer months allowed what grapes had survived to ripen.
Connecticut

Like much of the East, growers in Connecticut had a wet late summer and fall in 2018. Howard Bursen, winemaker at Sharpe Hill Vineyard in Pomfret, CT reported that the soil was saturated for the last two months of the growing season last year. As a result, the vines didn't harden off before very cold temperatures arrived in late January that resulted in damage to primary buds on vinifera vines. "Most vinifera produced on secondary buds," Bunsen said, "so our crop was down. The hybrids did OK, and the grapes we did harvest were great. We had good quality, but low quantity."
New York
In the first edition of this year's newsletter "Véraison to Harvest" on September 6, Tim Martinson, senior extension associate at Cornell University's department of horticulture, predicted that harvest "could be a 'low-brix, high acid' year for growers [in New York] outside of Long Island." Bloom had been two weeks late on some varieties after a cool, wet Spring, and both véraison and harvest were later than normal.
Sunshine and warm temperatures arrived in September, a welcome change from conditions in 2018. Martinson told Wine Business Monthly that last year the humidity, combined with warm days and nights with lows above 60° F, created ideal conditions for sour rot, Botrytis, fungus and fruit flies. In contrast, this year cooler nights with lower humidity, plus sunshine and some very warm days in September and early October, permitted the grapes in the Finger Lakes to ripen to maturity.
Hans Walter-Peterson, viticulture specialist with the Finger Lakes Grape Program at the Cornell Cooperative Extension, reported, "For a late season, it's pretty good. We had a late start, but things have caught up. The lack of humidity and lack of rain has been a real help. It's much better than 2018!"
On Long Island, warm dry weather in August and September resulted in "clean, fully ripe fruit and in most cases, average to above average yields," according to Alice Wise, association senior educator at Cornell University's College of Agriculture and Life Sciences. The lower Hudson Valley, which has a climate more similar to Connecticut than to the Finger Lakes or Long Island, experienced wet weather in 2018 and very cold temperatures in late January that caused some bud damage. An earlier than normal bud break was followed by a late Spring frost in April. Overall, harvest in the lower Hudson was low in yield but high in quality after the exceptional weather in September.
Pennsylvania

Winery owners across southeastern Pennsylvania reported "excessive rain" in 2018, especially in September and October during harvest. Jan Waltz, owner and winemaker at Waltz Vineyards in Manheim, PA, said that all his red grapes that harvest went into a rosé wine because they weren't fully ripe. Waltz commented that it is his philosophy to keep as much wine as he can when they have a good year; it's an insurance policy for bad years, so that the winery will then have some wine to sell, at least to their wine club.
When very cold temperatures occurred across Pennsylvania in January, the vines had not hardened off sufficiently, and many vineyards incurred some winter injury. Richard Blair, owner and winemaker at Setter Ridge Vineyards in Kutztown, PA noted, "Yields are one-third of normal because of last winter's cold and rain all season." Similar comments were made by Larry Kennel, owner and winemaker at the Vineyard at Grandview in Mount Joy, PA, whose vineyards produced about one-half to three-quarters of the normal crop of Cabernet Franc and Cabernet Sauvignon this Fall.
Ohio

The weather is not always perfect in Ohio. When the Polar Vortex moved into the Midwest in early January 2014, northeastern Ohio was hard hit. Primary, secondary and even tertiary buds were killed off by temperatures that dropped to -15 to -20° F. Many acres of vines in the region died and had to be replanted. Debevc noted that Debonne Vineyards has always hilled up its vines. As a result, they had some fruiting buds below that soil and harvested a small amount the next fall, although every vinifera vine had zero yield. For those growers who had to replant their vineyards in 2014 or 2015, the harvest in 2019 was the first major crop off those vines.
When the mini-Polar Vortex came through the upper Midwest last January, much of Ohio had cloud cover generated by Lake Erie. Those clouds kept the cold air from reaching the ground and protected the grapevines from the Vortex' extremely cold temperatures.
In 2019, "We escaped frosts and winter injury," Debevc stated. "It was wet through June, and bloom was six to ten days late. July was nice and warm, with some 90° F days and a lot of sunshine. The acidities are a little high, and sugars are higher than normal, but the flavor character is excellent and the grapes have good color. The Cabernet Franc is absolutely gorgeous! Everyone had a pretty good year and a good crop."
Minnesota

"It's been a tough year, for sure," stated Tami Bredesen, owner of Carlos Creek Winery in Alexandria, MN, about 130 miles northwest of Minneapolis. Wet weather in 2018 was followed by a mini-Polar Vortex that swept down from the Arctic in late January 2019. Temperatures that dropped to as low as -38° F were accompanied by strong winds from January 28 to January 31. While varieties such as Valient that ripen early had had more time to harden off, those like Frontenac that need a longer growing season had not hardened off sufficiently and suffered major winter damage.
According to Bredesen, Marquette - which is not as cold hardy as some cold climate grapes - was down 90% statewide as were some of the less hardy Plocher varieties. Production of Frontenac across Minnesota was down 50% and she said that in the Carlos Creek vineyards, "we were down 85%. We dropped the crop we had to let the vines recuperate and regenerate from tertiary buds."
Bud break was 2½ to 3 weeks late, and with wet weather continuing, it was challenging to get sprays on the vines at appropriate times and some growers lost fruit to Botrytis. While Valient survived the cold weather, Bredesen noted that those grapes require good canopy management and a regular spray program. With a wet season, those vines had some issues with downy and powdery mildew.
One bright spot was a major decrease in the population of Spotted Wing Drosophila. Grape growers for Carlos Creek had had two years of losses due to SWD, so Bredesen asked them to spray prophylactically. Her growers had no losses from SWD this fall. She commented, "It was nice not to have that problem!"
The first frost in Minnesota occurred on October 7, which meant that varieties that are late in maturing did not fully ripen. Wineries in the state are required to use 51% Minnesota fruit, and some may have to submit variances to allow them to bring in fruit from outside the state. Carlos Creek harvested their estate grown grapes early. Some varieties such as Brianna survived the winter and came through OK, while Valient, which ripens early, had a decrease in production by about 20% from winter damage. Knowing the extent of the problems this year, the winery acquired some fruit from Iowa and bought some from growers in California.
Michigan

"There's not much of a harvest in southwest Michigan," Dave Miller, owner and winemaker at White Pine Winery and Vineyards in Lawton, MI told Wine Business Monthly. "There are no vinifera grapes, except in some vineyards on high ground that had a small amount."
He explained that the mini-Polar Vortex from Canada that swept down across Minnesota and Wisconsin on the west side of Lake Michigan in late January went around the southern end of the lake and up the east side across southwest Michigan. "Usually Lake Michigan protects us, and this January the lake was not frozen," Miller said, "but the air mass was too big and cold."
Temperatures dropped to -16° F, and even the hybrid grapes that can withstand colder temperatures were damaged. As a result, there was no crop on Traminette, for example, and Chambourcin was down by 25%.
The growing season continued to be challenging, as Spring in Michigan was wet and consequently getting into the vineyards to spray was difficult. Weather in August was dry, but in September it rained for seven days in a row, and constant high humidity added to the problems of getting what fruit there was ripe.
Miller noted that he was in better shape than some wineries, because in 2017 when Michigan had a big crop with excellent quality, he bought extra fruit so that he would more wine to hold in inventory in case another harvest came up short. Fortunately, this Fall growers in the Traverse City area did have some extra fruit, and he was able to buy some white grapes there. He also purchased some Cabernet Franc from Washington state vineyards.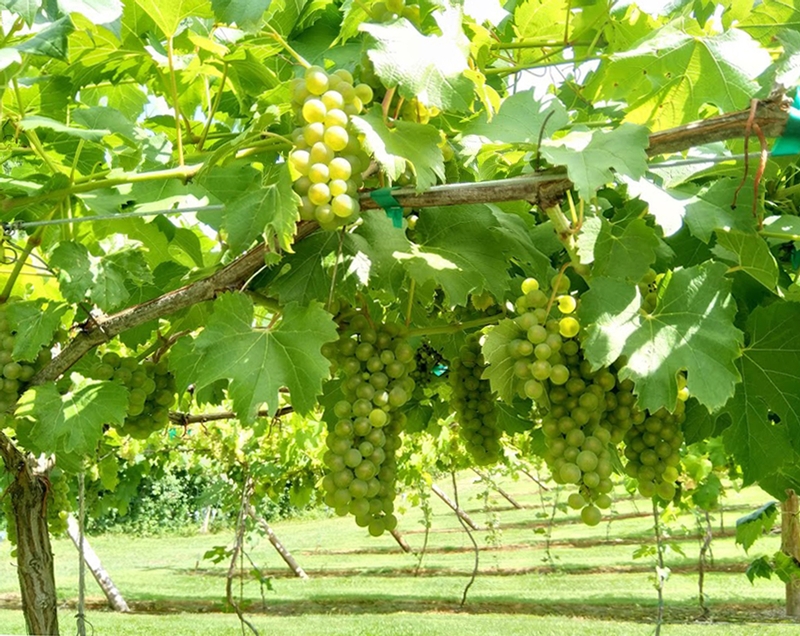 Itasca grapes are the most recently named cold climate grapes from the breeding program at the University of Minnesota. These Itasca grapes are ready for harvest at Wild Oaks Ranch Vineyard and Winery in Lakeville, MN. (Photo credit: Annie Klodd)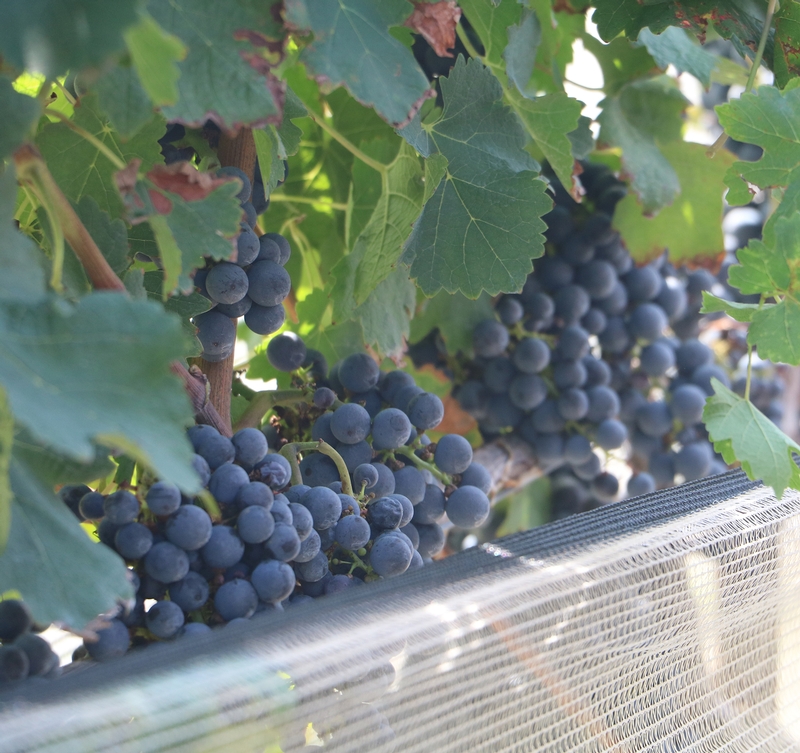 Merlot grapes ready for harvest at Penns Woods Winery in Chadds Ford, PA. (Photo credit: Linda Jones McKee)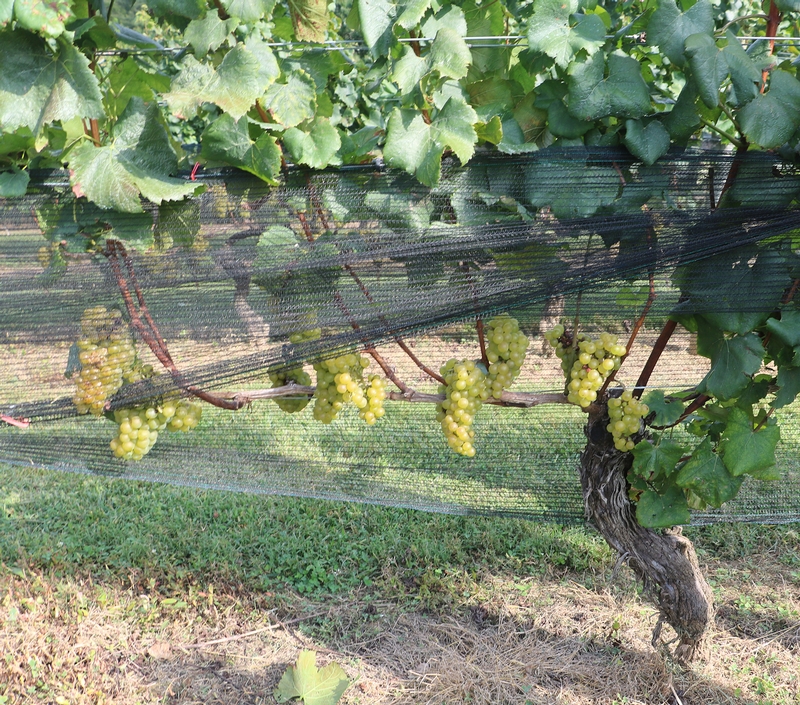 Chardonnay grapes ready for harvest at Galer Estate Vineyard & Winery in Kennett Square, PA. (Photo credit: Linda Jones McKee)