Town Forum in Sonoma Focuses on Power Shutoffs, Wildfires and PG&E's Future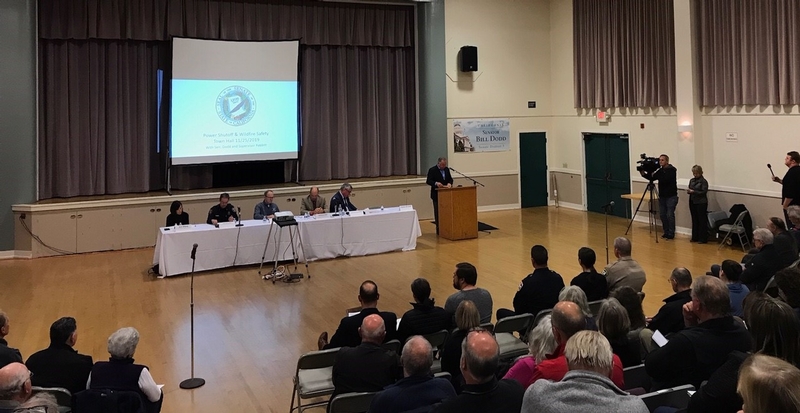 About 115 people attended a forum Monday to discuss Pacific Gas and Electric Co.'s recent power shutoffs and wildfire safety. State Sen. Bill Dodd, D-Napa, on Monday hosted the forum at Sonoma Veterans Memorial Hall.
Photo by Kerana Todorov/Wine Business Monthly
Sonoma County residents questioned Pacific Gas and Electric's 10-year plan to turn off power to prevent wildfires as discussions on the future of the investors-owned utility continue.
State Sen. Bill Dodd, D-Napa, organized the forum on Monday, Nov. 25, 2019, a week after the utility implemented its sixth rolling blackout this fall. Last month, Sonoma residents had no power while the Kincade fire burned, which also forced the evacuation of about 180,000 residents.
"The status quo at PG&E is unacceptable," Dodd told about 115 people gathered at the Veterans Memorial Building in Sonoma. "We need systemic and structural changes there. We cannot have a utility that does not have safety at its core values in the board room, in the executive suites," he said, to applause.
He and other politicians have not ruled out a take-over of the utility, which has filed for bankruptcy.
"We've got to sit down and look at all the benefits and all risks," Dodd said, referring to the PG&E. "There is no silver bullet on this."
The rolling blackouts may have cost between $50 and $70 million, according to preliminary figures. Sonoma County Supervisor Chairman David Rabbitt told the audience a county-commissioned assessment of the economic impacts of the PG&E shut-offs is anticipated to be released mid-January. "Right now there is a lot of anecdotal evidence about the cost of these shut-offs but this will be a little more definitive," Rabbitt said.
Reactions from the County, Residents
The meeting took place at Veterans Memorial Building, which served as a charging station during the shut-offs for about 1,800 people.
Sonoma's Vice-Mayor Logan Harvey, who helped charged medical devices at Veterans Memorial Building, said the shut-offs occurred at the height of Sonoma's tourist season and did affect the city economically.
"We had people canceling weddings. We had people canceling trips. So that was a major negative impact," he said.
Speakers said Sonoma County is much better prepared to handle disasters, including adding firefighters and improving emergency notifications.
Christopher Godley, director of the Sonoma County Department of Emergency Management, said power shutoffs are just like another disaster: There are immediate life safety threats, especially to the most vulnerable residents who rely on electricity to recharge medical equipment or store and refrigerate medicines. The county goes into action as soon as PG&E is considering a power shut-off. "We move early," Godley said. "By the time the power goes off, it's too late."
PG&E officials have stated the utility may rely on public safety power shut-offs for 10 years to prevent wildfires before the grid is upgraded.
Retired vintner Deborah Emery said no one wants to live like this. "This is not working," Emery told the officials Monday. "I just don't know where I can see the end happening here and us living a normal life again."
Anthony Noll, program manager at the California Public Utilities Commission, who heads the regulator's newly formed wildfire safety and enforcement branch, was a member of the panel Dodd invited Monday.
"You're right. Ten years is unacceptable on anybody's term," Noll told Emery.
Other panelists included Chief Steve Akre of Sonoma Valley Fire and Rescue Authority and Jane Whang, counsel at Verizon. PG&E was not invited.