Climate Change Expert Addresses Changing World and Sustainable Wine Production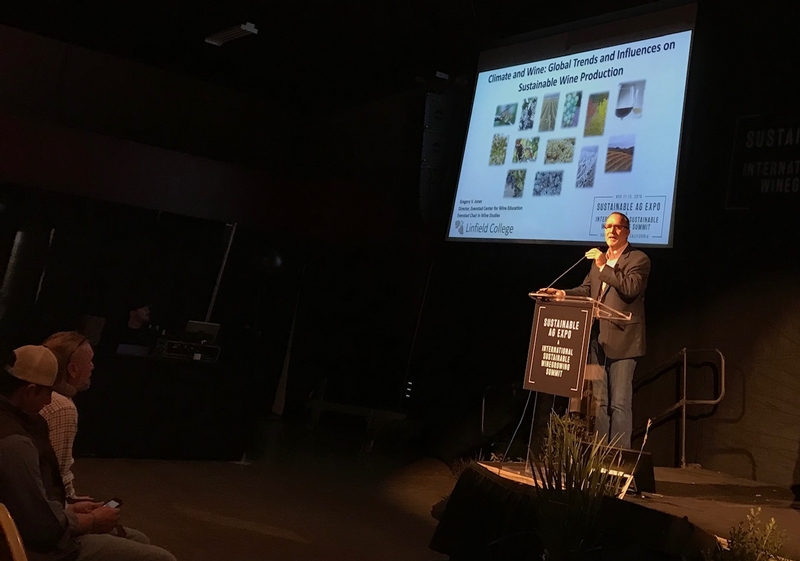 Greg Jones speaks on Nov. 11 at the 2019 Sustainable Ag Expo & International Sustainable Winegrowing Summit.
Photo by Kerana Todorov/Wine Business Monthly

Growers should expect to grow grapes in warmer conditions in the years to come and anticipate longer growing seasons—and warming trends are only expected to accelerate, according to climate change expert Greg Jones, director of the Evenstad Center for Wine Education at Linfield College in McMinnville, Ore. In addition, he added that climate variability has increased in the last 15 to 25 years and the oceans are absorbing 25 times the amount of heat the atmosphere is absorbing,
Jones was among the speakers who addressed climate change at the 2019 Sustainable Ag Expo and International Sustainable Winegrowing Summit Nov. 11-13 in San Luis Obispo.
Data indicate temperatures in global wine regions have increased 1.5 to 3.8 degrees Fahrenheit over the last 50 to 100 years. In Jones' home wine region, the Willamette Valley, known for its Pinot Noir wines, he noted that growers might experience a rise in temperatures of 2 to 6 degrees Fahrenheit between 2040 and 2060, based on his latest research. Other varieties will be more suitable for the region, according to his models.
Growers are adapting to the new conditions and research continues on a host of topics including pests and water efficiency in a new environment, Jones and others said at the conference. Winegrape vines have experienced earlier bud break and flowering as growing seasons have become warmer and longer and the winter months are hotter than ever before.
"The grapevines are telling us that the climate is changing," Jones said.
The effects include new ripening characteristics, leading to different wine styles as fruit accumulates more sugar in hotter conditions.
One key to adaptation is understanding how different varieties perform as climate conditions evolve. The industry needs to consider the cultivar diversity of Vitis vinifera, the grapevine and its potential for adaptation. Research scion/rootstock continues to better understand how they can adapt in different environments in the future. Growers are studying vine training systems and orientations as well as shaded materials to protect plants from heat stress.
He and his father, Earl, who have grown winegrapes in Oregon since the early 1990s, do not use the same practices to grow their fruit as they once did, Jones said.
Jones also cited experiments in the Israel's Negev desert, where researchers try to grow winegrapes in harsh environments, as well as collaboration in Poland, where universities and private businesses are working together to push the envelope and grow grapes.
Scientists now have massive amount of data. The challenge, said Tapan Pathak, UC cooperative extension specialist at UC Merced, is how to translate the data into meaningful information. "We have no shortage of data," said Pathak, who said there is more awareness about climate change.
Jones noted he supports more school instruction on geography, climate, and agriculture in schools, noting that scientific literacy is under threat.