Winemaker Trial: Finding the Right Temperatures on Barrel-fermented Chardonnay
Former Chamisal Vineyards winemaker, Michael Callahan, wanted to know what fermentation temperature would produce a less fruit-driven and more complex Chardonnay.
The following trial was submitted by Michael Callahan, former winemaker for Chamisal Vineyards in San Luis Obispo, Calif., and was presented at Wine Business Monthly's 2019 Innovation + Quality winemaking conference.
What are you working on in the vineyard or in your cellar? Submit your trials for the 2020 IQ conference, scheduled for February 27, 2020, at the Culinary Institute of America at Greystone. Join Callahan and other leading winemakers in sharing the results of your trials to help advance our collective winemaking knowledge. This one-of-a-kind forum for ultra-premium wineries hopes to create a place for curious winemakers to build upon foundational knowledge in their pursuit of the highest quality wine. Learn more. The submission deadline is December 15, 2019.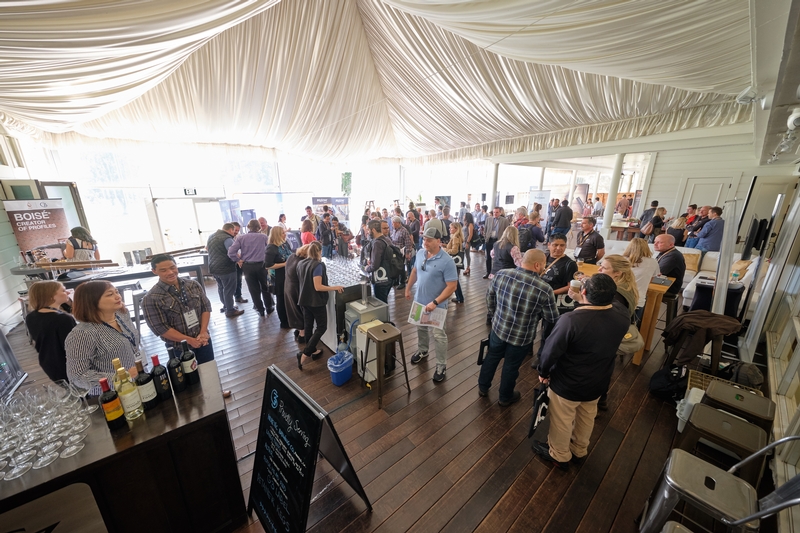 2019 IQ Trials tasting and conference trade show
Winery: Chamisal Vineyards
Winemaker: Michael Callahan
Objective: To see less fruit aromatics and more savory aromas at higher temperatures.
Summary: We vinified eight barrels at each temperature range: peak at 15° C, peak at 18° C and peak at 22° C. All barrel fermentations were whole-cluster-pressed from the same lot. Grapes came in with 185 YAN at 21.9° Brix, 3.27 pH and 7.51 TA. All barrels were filled from a homogenized tank, starting out at the same turbidity. All three lots were inoculated with CH9 and yeast re-hydration nutrient. All three lots were sulfured for the first time in January.
Lot 1: Barrel-fermented cool, 15° C
Lot 2: Barrel-fermented moderate, 18° C
Lot 3: Barrel-fermented hot, 22° C
Conclusion: Each lot shows distinction, and the only difference controlled for was the temperature. All lots went ML and RS dry around the same time, and all other chemistry is pretty much the same across the lots: pH 3.32, holding 24 ppm FSO2, 7.3 TA, VA 0.49, ETOH 13.5%. The aromas and textures of the wines are quite different, though. This was a successful trial for us, as we are trying to make less fruit-forward Chardonnay, but reduction can be something winemakers over-correct by feeding fermentation and keeping temperatures down. We also noticed better oak extraction on the newer barrels and may need less overall oak in the future. We will continue to experiment with a range of fermentation temperatures and widen the range of vineyards where we are trying to vinify hotter. It may very well be a vineyard-specific preference. We do not know because we haven't trialed an array of different Chardonnay sites we deal with yet.
Winemaker's Postmortem
What led to the creation of this trial?
Callahan: For our Chardonnay program we see ourselves leaning toward less primary fruit and more complexity. Some of the wines that we've seen, even trends in Burgundy, show a little bit of noble reduction, which is just a little less fruit-driven and a little more complex. Without tweaking it too much, we wanted to check how slight changes in our fermentation temperature would add a bit more complexity.
Considering the size of the lots, isn't that a large investment to risk on an experimental trial?
Callahan: On the surface it might look that way, but we did have a lot of data going into the trial, and we smell and taste daily. If we thought it was going to be a bad move, we probably wouldn't have completed it. We would have changed or pivoted accordingly.
The final wine just went to tank and was the combination of all three lots. As our winemaking protocols evolve a bit, we are fermenting the Chardonnay from this program a little warmer, and we're liking the direction for that.
One of the comments you noted in your conclusion was that you noticed there was better oak extraction in the newer barrels and, going forward, could use less overall oak. Was there a reason that you used both new and old barrels?
Callahan: It was a trial split—we had eight barrels, eight barrels, and 10 barrels for the three lots. That's how it ended up. It wasn't a perfect split, but that gave us the ability to do a 25 to 30 percent new oak program with each lot, so [the winemaking team] tasted the wines, not just from neutral barrels but more as they would if it was an entire program.
From there, we were able to ask how it worked with the old barrels, how it worked with the new barrels and how it worked with the one-year-old barrels. We were able to get that to composite, and that pretty much tells a story of what that 18° C ferment tastes like, versus a 15° C, versus a 21° C. I guess it wasn't the thing that we were testing for. We're not trying to get more out of the oak program, but a lot of times when you start off with these experimental trials, you find something that maybe you weren't looking for pop up. That's part of the fun with doing trials, discovering something other than what you were looking for. Maybe in the future we spend less money on oak.
From the results of this trial, what have you learned and how will you use this knowledge in future wine blending?
Callahan: Everything we do is specific for what we're trying to find for different parcels and different plots that we deal with and interpret those vineyards and the blocks within those vineyards. We deal with about six Santa Rita Hills vineyards. I think it's a good jumping off point to reassess what I thought about keeping Chardonnay fermentations as cold as you can and letting them kick through the fermentation in three or four weeks. That's evolved for me a little bit. I don't think it's for every vineyard.
I think what this trial did for me is give me confidence. A lot of times that's what you get when you do these trials because you get a little more experience, and it allows you to guide those fermentations without needing to rely on some of what's already been drafted as "this is the way you do things." I think it's given me a little more confidence to ferment a bit warmer when given the right vineyard.
So now that the trial is completed, has your original objective pivoted in any way?
Callahan: I guess I can really pinpoint at least one of my pillars for what I'm trying to do. I am trying to create wines that showcase the site that it comes from. What I think is a lot of the complexity that can shine through in a vineyard is going to come out if you allow for a little bit of a rougher journey, rather than having all your fermentation parameters dialed in. I think some of the uniqueness of the sites that we work with can really come out if we're taking a little different approach stylistically in our winemaking.
Which of the three lots did the IQ attendees prefer the most?
Callahan: By far, attendees gravitated to the middle-of-the-road lot: the 18° C lot was the preference. I think it comes down to what people are looking for. I think that some people are trying to find wines that really jump out. Sometimes you learn a lot from people, chasing the ideal, by trying to interpret a vineyard and how to make the best wine. It's knowing where you want to go with that, just trying to find the tools to achieve it, and it is not necessarily always the most popular wine sometimes. Quality is something that I think winemakers struggle to put their finger on. That's what all of our trials are based around: What can we do to make this wine show the quality of that vineyard without any flaws? How do we make it the most interesting wine that we can?
---
Winemaker Bio
Michael Callahan has made wine on the California Central Coast for 16 years with a focus on Pinot Noir, Chardonnay and Riesling. Over the course of that time he has worked with Kenneth Volk Vineyards, Testarossa Winery and Chamisal Vineyards where he was assistant winemaker. He also produces single vineyard Riesling at Maidenstoen Wine Company. Callahan has been on the advisory committee of The Chardonnay Symposium and currently sits on the winery committee for SIP, Sustainability in Practice.