Registration Opens for the Eastern Winery Exposition Conference in Lancaster, PA
Early registration lasts through December 13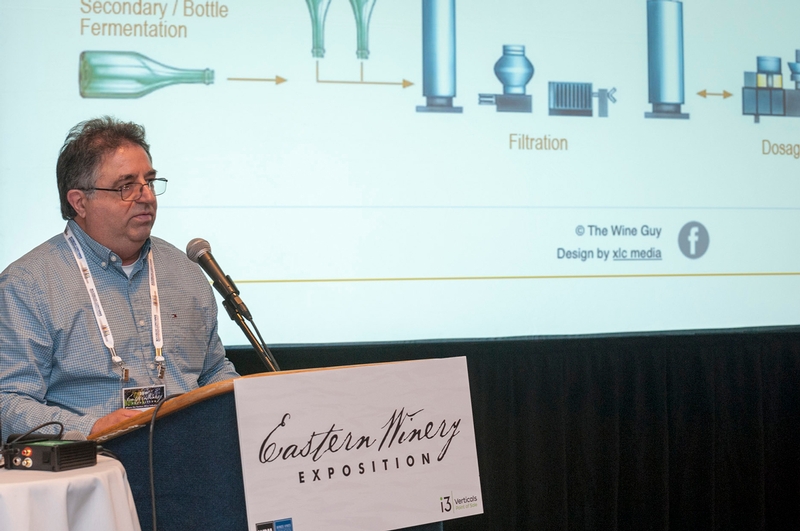 Steve diFrancesco, winemaker at Glenora Wine Cellars in New York, speaking at the 2019 Sparkling Wine Workshop. Photos by Van Zandbergen Photography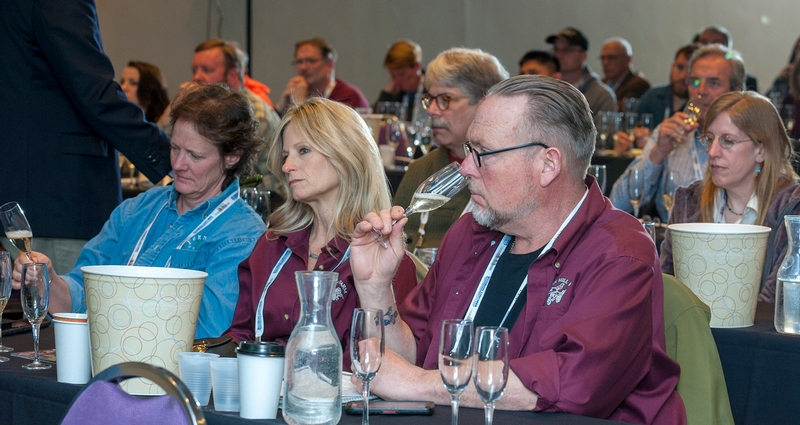 Tasting during one of the EWE sessions

The trade show floor

The ninth annual Eastern Winery Exposition (EWE) will be held at the Lancaster County Convention Center in Lancaster, PA from March 10 to 12, 2020. The largest wine and grape trade show and conference east of the Pacific states, EWE will include three special topic workshops on the first day, followed by two days of multiple sessions on three tracks: enology, viticulture and money/marketing/ management.
Registration for the conference is now open and those registering early will receive the best discounts. Members of 33 supporting sponsor wine associations, wine trails and other wine groups are eligible for discounts. Those thinking about attending should note that early registration will last through December 13
Hotel room blocks for EWE will also open for reservations on Nov. 6. The Lancaster Marriott at Penn Square adjacent to the convention center will have more rooms available than for previous EWE conferences, as the hotel opened a second tower that added 110 rooms this past summer. Additional hotels with EWE room blocks include the recently renovated Holiday Inn Lancaster (located two blocks from the Convention Center), the Cork Factory Hotel, the Eden Resort and the Lancaster Arts Hotel.
EWE will feature 56 speakers, 35 conference sessions and workshop modules, tastings, networking and social events, and a trade show with approximately 190 booths. For the fourth year, EWE is partnering with the License to Steal (LTS) conference organized by the Ohio Wine Producers Association (OWPA). LTS will have 13 speakers during three days of sessions that will be dedicated to wine marketing issues and ideas.
Three day-long workshops on March 10 will include speakers from New Jersey, New York, North Carolina, Oregon, Pennsylvania, Texas and Virginia as well as from several suppliers for vineyards and wineries. A workshop on climate change and sustainable viticulture will explore a broad range of information including a presentation by Dr. Greg Jones, a research climatologist and director of wine education at Linfield College in McMinnville, OR on the latest data on climate change and viticulture, with a focus on the Eastern United States. Two grape pathologists – Bryan Hed at Penn State University and Mizuho Nita at Virginia Tech – will discuss controlling fungal grape diseases in a wet season; two vineyard managers – Pat Colwell from Carolina Heritage Vineyard in NC and Christine Vrooman from Ankida Ridge in VA – will talk about the challenges of growing Pinot Noir sustainably in the humid climate of the Mid-Atlantic region; and Lucie Morton, viticulturist in VA and Dennis Rak, owner of Double A Vineyards in NY will provide information about clean plant certification, viruses and other factors in growing healthy grapevines.
The second workshop on fortified wines will be presented by seven winemakers from four regions of Eastern winemaking. Peter Bell, winemaker at Fox Run Vineyards in NY, will cover the basics of fortification as well as some of the styles of Port-inspired wines and then will join Damien Blanchon, winemaker at Afton Mountain Vineyards in VA to talk about and pour samples two very different white-port style wines. After a lunch break, Matthieu Finot, winemaker at King Family Vineyards, and Chris Pearmund, owner of Pearmund Cellars, both in VA, will pour and discuss their ruby and vintage character port-style wines. A session on tawny port-style wines will be presented by Conor Quilty, winemaker at Unionville Vineyards in NJ and Tiffany Farrell, winemaker at Haak Cellars in TX. Farrell will then join Carlo Devito, winemaker and owner of Hudson Chatham Vineyards in NY in a session on sherry and madeira-style wines.
"Eco-Friendly Packaging Options," the third full-day workshop, will look at the options for "greener packaging," from lighter-weight glass bottles to alternatives to conventional containers, as well as the environmental benefits of a range of closure options. In the first session, George Hall from Waterloo Container in NY, Ted Ramsey of Amcor in Ontario, and Phil Plummer, winemaker at Montezuma Winery in NY will address the question, "Are glass bottles and aluminum closures eco-friendly?" Jessica Bossert, from Michael Shaps Wineworks in VA and Lee Hartman, winemaker at Bluestone Vineyards in VA will talk about the options for refillable containers. They will be followed by a discussion of other container alternatives including Bag-in-Box and AstraPouch by Steve diFrancesco, winemaker at Glenora Wine Cellars in NY, Justin Rose, winemaker at Rosemont of Virginia Winery and Dave Moynihan from AstraPouch. Tim Benedict, winemaker at Hazlitt 1852 Vineyards in NY and Roger Kissling of Iron Heart Canning will talk about canning wine and cider. In the final session, Rose, Don Huffman from Vinventions in NC and Peter Weber of the Cork Quality Council will review natural cork options.
The two-day EWE conference program on March 11 and 12 will include multiple sessions on a wide range of winemaking, viticultural and business-related topics. Bob Mignarri, EWE show manager, told Wine Business Monthly that while this year's program has 56 speakers, "We have more panels this year, but the number of sessions remains the same."
Enology topics will focus on laboratory analysis, large oak containers, cap management options and alternatives, and at some sessions, winemakers will pour samples of their wines to illustrate their talks. Viticulture sessions will review new technology, mechanization and sustainability. Money/management talks will look at sustainable winery site and tasting room design in one session and in a second session, winery technology experts will discuss creating and using a master set of business data to improve operations and market share.
A Welcome Wine Reception will take place on March 10 and the Annual Industry Celebration Dinner followed by the ASEV-Eastern Section Live Auction will be held the evening of March 11.
The LTS conference that occurs on the same three days as EWE is designed for those who are involved with wine sales: owners, general managers, tasting room personnel and tourism professionals. Donniella Winchell, executive director of the OWPA, chairs the LTS conference, which received its name because attendees are encouraged to "steal" any good ideas they hear.
Wine Business Monthly and Wines Vines Analytics are the official sponsors of the Eastern Winery Exposition. Media sponsors include Beverage Trade Network, Wine Business Monthly and Wine & Craft Beverage News, and associate sponsors are H&W Equipment, ThermoFisher Scientific, and Waterloo Container.
More information about both the EWE and LTS conferences, including registration, program content, speakers, other events, and registration for the conferences and for hotels is available at www.easternwineryexposition.com.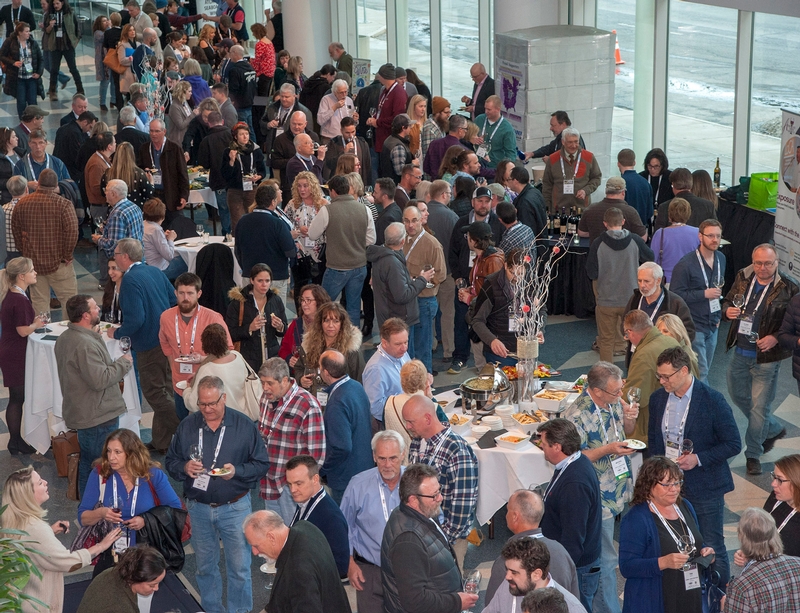 The Wine Reception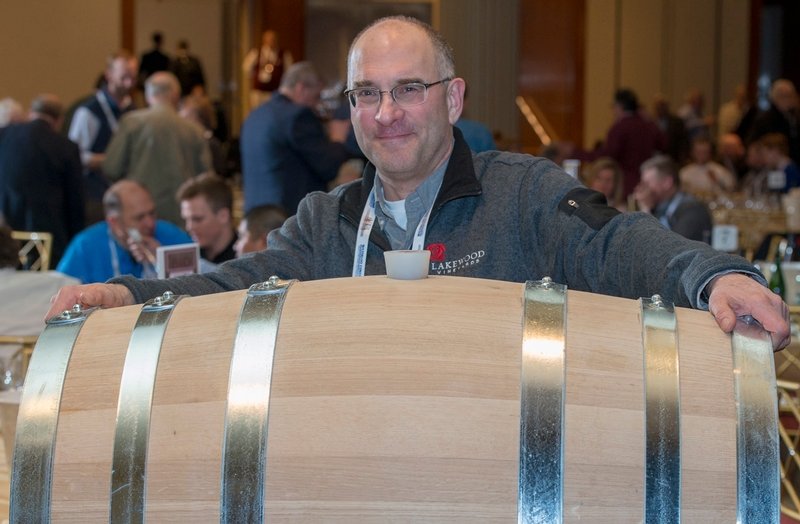 Chris Stamp, owner and winemaker at Lakewood Vineyards in New York, at the ASEV-ES Auction