World Bulk Wine Exhibition to Focus on Areas of Growth for Wine Market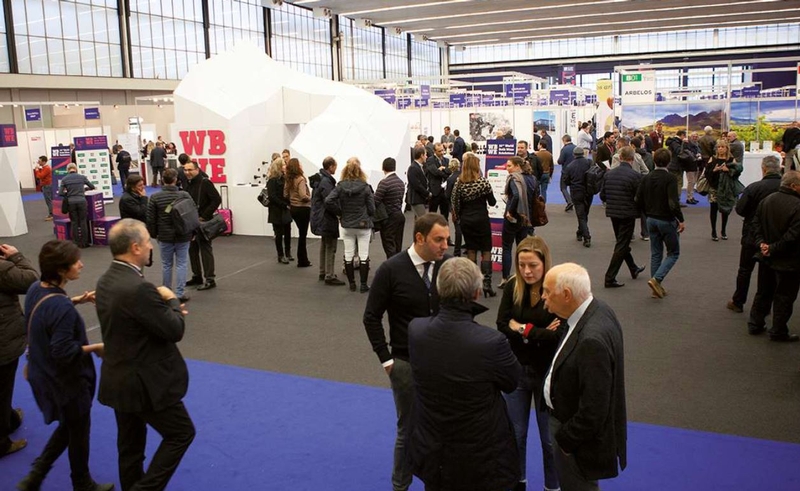 Photo: World Bulk Wine Exhibition
Nearly 250 producers from 22 countries will convene for the 11th annual World Bulk Wine Exhibition next month, exploring new ways to move their bulk wine. Held December 2-3, 2019 in Amsterdam, the conference and trade show brings together a total of 6,500 trade professionals from various sectors of the industry.
The international bulk wine market remained strong in 2019, thanks to an increase in global production. The same cannot be said in the United States, however, as the phrases "grape glut" and "oversupply" are used in just about every wine conversation. At a seminar in July 2019, Steve Dorfman, partner at Ciatti Co., called the California market "sluggish," though, at the time, pricing held firm.
As we entered the 2019 harvest, there was still plenty of bulk fruit available, and fewer buyers. Along the Central Coast, grapegrowers are full of stories about how they've considered leaving fruit on the vine to rot, convinced that if they couldn't find a buyer, it would be too costly to even harvest. Others talk about selling fruit for $200 per ton, just to get it off their hands.
Concerns about flattening wine sales have partially fueled this lack of interest from buyers; off-premise table wine sales remained essentially flat in the 52 weeks ended Aug. 10, according to the most recent Nielsen data. While value increased 2 percent in the same time period, volume dropped 2 percent.
Some wineries are still trying to sell past vintages and are hedging bets that consumption will not increase in 2020. Increased international competition is also doing its part to slow domestic purchasing—Australian producers, in particular, are looking to the United States as a top market for its wines. This is all prompting conversations about new ways to sell excess fruit and wine, the most prominent: private label.
Looking to international markets for private label opportunities is just one way American wine producers and brokers are trying to move product. Whether large volumes or smaller transactions of higher-quality wine, growers/wineries are heading outside the U.S. borders in an attempt to make a sale. American companies participating at the World Bulk Wine Exhibition include Airport Ranch Wine Estates, Bear Creek Winery, Bronco Wine Company, The Ciatti Company, O'Neill Vintners, Somec Containers, Ste. Michelle Wine Estates, Tagaris Winery, and The Wine Group.
Furthering the Discussion
In addition to a tradeshow, WBWE also hosts a conference to promote the advancement of wine knowledge.
Featured Sessions:
"The Bulk Wine Business in the United States: New Ways of Commercialization;" speakers include: Deborah Parker Wong, journalist and professor; Erin Kirschenmann, managing editor for Wine Business Monthly; Ana Diogo Draper, winemaker for Artesa Vineyards; Steve Daniel, buyer for Hallgarten Wines in the U.K.
"Tannat and Other Grape Varieties: Uruguay, an Exporting Country," featuring Martin Lopez, international chief of INAVI (Uruguay's national wine institute)
"Climate Change and Opportunities for Wine Export From Producing Countries of Eastern Europe;" speakers include: Maria Karakanova, a Bulgarian journalist; Andrian Digolean of Moldova's National Bureau of Vine and Wine; and Agnes Nemeth, a Hungarian journalist
"New Climate Change-resilient Grape Varieties," featuring Jean Luc Favarel, research and development director of Pera-Pellenc Group
Risk Management: Protect Your Investment and Understand Cargo Insurance," featuring Alison Leavitt, managing director of the Wine and Spirits Shippers Association
Tasting Session of Taransaud Xtrachêne: "French Oak and American Oak: Two Complementary Tools for the Value-Creation of Bulk Wines"
For a full session line-up, click here.
New at the WBWE in 2019
The organizers of the World Bulk Wine Exhibition launched a new section in the tradeshow this year: The Vine Research & Innovation. The space is intended as a meeting point for those interested in discussing sustainability, specifically the synergies between "circular economy, environment, innovation and research for a more sustainable sector."
Companies, associations and universities that have conducted research or offer products or services related to sustainability are invited to showcase their advancements in the field, free of charge, at the show. For more information, click here.
Earlier this year, the World Bulk Wine Exhibition launched its Asia edition in Yantai, China. The trade show brought nearly 4,000 visitors from 35 countries with 200 producers from 20 countries. Yantai is a major port city in the country, and its proximity to the Ningxia wine region makes it a popular entrance spot for bulk wine.
Cyril Penn, Wine Business Monthly's editor in chief, attended World Bulk Wine Exhibition Asia bacin May, and reported on the top trends in China. For a full recap, click here.