Winemaker Tony Rynders Comes Full Circle in Carlton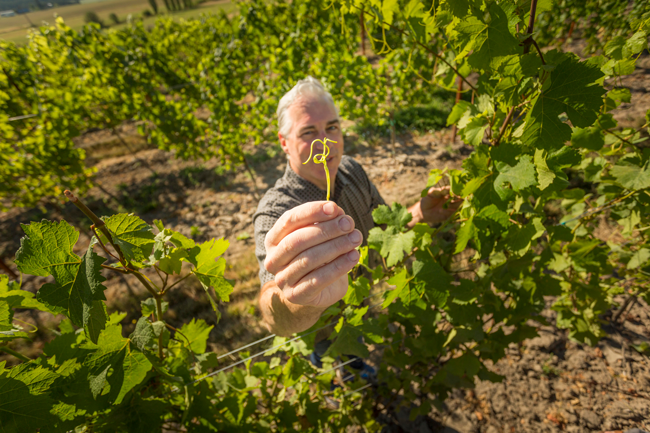 Photo: Frank Miller Photography
Carlton, Ore. - Oregon winemaker Tony Rynders comes full circle with his new winery in downtown Carlton.

The Carlton Cellars space allows Rynders room to grow, plus a more centralized opportunity to showcase his Tendril Wines and Child's Play Wines.
"We view this as a heck of an opportunity," says Rynders, who moves from Gaston, where he's operated since 2011. "Our hope is that we can have some set tasting room hours, and have two tiers of exposure, or opportunities, to enjoy our wines."
Carlton Casual
The new tasting room opens in time for Willamette Valley Wine Country Thanksgiving. Visitors can expect 'a la carte' tastings of Child's Play Wines, and seated Tendril tastings by appointment. "We started with our own brand Tendril, back in 2008," explains Rynders. "It's a small brand - we're only about 1000 cases - and we have our signature "five-course meal" Pinot Noirs, offering a very broad range of styles and flavor profiles that highlight the versatility of Pinot Noir." Child's Play Wines, on the other hand, proffer a user-friendly price point, playful approach, and creative palate of pours.
The new dig's decor definitely tends towards 'Carlton casual.' In addition to the visitor-friendly tasting room, the 5500 square foot space includes a production area, office, and a front yard area with picnic table. "Ultimately, we'd love to make it our 'forever' home here," says Rynders.

Curveballs and Cuvées
Ever the innovator, expect a few curveballs among his cuvées, including a 2016 'new release' Pinot Noir. "Part of what we're doing for Tendril, which is very different," says Rynders, "is barrel-aging over an extended period of time. I would say that's very unusual for a Pinot Noir producer." Tendril Pinot Noir 'over-vintages' for a minimum of 16 months in barrel; two years for Cabernet Sauvignon.
Rynders reprises a few favorites, including his trademark Tendril white Pinot Noir, The Pretender, which he first released in 2013. "My white pinot noir is my signature," says Rynders, which dates back to his time at Domaine Serene. "I wasn't really convinced that I wanted to continue making that white Pinot Noir," he says. "But when I decided that I did, I really wanted to change things up, and elevate the wine." As a result, Rynders uses only the finest fruit, presses conservatively, and eschews new oak barrels.
In addition, Child's Play Wine serves up a distinctive' rosé atypical to Oregon. "Ours is different in that we're using 100% Pinot Noir," says Rynders. "We actually set out like we're making red wines, so we cold soak our grapes on the skins for four to six days. The net result is a much deeper, richer version of rosé - a lot more flavor, very fruit driven, super food-friendly, and very versatile. It's one that makes sense beyond the summer sipper - it's a great Thanksgiving wine. It's got some texture, and color. People go ga-ga for the richer color."
Full Circle
The peripatetic Rynders, who also finds time to fulfill side gigs as consulting winemaker at both Panther Creek Cellars and Saffron Fields, notes the irony in his new move. "About 20 years ago, I first came to Carlton when I took the job at Domaine Serene," says Rynders, "and I was literally working in a building that's about 150 yards from where we are currently. So it's all come full circle. It's kinda crazy. It just feels right."