California Winemakers Who Lean on North Carolina for Grapes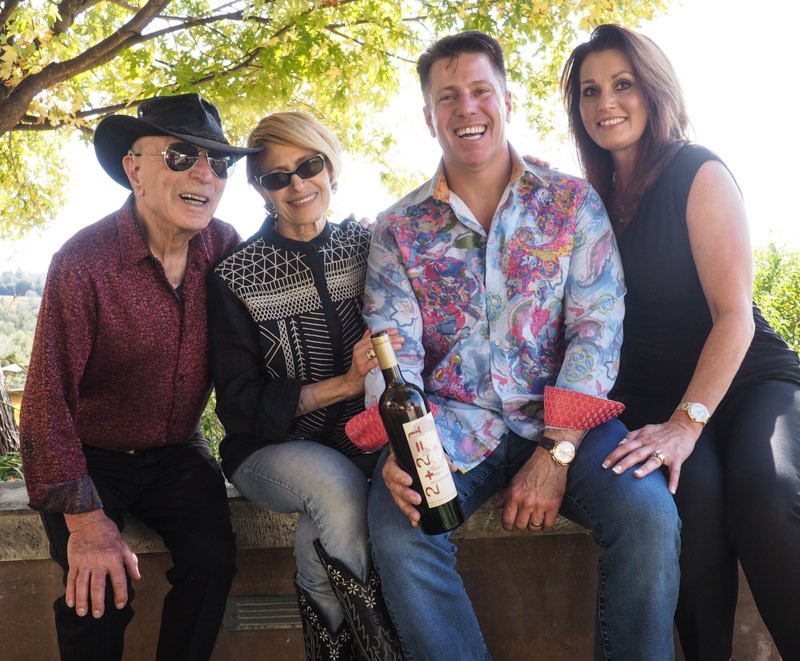 Principals in the California/North Carolina winemaking project, from left, Chaim Gur-Arieh, his wife Elisheva Gur-Arieh, JW Ray, and his wife Kristen Ray. Photo/Mike Dunne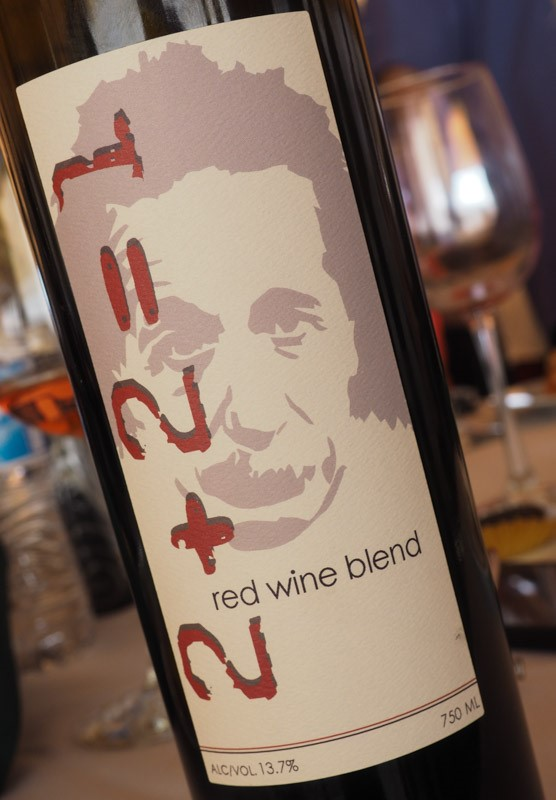 Bottle shot of the California and North Carolina blended red wine. Photo/Mike Dunne

About 100 varieties of wine grapes are grown in California, but that isn't enough for at least two of the state's winemakers.

Chaim Gur-Arieh of C.G. Di Arie Vineyard & Winery in El Dorado County and Markus Niggli of Markus Wine Co. at Lodi are tapping vineyards in far-off North Carolina for grapes rarely if ever grown in California.

In Gur-Arieh's case, it's Norton, also known as Cynthiana, little of which is cultivated in California, though it is somewhat popular in other states, including North Carolina.

Norton, a native American grape with a long and checkered past, is named for Dr. Daniel Norborne Norton, a studious Virginia viticulturist who began to propagate cuttings around 1830.

Norton vines are celebrated for their sturdiness, especially their resistance to fungal diseases, while their small grapes are recognized for their high acidity, generous tannins and traditional dark-berry flavors.

Early on, wines made with Norton were recognized internationally for their classic structure, flavor and endurance, but the grape didn't rebound in the wake of Prohibition as vitis-vinifera varieties identified with Europe took over the domestic American market.

Norton, however, continues to generate enthusiasm here and there about the United States, including in North Carolina, Virginia and Missouri, where it is the state's official grape.

For Niggli, the grape of choice in North Carolina is Traminette, a hardy hybrid first propagated at Cornell University in 1974. Its flavor profile is most often likened to Gewurztraminer, one of its parents.

For Gur-Arieh and Niggli, as well as their North Carolina winemaking partners, the small-lot wines they make with North Carolina grapes derive from intellectual curiosity, recognition that quality grapes are being grown beyond the West Coast, and that the juice they yield can make significant stylistic contributions to wines based on vitis-vinifera varieties.

This past weekend, Gur-Arieh and his North Carolina collaborator, JW Ray, founder and winemaker of JOLO Winery & Vineyards at Pilot Mountain, released in El Dorado County the first 1200 bottles of their "2+2=1" (13.7% alcohol, $60). The equation, reinforced by an image of Albert Einstein on the label designed by the Gur-Ariehs' daughter Sivan, refers to two winemakers from two regions creating one wine. Gur-Arieh and his wife Elisheva are to join Ray and his wife Kristen for a similar launch in North Carolina this weekend.

Because of labeling restrictions, neither front nor back label specifies vintage (2018), appellations (El Dorado County in California, Yadkin Valley in North Carolina) or varieties (40 percent Norton and 20 percent each Cabernet Franc, Petite Sirah and Zinfandel). Aesthetically, the wine is deeply colored, richly flavored and seamless. The wine's suggestions of blackberries and cherries are shot through with a thread of intriguing herbalness. Tannins are forgiving, while the new American oak in which the wine was aged provides a rounding and respectful backdrop.

To Gur-Arieh, the Norton harmonizes the blend and elevates the contributions of the California grapes. To Ray, the Norton adds hints of roasted meat, minerality and cola to the mix. (Ray prefers to refer to the variety as Cynthiana, the latter more elegant to his ears and not likely to evoke images of the hapless "Norton" character on the old TV series "The Honeymooners.")

Ray initiated the project after finding online references to Gur-Arieh and his inventive, scientific approach to winemaking, including his invention of the "dual compartment submerged cap fermentation tank." (Gur-Arieh is a former food scientist responsible for developing such products as shelf-stable puddings and the popular breakfast cereal Cap'n Crunch.)

Ray also was sold on Gur-Arieh's credentials as a winemaker after tasting his wines, his Cabernet Franc in particular. "He makes the best Cabernet Franc on planet Earth," he gushed during Saturday's launch. "It's spectacular."

Ray said he was eager to work with Gur-Arieh so he could learn more of the California approach to winemaking. He doesn't see the two states competing for customers. "California is the crown jewel for winemaking in the new world, bar none," Ray said. "I want to collaborate with people on the cutting edge of winemaking. I'd be a moron not to partner with him. I've learned so much."

In January, the two, with their wives – Elisheva Gur-Arieh and Kristen Ray – tasted prospective blends and quickly agreed that the wine should be 60 percent Californian, 40 percent North Carolinian.

Gur-Arieh then blended four barrels of his three varieties and shipped them by refrigerated truck to Ray, who supplemented the three with his Norton and then returned four barrels to Gur-Arieh. Each then bottled their allotment based on the 60/40 breakdown.

Whether the project continues remains to be seen. Early response to the wines has been favorable, with Gur-Arieh down to about 25 cases, but the shipping of wine in barrel back and forth was laborious and expensive.

In Lodi, meanwhile, Markus Niggli expects – weather permitting - to continue to bring in Traminette from North Carolina, a collaboration he began in 2015 with Joey Medaloni of Medaloni Cellars just west of Winston-Salem.

Each vintage, Niggli adds between five percent and eight percent Traminette to Torrontes grown at Lodi's Silvaspoons Vineyard. Torrontes, related to Muscat, and most closely identified with Argentina, yields a full-bodied, highly floral white wine.

Given the intense aromatics of both Torrontes and Traminette, Niggli at first thought they might clash more than harmonize, but he's found that just a small portion of Traminette brings welcome spice, acid and structure to the Torrontes.

Medaloni ships Traminette juice to Niggli, who blends the wine and then returns half the bottled wines to Medaloni. The output amounts to between 70 cases and 100 cases yearly. Under the brand Markus Joey, Niggli sells his portion with the proprietary name "Insiemi," Italian for "together." Medaloni sells his allotment under the name "Flight Series White Blend."

The project stems from Niggli's experience selling grapes to wineries in the Midwest and along the East Coast, where he was pleased by the quality of wines he was finding, including releases by Medaloni. "These wines (in the East) are rocking, they aren't just pathetic sweet wines anymore, they can be highly complex, enjoyable wines," he recalls of wines he was tasting on his sales trips.

Subsequently, he and Medaloni struck up a friendship and then the collaboration. Both sell most of the wine through their wine clubs.