Kincade Fire is 15 Percent Contained as of Tuesday Morning
One hundred and twenty-four structures have been destroyed, including at least 57 homes and at least two wineries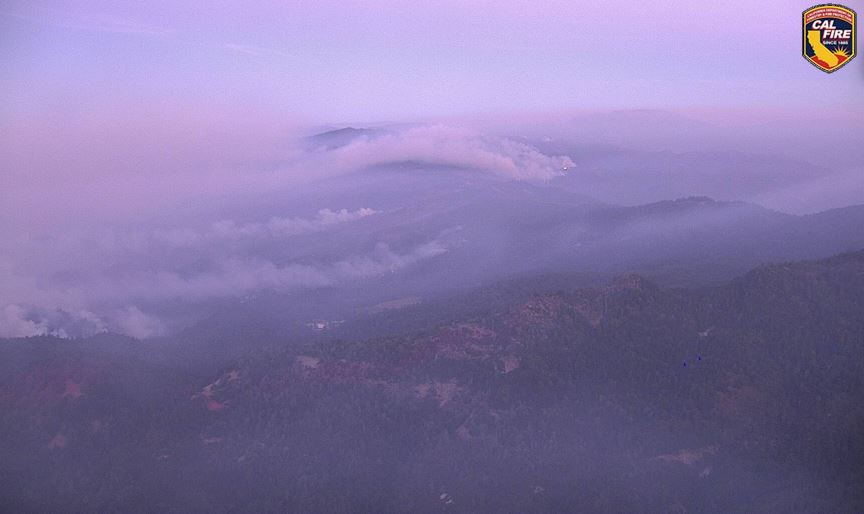 View of the Kincade Fire from Mt. St Helena. Video still courtesy of Alert WildFire.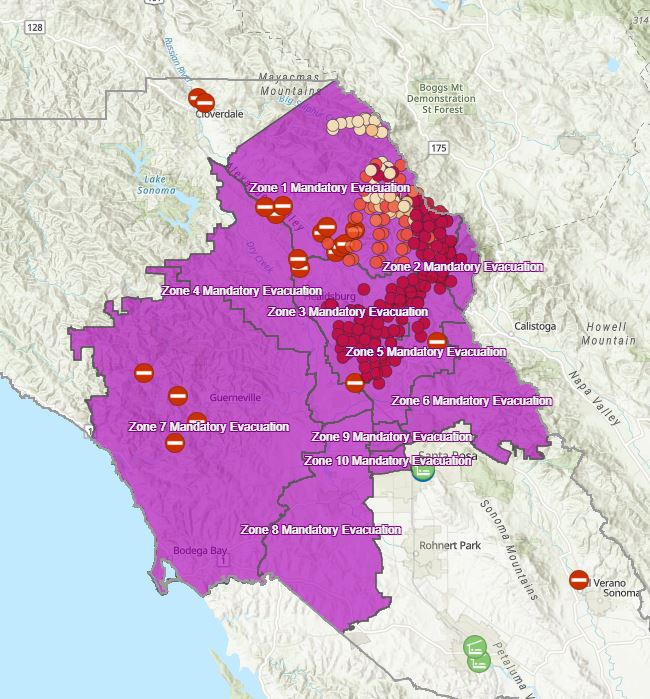 About 30,000 residents who live west of Highway 101 were allowed to return home Monday. Map courtesy of Sonoma County
Firefighters fighting the Kincade Fire in Sonoma County braced themselves Tuesday for another round of gusty winds and bone-dry conditions.

The blaze has burned more than 75,415 acres and was 15 percent contained as of Tuesday morning, according to CAL FIRE. The more than 4,500 firefighters assigned to the blaze were able to make progress Monday after winds subsided.
One hundred and twenty-four structures have been destroyed, including at least 57 homes and at least two wineries, Field Stone and Soda Rock. A vineyard's crew house and two rental properties at Garden Creek Winery and Vineyard also burned.

About 30,000 residents who were among the 185,000 people evacuated over the weekend were allowed to return to their home in communities located west of Highway 101.

Sonoma and Napa counties are facing another round of rolling blackouts that Pacific Gas and Electric say are necessary to prevent another catastrophic wildfire. The fourth round of public safety power shut-offs are scheduled to begin Tuesday morning, affecting 596,000 customers in nearly 30 counties.

The fire has not damaged Jordan Vineyard and Winery on Alexander Valley Road in Healdsburg. A firefighter who used to work for Jordan Vineyard and Winery texted winery operations director Tim Spence on Saturday morning the firefighters were determined to hold the line at the property, Lisa Mattson, director of marketing and communications for Jordan Vineyard and Winery said. The firefighter also said that the 60 cows grazing on the ranch had left no ground fuel for the fire, she said. Spence already knew that, Mattson said Monday. "That's one of the main reasons why he has so many cows. They are integral to our fire protection plan."

Winemaker Maggie Kruse had to evacuate Saturday with her family. Two tanks filled with Cabernet Sauvignon needed a pump over. So on Monday, Kruse gave Spence a tutorial on how to do the pump over by conference call, Mattson said.

Brent Young, manager and director of vineyard operations also has been to Jordan since the fire began to keep watch on the property. Jordan's other animals, including three goats and two miniature donkeys, were evacuated to his family's ranch in Potter Valley, Mattson said. The winery does have a backup generator.

"It's hard to say how the staff is holding up," Mattson said. "We are all evacuated to so many different areas. Many of our employees live in Windsor and Healdsburg, so they have been spending their time away for work worrying about their homes."

Karissa Kruse, president, Sonoma County Winegrowers said 92 percent of the crop had been harvested when the fire broke last Wednesday night. She estimated another 3 percent was picked after the blaze broke after some growers received the green light from the Sonoma County Sheriff's Office to enter the evacuation zone for a limited amount of time. The operations were suspended when the winds picked up Saturday.

Robert and Laura Schermeister lost power in their tasting room in Glen Ellen and have been living in the dark at home on Mt Veeder in Napa County, where a cautionary power blackout was in effect.

The tasting room remained quiet during what should have been the height of Wine Country tourism season.

"It has not been a good month for the wine industry," Laura Schermeister said, as she headed to a Walgreens in Napa. It was closed.

Napa County officials on Sunday issued an advisory to residents of Calistoga and surrounding areas they might have to evacuate. The advisory remains in place Tuesday morning.

Smoke from the Kincade fire has been drifting into the Napa Valley. Copper Cane owner Joe Wagner plans to have Cabernet Sauvignon harvested in the Napa Valley later this week. The company provides masks to all its workers, he said.

Wagner is not worried about smoke taint, saying the fruit is fully developed. The Rutherford winery where the wine is made does have a generator but his house was without power.

About 300 fires burned statewide, including a fire near the Carquinez Bridge which forced the closure of Interstate 80 Sunday.
California Gov. Gavin Newsom on Sunday issued a 'state of emergency.'
The Latino Community Foundation reactivated the NorCal Wildfire Relief Fund to support the farmworkers affected by the fires.