Kincade Fire Grows to 66,230 Acres, Only 5 Percent Contained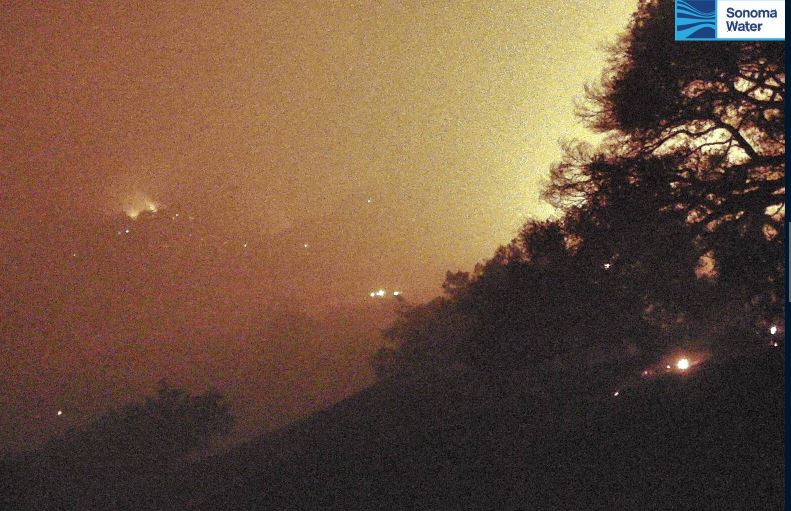 View of Kincade fire Monday from an ALERTWildfire camera south of Healdsburg. Courtesy of ALERTWildfire.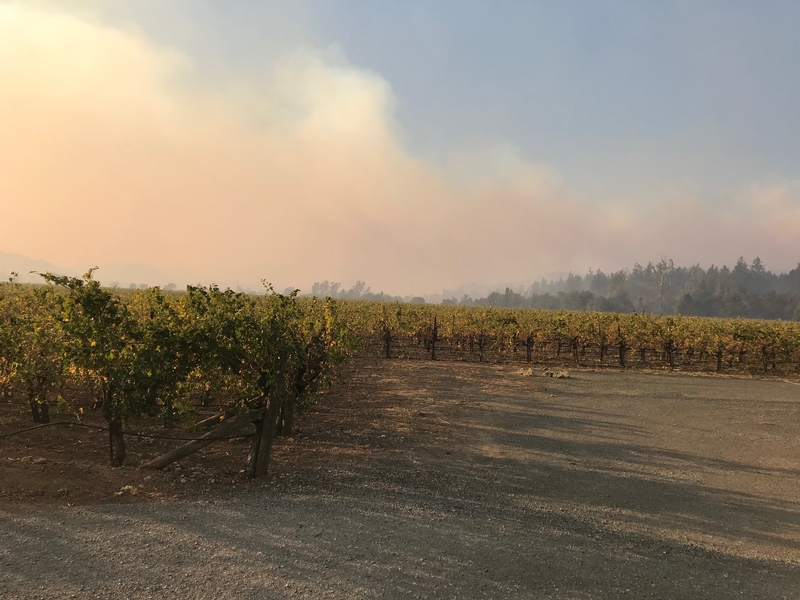 Smoke from Kincade fire hovers over vineyard along Highway 128 in Sonoma County a few miles from the Napa County line. Photo by Kerana Todorov/Wine Business Monthly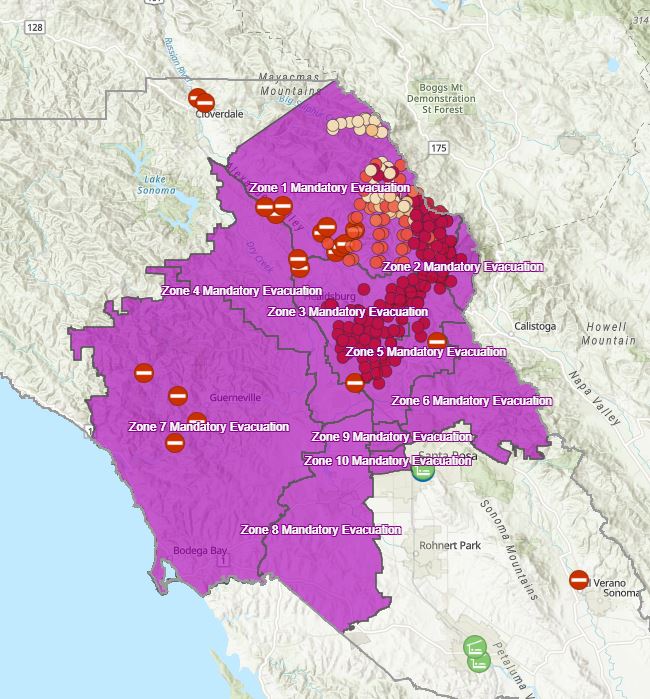 About 180,000 Sonoma County residents remain evacuated because of the Kincade Fire. Map courtesy Sonoma County.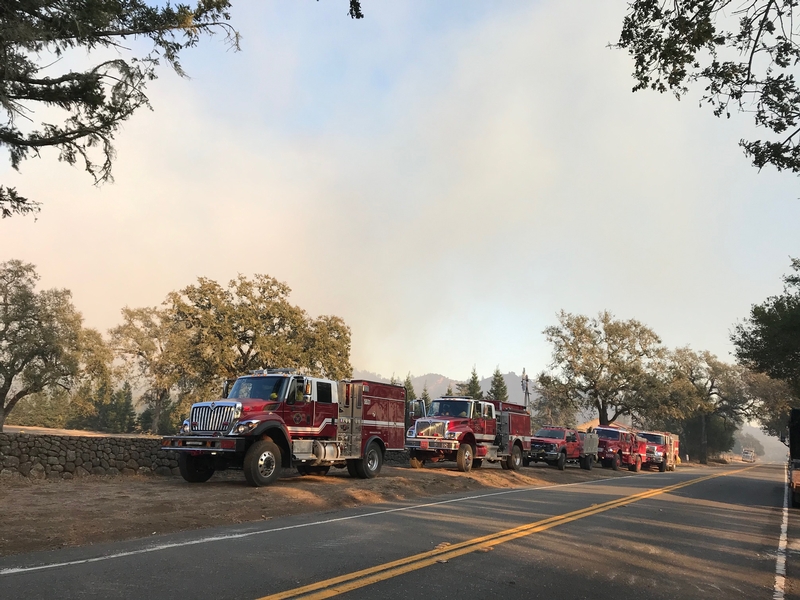 Fire engines stage near Calistoga. Firefighters are trying to stop the fire from advancing toward Calistoga. Photo by Kerana Todorov/Wine Business Monthly

The Kincade fire continued to grow over the weekend in Sonoma County, scorching about 66,230 acres in Sonoma County and causing thousands to flee their home.

About 4,000 firefighters continue to fight the wind-driven blaze that has destroyed at least two Alexander Valley wineries, Field Stone Winery and Soda Rock Winery in the Alexander Valley. Altogether, nearly 100 structures have been destroyed, according to CAL FIRE.

As of Monday morning, the Kincade fire was only 5 percent contained. Two firefighters were injured Sunday, including one who was airlifted with burns to UC Davis Medical Center in Sacramento, according to CAL FIRE.

Evacuation orders for more than 185,000 resident from Sonoma County, including Geyserville, Healdsburg, Windsor, neighborhoods in Santa Rosa, Sebastopol to the Pacific Coast, remain in place, officials stressed Sunday night. Authorities on Sunday issued an evacuation warning for Calistoga and its surrounding area as firefighter found the blaze a few miles away.

Strong winds are expected to subside by midday Monday. However, more winds are in the forecast for Tuesday.

"We are not out of the woods," said Jonathan Cox, a CAL FIRE spokesman, on Sunday evening.

Stephen Volmer, fire behavior analyst for CAL FIRE, said the fire will decrease in intensity when the winds die down Monday, allowing firefighters to attack the blaze more aggressively. However, fire activity is expected to increase Tuesday evening when the other wind system arrives.

As of Sunday night, the fire had not jumped Highway 101. However the fire has led the CHP to close the highway intermittently. The highway was open as of Monday morning.

Thousands of residents evacuated in the dark as Pacific Gas and Electric had cut off power to 179,000 customers in its grid in an effort to prevent wildfires. The company said winds on Pine Flat Road in the Kincade fire zone reached 102 miles per hour.

The cause of the Kincade fire remains under investigation. The blaze started Wednesday evening near the Geysers in northeastern Sonoma County shortly after a PG&E transmission line in the area failed The line had not been de-energized, according to the utility.

Sonoma county residents could remain without electricity for days. On Saturday PG&E on Saturday began to turn off power to 940,000 customers in 36 counties. PG&E on Sunday began to restore power. However, the utility plans to implement for a new round of blackouts Tuesday when strong winds return to the region. The utility said on Sunday that "some" customers who lost power Saturday may remain without power during the new public safety power shut-off.

Saturday's power shut-off Saturday was expanded from its initial announcement to include an additional 90,000 customers. Some affected in previous rounds kept their power on. The city of American Canyon in south Napa County lost power for the first time.

Firefighters fought multiple fires across the state this weekend. A blaze that broke Sunday near the Carquinez Bridge in Vallejo forced the closure of Interstate 80 for hours. In Los Angeles County, the Tick Fire has burned more than 4,615 acres since Oct. 24.

Gov. Gavin Newsom on Sunday declared a statewide emergency. "We are deploying every resource available, and are coordinating with numerous agencies as we continue to respond to these fires. It is critical that people in evacuation zones heed the warnings from officials and first responders, and have the local and state resources they need as we fight these fires," Newsom said in a written statement.

Anne Magnie, a retired social worker, left her Sebastopol home during the middle of the night with her 11-year-old dog, Jamie. PG&E did not maintain its equipment and was unprepared.
"That's very disturbing," she said.

In the meantime, shelters have opened in Sonoma, Napa and Marin counties. Alameda County and Petaluma Fairgrounds house large-size animals.

Mauricio Castillo left Calistoga Sunday after he watched smoke from the Kincade fire billow over the hills.

"I want to take care of my family," said the sous-chef after he and two-dozen relatives arrived at Napa Valley College, one of the shelters housing evacuees from the Kincade Calistoga schools are closed because of the fire.

For information on the shelters, check: https://socoemergency.org/

For information on PG&E blackouts, check: https://bit.ly/2Nf1XqT
For information on the fire check: https://bit.ly/2Pm9SW9, https://bit.ly/31QYZ10