Kincade Fire: Mandatory Evacuations Include Geyserville, Healdsburg, Windsor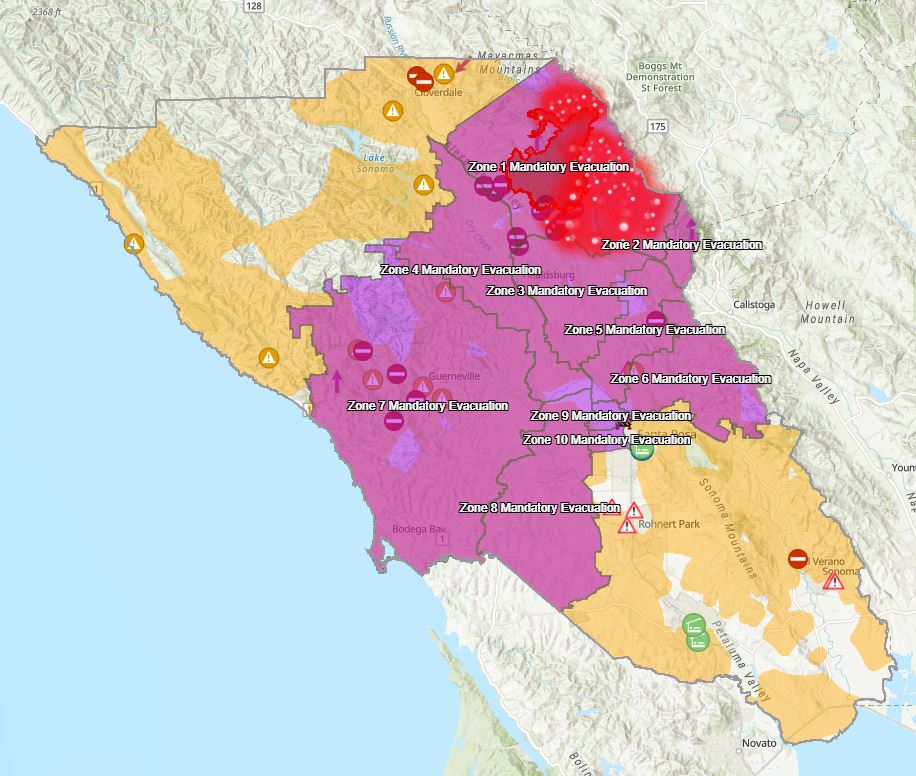 Authorities have ordered the evacuation of 180,000 residents in Geyserville, Healdsburg, Sebastopol and all the way to Bodega Bay and Jenner. Map courtesy of Sonoma County.

Updated 10/27 at 8 p.m.
Authorities have ordered the evacuation of nearly 180,000 Sonoma County residents this weekend from Geyserville to Windsor and to the coast as more than 3,400 firefighters continue to battle the wind-driven Kincade fire.

As of Sunday evening, the wildfire has scorched about 54,300 acres, according to CAL FIRE. The blaze was 5 percent contained.
Authorities have reported 94 structures destroyed including two-dozen homes. At least two wineries were destroyed - Fieldstone Winery and Soda Rock Winery in the Alexander Valley, according to social media reports.
CAL FIRE officials said Sunday morning the fire was moving erratically. "We've got spotting potentials for up to and over 1 mile in certain areas," Stephen Volmer, a fire behavioral analyst for CAL FIRE, said Sunday morning. "We've got rate of spread that are extremely dangerous at this point with erratic fire behavior."
Mike Blankenheim, deputy incident commander at CAL FIRE, said thre fire started to make rapid runs to the south and west at 1 a.m. Sunday but did not cross Highway 101. The organization has been staffed in case the fire crossed the highway. "We'll be ready for it when it comes across."
Volmer said the fuels west of Highway 101 are extremely dry, dense, old and "decadent." That area has not experienced wildfires since the 1940s, he said.

Communities ordered evacuated Saturday included Healdsburg, Windsor as well Chalk Hill Road and areas along Highway 128, from North Knights Valley to Napa County, according to CAL FIRE. Geyserville was evacuated shortly after the blaze broke Wednesday evening.

Evacuations were expanded Satuday night to the Dry Creek Valley area west of Forestville as well as for Larkfield, Mark West, Occidental, Fulton, Guerneville, Jenner and Bodega Bay. Sebastopol was evacuated Sunday morning, along with Santa Rosa neighborhoods west of Highway 101 and north of Highway 12; east of Highway 101 and north of Steele Lane, Lewis Road, Chanate Road, Montecito Avenue and Montecito Boulevard.
The National Weather Service's red flag warning remains in place through 11 am. Monday. Wind gusts of up to 80-miles-per-hour to were being recorded Sunday morning at 3,000 to 4,000 feet elevations, according to the National Weather Service.
Half-a-dozen fires were reported in the region Sunday morning, including a blaze near Crockett that forced the closure of Interstate 80 near the Carquinez Bridge. As of late morning Sunday, the blaze had scorched 150 acres. Interstate 80 re-opened Sunday afternoon.
Napa County officials a little before 1 p.m. Sunday advised Calistoga residents to be prepared to leave their homes because of the fire danger. The warning remained in effect Sunday evening.
Highway 101 closed twice Sunday near the fire zone north of Santa Rosa. The CHP cited poor visibility Sunday morning. Northbound Highway 101 remained closed as of 7 p.m.
The Kincade fire started Wednesday evening, shortly after a Pacific Gas and Electric Co. transmission line failed near the location where the blaze started. PG&E reported the failure the next day to state regulators. The cause of the fire has not been determined.

The fire started during the second rolling public safety power shutoff in Northern California this month. The blackout affected 179,000 customers in 17 counties, including Sonoma County. PG&E said the transmission line that failed had not been de-energized.

Much of Sonoma County and Northern California are experiencing blackouts this weekend because of the expected strong winds in an effort to prevent more wildfires.
Pacific Gas and Electric Co. said on Saturday the public safety power shutoffs would affect 940,000 customers – or another 90,000 customers than had been anticipated– in 36 counties in Northern and Central California. Cities that were not affected now are include the city of American Canyon in south Napa County. The PG&E customers are expected to lose power beginning Saturday afternoon. The public safety power shutoffs were announced as weather forecasts called for strong Diablo winds in the region.
Anne Magnie, a 72-year-old retired social worker, left her Sebastopol home during the middle of the night with her 11-year-old dog, Jamie. She and friends from Santa Rosa, who were also being evacuated, drove to Napa along backroads as they navigated road blocks. They may stay in Napa temporarily then head to Eureka to stay with other friends.
PG&E's lack of preparedness is "shocking," Magnie said Sunday at Napa Valley Roasting Co. The company did not maintain its equipment, she added. "That's very disturbing."
It is unclear when power will be re-established.
Wineries closed, had been picking last cabernet sauvignon grapes.

For information on PG&E blackouts, check: https://bit.ly/2Nf1XqT

For information on the fire check: https://bit.ly/2Pm9SW9 or https://bit.ly/31QYZ10