PM Update: As of Midday There Was Zero Containment of the Kincade Fire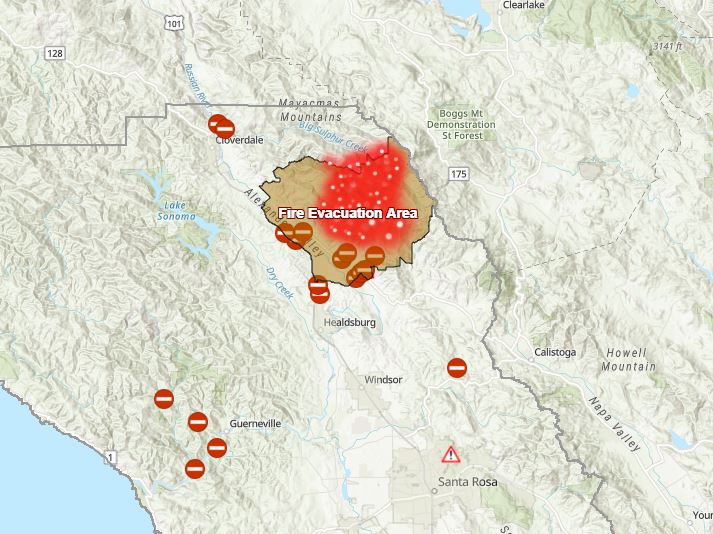 map courtesy of Sonoma County
Evacuations continue in north Sonoma County, where the wind-driven Kincade fire that broke Wednesday has scorched more than 10,000 acres, according to CAL Fire. As of midday there was zero containment. A dozen residences have been destroyed, according to news accounts. No injuries have been reported.
About 2,000 residents, including the entire town of Geyserville, were ordered to evacuate the area. Sonoma County Sheriff's deputies are going door-to-door to order residents to leave. As of noon, the area north of Healdsburg was under an evacuation warning; residents were told to prepare to leave their homes.
Robert Young Estate Winery posted at 8 a.m. on Facebook that the fire had reached the property but not the winery or the tasting room. "Our family and team are safe. We are very grateful to the fire crews working hard to fight this fire," according to the statement.
Jordan Winery on Alexander Valley Road in Healdsburg was closed. So was Francis Ford Coppola Winery in Geyserville.
"The winery is not currently in danger, but we are without power and the town of Geyserville is under evacuation orders. Our thoughts are with our Geyserville friends and neighbors, along with the fire crews and first responders working to keep us safe," the winery said in a statement posted on Facebook.
DeLorimier Winery was closed. "We are under mandatory evacuation, but as of right now our winery is safe. Thinking of our neighbors and praying for a positive outcome. We are incredibly thankful for the first responders who are tirelessly working to keep everyone safe."
John Hart, owner and winemaker at Hart's Desire Wines said he could not reach his co-op winery on Hassett Lane in Healdsburg. He is done with harvest and the wines are safely in barrel, he said Thursday morning. The tasting room in Healdsburg was open.
Harvest and crush activities continue at other wineries. Chard Clark, manager of North Coast operations for Allied Grape Growers, said four truckloads of fruit from Lake County and Dry Creek that could not be delivered to two wineries in the fire area were re-routed to other facilities.

For information on the fire check: https://bit.ly/2WcCouX or see more from the County of Sonoma.
PG&E posted a AlertWildfire video of the Kincade fire at 9:20 p.m. Wednesday: https://bit.ly/2oh380L