Vineyard Investigations of St. Helena Files Patent Infringement Lawsuit Against E&J Gallo
Gallo allegedly built multiple variable rate drip irrigation systems in its vineyards that infringe on Paul Skinner's patents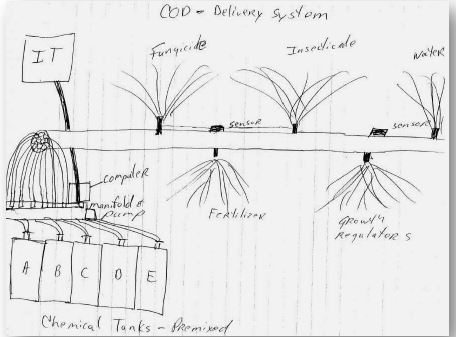 Dr. Paul Skinner, owner of Vineyard Investigations, sketched a new automated vineyard management system in 2000. Skinner alleges E. & J. Gallo infringed patents he owns. Sketch courtesy of U.S. District Court.

A scientist and winemaker based Napa Valley seeks damages from E. & J. Gallo, alleging the world's biggest winemaker infringed patents he owned on automated vineyard irrigation systems, according to the federal complaint.
Dr. Paul Skinner, a soil scientist and owner of Vineyard Investigations in St. Helena, alleged Gallo used his patented technology without permission and marketed his inventions instead of paying him a licensing fee, according to the complaint filed Friday in U.S. District Court.

Two patents are the focus of the lawsuit, including one Skinner obtained in 2005 for a "system for automated monitoring and maintenance of crops including sensors and emitters associated with plants."

He received the other patent in 2013 for a "plant growing system using external data and having sensors associated with plants."

Skinner developed the systems over two decades, refining precision farming technologies. He sought to install and implement precision farming methods that would lead to greater grape yields with less water, bigger sales, and capital infrastructure savings.

He envisioned an automated system that would manage soil variability in vineyards to identify ideal growing conditions for the vines. He sketched the initial concept during a cross-country flight in 2000.

The idea was a "'smart' drip irrigation system" controlled by an "advanced system of sensing technology, along with vine growth and disease risk models, to apply water and potentially multiple other chemicals to individual vines when and where they need them," according to the court filing. The diagrams Skinner sketched in 2000 included "a multi-channel conduit" for vineyards "capable of delivering water, fertilizers, fungicides, and insecticides to individual or groups of vines depending on detected information about their needs," according to the complaint.

Skinner obtained a series of patents for his work, beginning in 2001. He also made presentations to growers, including Gallo representatives. Gallo declined to license the patented technology, according to the complaint.

Instead, Gallo allegedly "built multiple variable rate drip irrigation systems in its vineyards that infringe on the Vineyard Investigations patents," according to the lawsuit.

"Vineyard Investigations alleges that Gallo directly and indirectly infringes the Asserted Patents by making, using, and/or selling systems and methods for automating the irrigation and treatment of grapevines using data from sensors and external sources – including, without limitation, Gallo's various Variable Rate Irrigation ("VRI") systems installed in its vineyards. Vineyard Investigations further alleges that Gallo induces and contributes to the infringement of others," according to the complaint.

Skinner alleged that "Gallo has published papers and articles about those infringing systems – taking credit for and championing the many benefits that Dr. Skinner had imagined and predicted relative to crop yields, grape quality, and reduced environmental impact."

Skinner addressed the issues to Gallo officials, but to no avail, according to the complaint.

In 2017, Skinner visited a Gallo vineyards, where he saw variable rate irrigation systems in use which, he alleged in his lawsuit, "implicated aspects of the inventions of the Vineyard Investigations patents." That included a "conduit, emitters, sensors and controllers for variable rate irrigation zones," according to the court filing.

The systems and methods Gallo used in its vineyards allegedly infringed on Skinner's patents, according to the complaint. "Gallo executives well understood the benefits of Dr. Skinner's inventions, and indeed were praising those benefits in stories and articles about Gallo's infringing systems," the lawsuit alleges.

In a blog post in 2016, Dr. Nick Dokoozlian, vice president of viticulture, chemistry and enology at Gallo, said the system had increased yield by 30 percent and reduced water usage by 16 percent, according to Skinner's complaint.
In a written statement issued Wednesday, Gallo said "E. & J. Gallo Winery has a long history of respecting and protecting intellectual property rights. We do not comment on pending legal matters."