PG&E Begins to Restore Power in Northern California, Wineries Cancel Picks, Make Do with Generators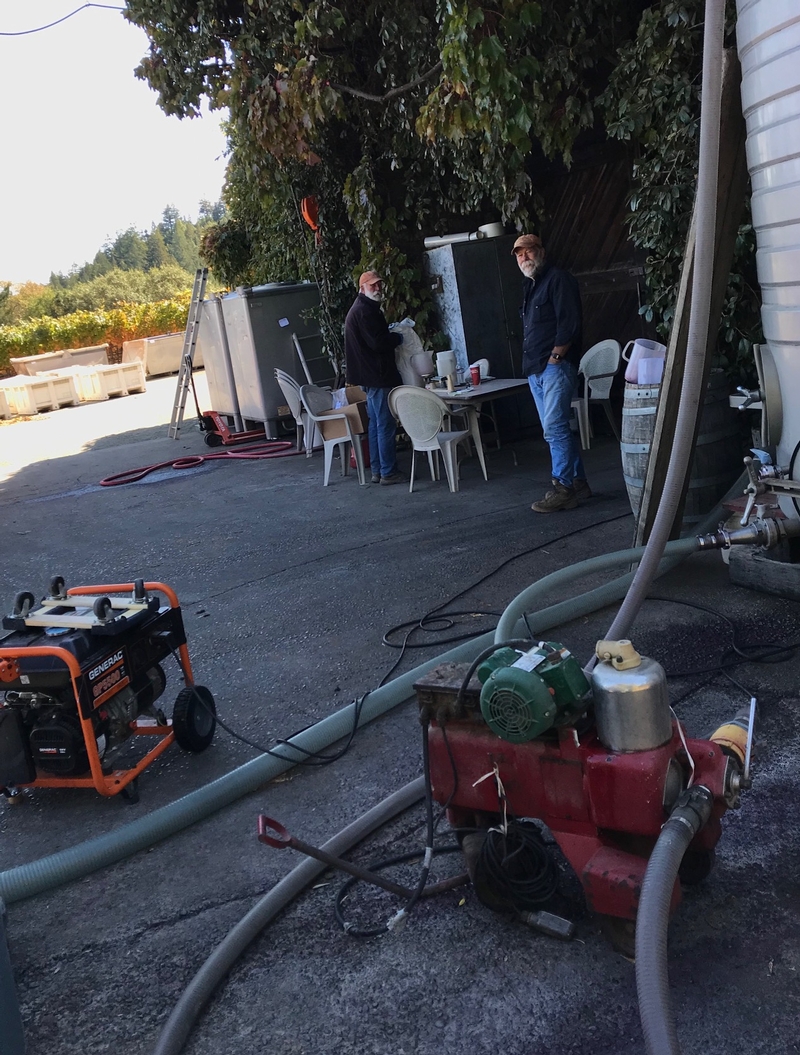 Charles Smith, left, and Stu Smith, right, have been able to continue operations at Smith-Madrone in the Spring Mountain AVA near St. Helena thanks in part to a portable 6,500-watt generator. However, Stu Smith on Thursday questioned PG&E's decision to shut power off. Photo by Kerana Todorov/Wine Business Monthly.
Pacific Gas and Electric Co. (PG&E) began to restore power Thursday afternoon to more than 738,000 customers left in the dark in more than 30 counties in Northern California. As of late Thursday, more than half of the customers had power once again.
The utility company began shutting off power on Wednesday morning to reduce the risk of wildfires, saying forecasts anticipated hot and windy weather. On Thursday, the company said 77 mile-per-hour wind gusts had been recorded on Mount St. Helena in Sonoma County.
PG&E officials said more than 6,300 workers have to inspect 25,000 miles of lines, work which can only be done during daylight hours.
On Thursday PG&E officials apologized for the disruptions its biggest power shut-off to-date had caused but stood by its decision to turn off power. "We faced a choice here between hardship on everyone or safety. And we chose safety. And I do apologize for the hardship this has caused. But I think we made the right call on safety," said Bill Johnson, president and CEO at PG&E.
The company also apologized for the lack of information: call centers were overloaded, its website crashed and its online maps were at times incorrect. Johnson promised improvements, including better communication.
"First we commit to communicating with our customers and communities with as much notice as possible, with as much clarity as possible and as frequently as possible. And we did not deliver on that commitment this time," Johnson said. "To put it simply, we were not adequately prepared to support the operational event."
Gov. Gavin Newsom criticized PG&E, saying the company chose not to modernize the power grid for better profits over the years. "This is not, from my perspective, a climate change story as much as a story about greed and mismanagement over the course of decades," Newsom told reporters.
State Sen. Bill Dodd, D-Napa, on Wednesday expressed his frustration in a public statement. "It's beyond frustrating that we're in this situation. Public safety power shutoffs have a role to play when they're needed to prevent massive wildfires and the huge human and economic costs we've seen in recent years.
However, many of my constituents are disturbed that the power was shut down before the winds started to pick up in the North Bay," Dodd said. "For years PG&E has done a poor job on maintenance and tree clearing, and they're still not even close to where they need to be. That fact, along with breakdowns in communication, are unacceptable. Sadly, poor performance by PG&E is par for the course, so it's not surprising."
In the meantime, crush continued in the Wine Country on Thursday, with dozens of wineries operating thanks to back-up generators.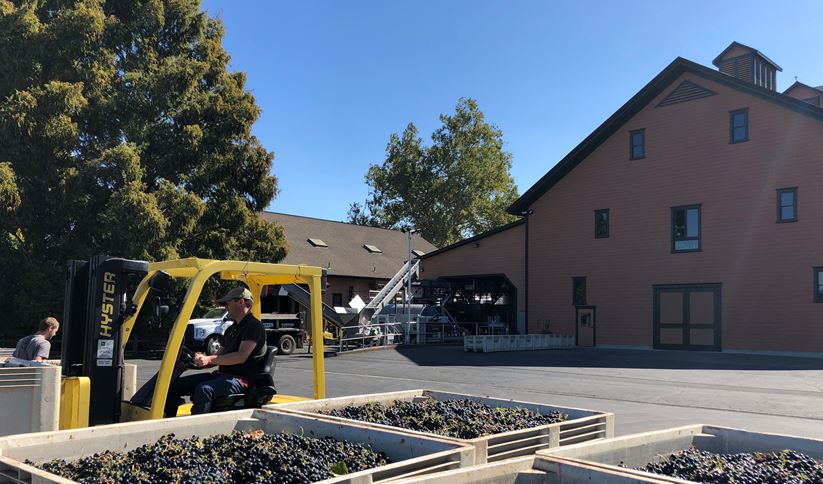 Trefethen Family Vineyards was among the wine companies that continued operations during the power shut-off thanks to a back-up generator. Photo courtesy of Trefethen Family Vineyards.
Stu Smith, his brother Charles, and Stu's son, Sam, continued to work crush this week at Smith-Madrone, their Spring Mountain winery above St. Helena, even after power was cut off. A portable 6,500-watt generator provided enough power for pump-overs.
Stu Smith praised PG&E earlier this year after crews cleared power lines on the family's 200-acre ranch. The ranch, located at 1,900 feet, features 38 acres of planted estate vineyards.
This week, however, Smith was clearly frustrated with the utility company.
His wind speed gauge registered only 29 mile-per-hour gusts on Thursday morning, said Smith, who drove to Smith-Madrone at 3 a.m. from his dark St. Helena house to check on the situation. Temperatures also have remained cool.
"It's frustrating because it is utterly unnecessary," said Smith of the power shut-off. "One day is an irritation, but PG&E has got to get the power back on tomorrow because we've got to work. We've got to press. We've got to crush," he said.
Other wineries and growers also managed to get work done this week. Napa County Farm Bureau members without power or internet came to the association's offices in Napa, which had power, to recharge phones and log in to email. Napa County's main library and coffee shops in downtown Napa were busy places Thursday, with patrons and customers coming to charge phones and laptops and do some work.
Jon Ruel, CEO at Trefethen Family Vineyards on the Napa Valley floor said the winery lost power but was fully operational thanks to a back-up generator. Its tasting room was open.
"The active fermentations are getting the attention they need and we are picking and crushing fruit this morning. The tasting room is also open and guests are having a great time--despite the hassle of the widespread outage. It has indeed been a hassle but we'll take a pre-planned outage over a wildfire any day!" Trefethen said in an email.
Growers and vineyard managers on Thursday reported that wineries with no power canceled picks while others rerouted fruit to other wineries that had power or generators. "As a vineyard operation we have had minimal impact other than cancellations," said Jim Lincoln, a manager for Beckstoffer Vineyards in the Napa Valley.
Julie Nord, who runs her family's Nord Vineyard Services in Napa, also reported pick cancellations from wineries with no power. "The risk is too great to bring $100,000 worth of grapes," said Nord on Thursday as she rescheduled picks from her Napa house, which had not lost power.
Chad Clark, manager of North Coast operations for Allied Grape Growers, said on Thursday that the power outage "has made many things very difficult. The main issues being wineries inabilities to process grapes and without power we can't use our wells to irrigate." Most picks were cancelled. "Out of the 34 vineyards we had scheduled to harvest over the past two days, we only were able to deliver six of those," Clark said.
Wineries can only process so much on any given day, he noted.
"Overall, this has added a lot of work to our plates during a time when work hours are extreme and long and a lot of our growers are very concerned for this season and moving forward," said Clark, who noted the vineyards under his watch did not experience much inclement weather.
"We did not endure any weather risks or scares in any of our grower vineyards throughout the North Coast within the past couple days. It was a little windy and we did have some wind gusts but nothing like was anticipated or forecasted," Clark said.