PG&E: Nearly 800,000 PG&E Customers Affected by Safety Shutoff, Wineries Adjust to the "New Normal"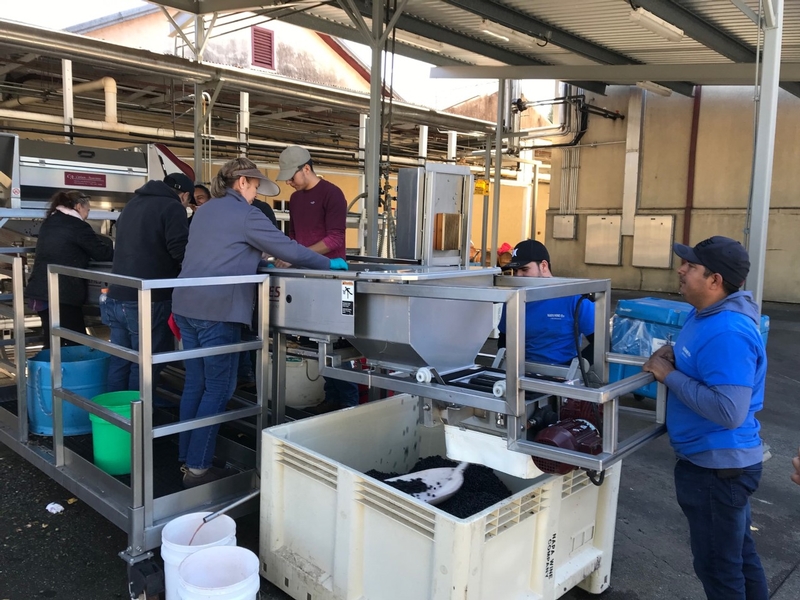 Napa Wine Co. received fruit at its custom-crush facility in Oakville. The facility and its immediate neighbors had not lost power as of midday Wednesday. Photo by Kerana Todorov/Wine Business Monthly

Salvestrin Winery's tasting room near St. Helena was quiet Wednesday. So was its production area. Guests at the Victorian inn the family runs on the property checked out early.
"It's a pretty significant loss of business for us–especially in October," Shannon Salvestrin said. "It feels like the fires all over again, but there is no fire."
Nearly 800,000 Pacific Gas & Electric (PG&E) customers in 30 California counties were expected to lose power in stages beginning Wednesday, a safety measure PG&E has taken to prevent disasters like the deadly wildfires that hit Northern California in 2017 and nearly completely destroyed the town of Paradise, Calif. in 2018. The company, which has declared bankruptcy, acted to prevent more fires as dry, hot and windy weather is forecast through midday Thursday. As of late Wednesday afternoon, 513,000 PG&E customers in two-dozen counties were in the dark, according to the company.
The number of Napa Valley wineries closed for business Wednesday was unclear. Robert Mondavi Winery, The Prisoner, Conn Creek Winery, Beringer, Sterling Vineyards and Mumm Napa posted signs or blocked driveways, indicating they were closed to the public. Others welcomed visitors, including Inglenook, Raymond Vineyards, Titus Vineyards, Louis Martini, Alpha Omega, V. Sattui and Castello di Amorosa.
Though Napa Wine Co. in Oakville had not lost power, the custom crush facility was prepared for such an eventuality and has a generator on site.
Winemaker Jennifer Rue and others spoke on the need to anticipate potential PG&E safety power shutoffs.
"It's the new normal," said Rue after crushing fruit for clients at Napa Wine Co.
Generators were humming Wednesday at wineries and restaurants along Highway 29 and the Silverado Trail. Inglenook was open thanks to its generator installed earlier this year.
On Tuesday evening, Titus rented an 85-kilowatt generator from a Marin County company that specializes in events for $2,000 a week. Eric Titus, who owns the winery with his brother Phillip, said the winery's air conditioning is off. The winery crushed 4 tons of Cabernet Sauvignon Wednesday instead of the planned 10.
"We're very judicious with our usage," Titus said.
Jim Sullivan, vice president of public relations and marketing at Castello di Amorosa said owner/founder Dario Sattui installed a generator when he built the castle.
Castello di Amorosa, designed like a 13th century Tuscan castle winery, opened in 2007. It was replaced to meet air pollution control requirements. A new $100,000, 350-Kilowatt Generac generator, the size of an SUV, was installed in 2018.
"We just have to be prepared," Sullivan said.
Salvestrin and her sister-in-law, Lynn Salvestrin, said a small generator did power cell phones and helped them prepare three pots of coffee for their guests Wednesday morning. However, a more powerful generator was needed for the 5,400-gallon winery, where Cabernet Sauvignon, Merlot, Petite Syrah and Sangiovese were fermenting in tanks. As of midday Wednesday, owner/winemaker Richard "Rich" Salvestrin–Shannon's husband–was still looking for a generator.
PG&E officials have not said when power will be restored, reporting that the lines have to be inspected after the winds die down.
Editor's Note: This article has been corrected.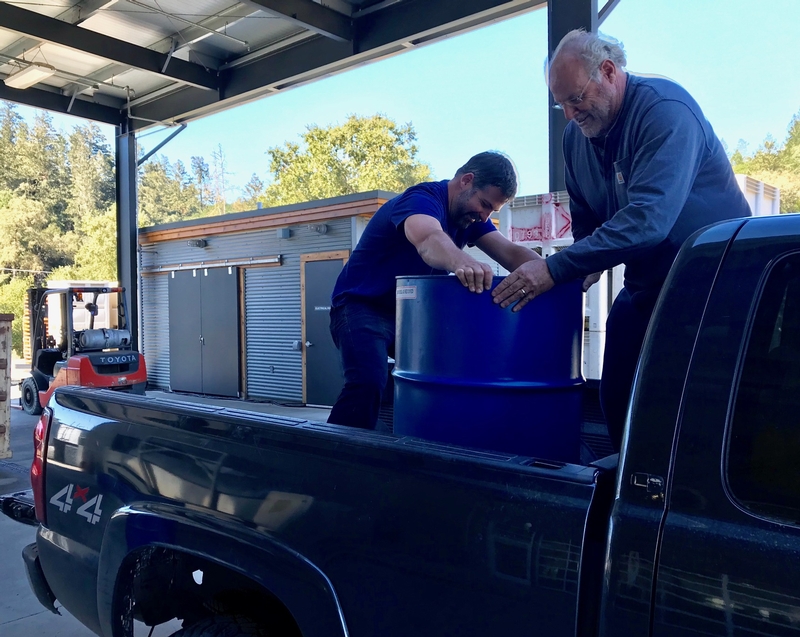 Titus winemaker Stephen Cruzan, left, and owner Eric Titus, right, offload a barrel of diesel for a generator the winery rented. The tasting room is open. Photo by Kerana Todorov/Wine Business Monthly