Maison Louis Jadot's First Oregon Venture Resonates in Carlton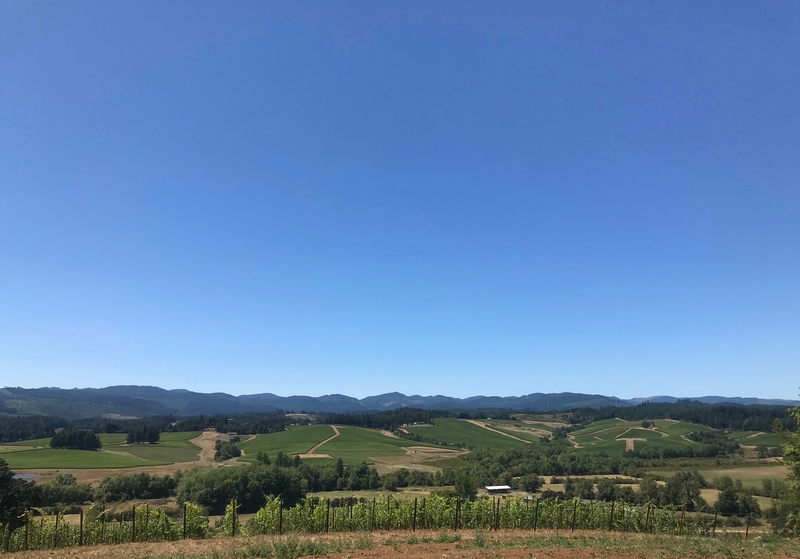 Résonance Vineyard view
Carlton, Ore.—Sometimes a place just hits the right chord. For Maison Louis Jadot, that place is Résonance in Oregon's Yamhill-Carlton AVA.
Founded in 1859, Maison Louis Jadot purchased their first vineyard, Clos des Ursules, in 1826. A long history of prudent acquisitions and uncompromising standards helped burnish the Burgundy wine house's venerable reputation over the years. Seeking opportunities in the new world, the forward-thinking domaine settled upon Oregon's Willamette Valley in 2013.
"Résonance is key for Maison Louis Jadot," said Thibault Gagey, head of operations, whose own family links with Jadot trace back to 1954. "It is our first and only adventure outside Burgundy. It is not at all something we are doing "for fun" (even if we love it every day), but it is a serious and long-term project."
Crush at First Site
Jacques Lardière, Jadot's legendary winemaker, plays a pivotal part in the success of Résonance. "Imagine the knowledge and experience of Jacques after 42 vintages as winemaker at Louis Jadot, and leading the winemaking at Résonance from 2013!" said Résonance 'resident' winemaker Guillaume Large, who lives on site. "When Jacques visited Résonance Vineyard the first time (in 2013) with Thibault Gagey," Large said, "They told me that this location has an energy. And I can really feel it when I walk in the vineyard."
Certified organic and dry-farmed, Résonance vineyard sits atop ancient, ultra-fine, marine basalt sedimentary soils. Planted in 1981 by original owners Carla and Kevin Chambers, the 20-acre site slopes southward at elevations ranging between 262 and 492 feet. Cultivars include Pommard, Dijon 777, and Wädenswil Pinot Noir. Sheltered by the nearby Oregon Coast Range, the location enjoys a "rain shadow" effect that blocks rain clouds coming from the Pacific ocean. This proves especially beneficial to delicate Pinot Noir grapes prior to harvest. "When Jacques Lardière and myself visited Résonance Vineyard for the first time, we had a crush for the place at first sight," Gagey said. "I strongly believe in having a good feeling with a place; usually we are not mistaken."
Résonance also owns Découverte Vineyard, an 18-acre property located 10 miles from Résonance Vineyard, in the Dundee Hills AVA. At 600 to 690 feet in elevation, the satellite estate includes 12.5 acres of Pinot Noir, plus 2.5 acres of Chardonnay. Large employs massal selection at both vineyards. "I use what I learned in Burgundy about the vineyard to manage our estate vineyards," he said. "And from 2017, we have planted, and continue to plant, Pinot Noir and Chardonnay on our property in Carlton. Now we have our winery, next to our vineyards, so it's really a great thing to have our technical center so close to the vines."
The sleek, new winery nestles discretely within Résonance Vineyard. Large and his team hand-harvest, then vinify each vineyard in separate tanks. The gravity-flow facility gently sluices juice along from crush pad to fermentation vessel to barrel. Large prefers small fermentation tanks, separated out block by block. Aging occurs in custom, handcrafted French oak barrels sourced from Jadot's own cooperage house, Tonnellerie Cadus. Barrel selection focuses not only upon grain tightness, but also upon the soil in which the oak grew. Prior to release, wines rest quietly, with minimal racking. "In this way, we use the winery to reveal the terroir of each vineyard," Large said.
"We do not want to make Burgundy in Oregon, this is very important," Gagey emphasized. "There are, of course, similarities between Jadot and Résonance in the viticulture and winemaking, but we will adapt ourselves to Oregon, not the contrary. Of course, we bring a Burgundian touch/experience to Oregon, but we want to express, as much as possible, the place of Oregon."
"Somewhereness"
Recently, Résonance unveiled their new tasting room, which crowns the estate's brow. Designed by local architect Gene Mildren of Mildren Design Group, the tasting room seeks to echo what Jacques Lardière refers to as a "somewhereness." "A feeling, a spirit, an energy—a 'somewhereness' that tells us this place can produce expressive wine with an identity, a personality," Lardière said. "It would be too easy to define this with words."
The tri-part design incorporates three interflowing spaces—tasting room, member room and private dining area, all built entirely of reclaimed barnwood from 100-plus-year-old abandoned barns. "It was important for us to reflect the foundation of the Résonance site, which is purely Oregon, and purely Carlton; the earth, the environment and the community," said Rick Bonitati, CEO of St. Francis Winery & Vineyards in Sonoma Valley, Calif., and Senior Vice President for the Western Operations of French American Vintners, which owns Jadot. "As a result, the vision was to emulate the historic barns in the region, and maintain the natural setting and landscape on the property."
To that end, the natural habitat surrounding the tasting room remains untouched, including stands of old-growth oaks and native trees. These ancient arbors imbue the property with an overwhelming sense of harmony and tranquility. This forest imagery also figures prominently on Résonance wine labels.
Inside the new space, a juxtaposition of high ceilings and clearstories, mixed wood and metal beam textures, and large glass windows evoke an airy, yet intimate, ambiance that toggles seamlessly between indoors and out. Oregon craftsmen and artists provide much of the interior design elements and artwork.
"The view of the vineyard provides a glimpse into the site that is so unique," said Bonitati, who played a major part in conceptualizing and building the tasting room. "Also, the stunning view of the coastal range in the distance from the interior of the building, as well as from the outdoor patio, is critical to [understanding] the influence of the weather patterns, and is one of the key factors that sets the framework for the unique flavor characteristics of the Pinot Noir from the Résonance Vineyard site."
New History
As for the future of Résonance, Gagey expects many more opportunities, and challenges, ahead. One of those challenges includes the weather. While the Willamette Valley does not suffer Burgundy's recurring scourges of hail and frost, the region does struggle with powdery mildew. "We still have many thing to learn [and] to do at Résonance!" Gagey said.
Large, meanwhile, continues his quest to produce exceptional wines from the new vineyard, while best expressing its "somewhereness." "As Thibault mentioned," Large said, "We continue to learn, to meet great people, and [to] write new pages of the story of Résonance. Exciting, isn't it?"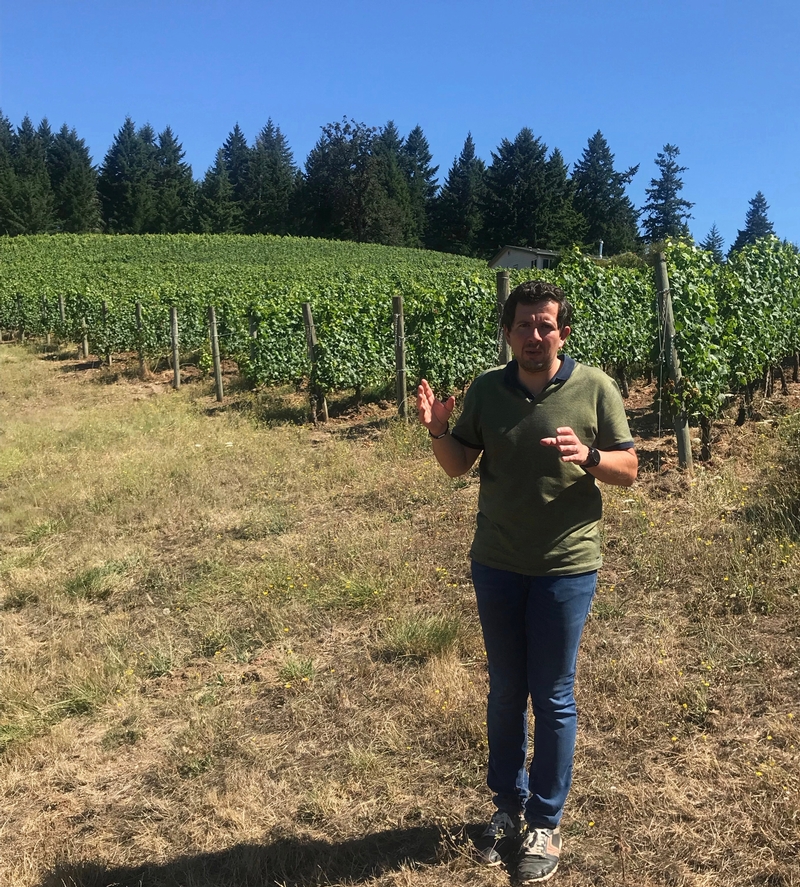 Guillaume Large in Résonance Vineyard