Oregon 2019 Harvest Off to the Races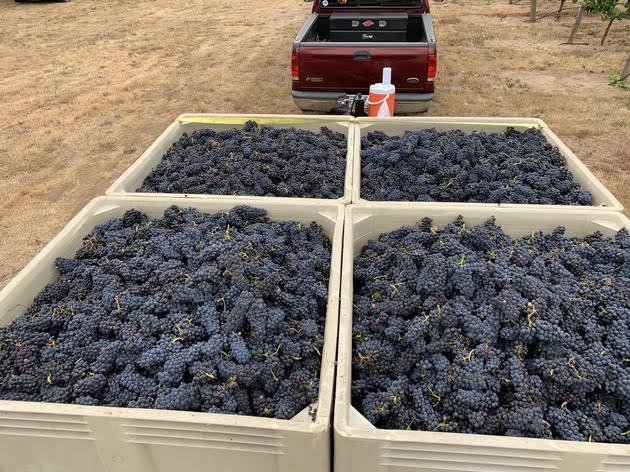 The first Pinot Noir grapes harvested at Green Acres Vineyard.
Photo: Rod Elliott-Mullens

Salem, Ore. - From southern Oregon to the Willamette Valley, Oregon's 2019 harvest is off to the races, with sparkling wine producers leading the way.
Southern Oregon
"Harvest so far has been BEAUTIFUL! " says Chris Graves of Naumes Family Vineyards in Talent, Ore. The southern Oregon winemaker harvested Pinot Noir for sparkling on August 26, and concluded with Chardonnay on August 29. "Fruit looks incredible, and flavors/chemistry are all in balance," says Graves. "No smoke this year, not too hot, fruit has developed perfectly. I'm happy to say, apart from a bit of mildew pressure earlier in the summer, we have had very little issues with disease."
Herb Quady of Quady North in Jacksonville, Ore. concurs. "This is the way it should be in southern Oregon," he says, "When we have a nice, average year as far as heat goes. We see it through the grape quality, and a lot of power to the vines." Quady harvested Pinot Noir for sparkling on August 27, Chardonnay, Pinot Noir and Pinot Gris on August 28, and Pinot Meunier on August 31. Quady notes a few anomalies in the otherwise 'average' year, including a small amount of leaf curl discovered late spring in one of his vineyards, an unusual June heat spike resulting in shatter to some Grenache, and a trio of thunderstorms in August. Overall, Quady remains optimistic. "We're seeing some really nice flavors in the vines," he says, "and for the most part, average yields."
In northwest Salem, near the southern tip of Eola-Amity Hills, vineyard owners/growers Rod and Danette Elliott-Mullens picked Pinot Noir Dijon 115 on August 30 at Green Acres Vineyard for Landmass Wines sparkling project. "Overall yield was on the small side for these grapes," says Rod Elliott-Mullens," who projects September 20 as the final pick date for his clients' remaining grapes, including Pommard and Tempranillo.
Union Wine Company sources Pinot Noir, Chardonnay and Pinot Gris from over 30 vineyards across the Willamette, Umpqua and Rogue Valleys. "We haven't started yet," reports J.P. Caldcleugh, Director of Winemaking. "But we're off to the races on September 9, with grapes coming in for sparkling base from the Willamette and Southern Oregon." Caldcleugh also confirms some Pinot leaf curl in the Umpqua and Rogue Valleys this year. To date, no reduction in quality has been detected in any vines impacted by the phenomenon in these regions.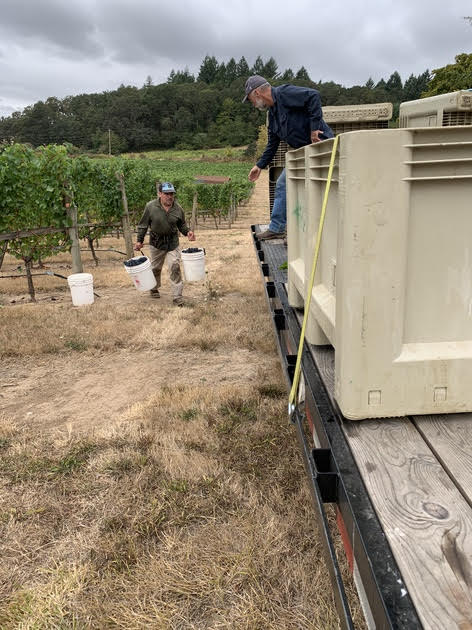 Rod and Danette Elliott-Mullens picked Pinot Noir Dijon 115 on August 30 at Green Acres Vineyard.
Photo: Rod Elliott-Mullens
Willamette Valley
Gran Moraine winemaker Shane Moore jockeyed for starting position up north, initiating harvest in Yamhill-Carlton on August 29. "So far we've only brought in base wine. But the juice is tasting great!" he says. "We've had some really nice flavors developing at low brix, and plenty of acidity. Yields are average, and the fruit is in perfect condition."
No laggard, Stoller Wine Group started picking fruit in Dundee Hills on August 30 for their LaRue sparkling program, and wrapped on September 4. "We expect harvest to pick back up again on September 12," says Jason Tosch, Vice President of Vineyard Operations, "With fruit for our Legacy Chardonnay, Dundee Hills Chardonnay, and Rosé programs." Tosch presumes crews will finish by the first week of October. "Overall heat units this year have been following the same trend that we saw in 2013," he says. "There have been only two heat spikes this year – one in early-May and one in mid-August - and strikingly few days over 90 degrees. Vine water stress has been less this year than in recent vintages, thanks in part to some abnormal July and August rainfall in the Willamette Valley. We believe this, too, will increase the quality of the wines being grown in 2019."
On Chehalem Mountain, Adelsheim winemaker Gina Hennen commenced harvest September 1 for sparkling, young vines, and early ripening Chardonnay. Hennen describes "lovely flavors" and tannins developing well ahead of brix accumulation, as well as vibrant acids. "To date we've picked and processed forty-one tons of sparkling and Chardonnay," she says. "We will start picking a small amount of Pinot Noir on September 8, then continue hard into Pinot Noir once the weather clears. The weather forecast suggests highs in the low to mid 70's F ahead, which is ideal for us. This is shaping up to be a spectacular harvest."

Tucked in between Chehalem, Dundee Hills, and Yamhill-Carlton, Ribbon Ridge's James Frey of Triseatum picked his first Chardonnay for sparkling on September 3, "the exact same day we started picking on Ribbon Ridge in 2018." Two days later, Frey harvested Pinot Noir for sparkling at his Coast Range estate in Yamhill-Carlton.
"In both cases, flavors were more advanced than I remember them being at this point in 2018," he says. "Especially with the Pinot Noir. It's still pretty early to make judgements on the 2019 sparkling vintage, but I was really pleased with the juice coming out of the press this week." Frey commences with still Pinot Noir and Chardonnay on Ribbon Ridge the week of September 9, followed by Dundee Hills and Yamhill-Carlton, before terminating with Riesling in early October.
Russell Lichtenthal of Flânuer echoes Frey's enthusiasm. "Comments from our vineyard manager are positive about the 2019 vintage," says Lichtenthal of their Ribbon Ridge and Chehalem Mountain sites. "It has more in common with 2017 than it does with 2014-16 and 2018, which were all warmer. We believe this will be a leaner-styled vintage, and unique amongst the last six years."
Elsewhere on Chehalem, Tom Fitzpatrick of Alloro Vineyard harvested Chardonnay for its inaugural sparkling project September 4 - 9. Fitzpatrick anticipates picking Pinot Noir for his own still Élevée Wines on Dundee Hills around September 20. "Overall, it's been a wonderful growing season," says Fitzpatrick. "Cooler in July, and certainly in August, than anticipated - and what we've seen in the past few years, which is great. We didn't get a lot of 90-plus F temperatures in August, which we have had in the last handful of years."
Fitzpatrick affirms this year's increase in mildew. He also observes more open canopies, something he attributes to water/soil status."The forecast that I'm hearing is calling for a cool-down, and some more moderate temperatures heading into September, without any significant rainfall, maybe showers here or there," he says. "So as far as we can see, it's going to be ideal for a little longer hang-time, under slightly cooler conditions, which is just perfect for Pinot Noir."
The Gorge/Hood River
"We've sampled our vineyards for Viento, Mt. Hood, and others," says Rich Cushman of Viento Wines in Hood River, Ore. "Lots of 20 brix out there; will get into more sampling next week. Things look generally, even though there are some instances of mildew out there." While Cushman doesn't plan to harvest until around September 16, his son Peter picked Sauvignon Blanc from Garnier for Jacob Williams Winery on September 7.
In Mosier, Ore., Steven Thompson of Analemma Wines picked Godello the first week of September. He'll handle Albariño the following week, before tackling higher-elevation Chardonnay and Pinots. "It's been a great vintage (cool) to work in the vineyards," says Thompson."Plenty of ground moisture to support dry farming efforts. Any growers along the Cascades, or west of [them needed to be vigilant on powdery mildew control, or they'll need to be selective at harvest to reduce exposure in the ferments.The Gorge growers are happy to be smoke free, and excited about a promising vintage."
Still Wine
For Oregon's non-sparkling producers, the harvest count-down continues. Laurent Montalieu of Hyland Estate Winery in McMinnville, and Solena Estate in Yamhill (https://www.solenaestate.com/), oversees 500 acres throughout the Willamette Valley. "We've been patrolling a little bit everywhere," says Montalieu. "And I'm assuming at some of our warmer sites, and our younger vines, we'll be starting in about September 16."
Though he admits to a "fairly average" start to the vintage, July and August proved uncharacteristically cooler, with temperatures rarely rising above 95 F. "Given the cooler temperature, we've also had much more moisture in the air, as far as cloud covers and so on, [so] the pressure of mildew has been one of the highest in quite a few years," says Montalieu, "We've been very fortunate in our vineyards not seeing mildew, but the pressure from the environment has been very, very high."
Guillaume Large of Résonance in Carlton, Ore. reiterates Montalieu's assessment. Burgundy-trained Large recounts a warm spring with less-than-average rain, bloom in early June, with a perfect weather, and a warm summer, with lower heat stress than recent years. Rain showers in July and August, despite concurrent winds, contributed to the aforementioned mildew pressures. Large successfully managed the fungus development throughout Résonance's organic vineyards, enjoying a warm, dry end to August,which boosted grape maturity.

"The grapes are really beautiful, clean and dense, and the yield are what we expect, between 2.5 and 3 tons/acre,' says Large. "We are controlling the maturity currently, the sugars are going up and the acidity is going down. Grapes should be ripe, balanced and ready to pick around September 16. We are preparing the tanks and equipment at the winery, and we are in the starting block, waiting for the perfect maturity to start to pick grapes!"
Clearly, Oregon's 2019 harvest is shaping up to be far from average. "The good thing about Oregon is there's never two vintages that are the same," concludes Laurent Montalieu. "This is going to be my thirty-second, and I've never seen one that is exactly the same as the other. That's the beauty of Oregon."