Texsom Celebrates its Fifteenth Anniversary Year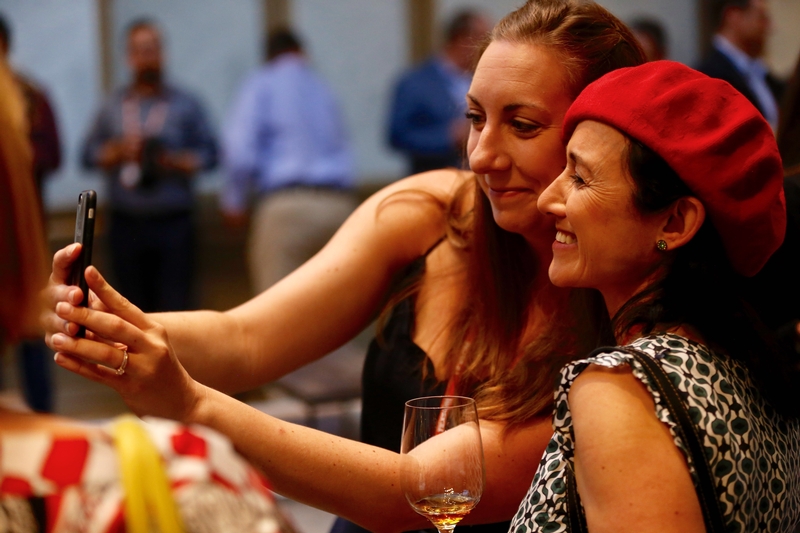 photos courtesy of Texsom
This August 18-20th marked the fifteenth year of Texsom in Irving, Texas. (https://texsom.com) Texsom is the only event of its kind in the country and has come to be recognized as one of the most influential wine events in the United States. The program brings together Master Sommeliers, Masters of Wine, Master Cicerones, and top respected retailers, journalists, and regional specialists from around the world to lead educational seminars. At the same time, sommeliers from across North America apply to serve as volunteers arriving as much as a week early to help with event logistics. Attendees from across all aspects of the wine trade and industry converge for the educational seminars, and the opportunity to taste wines during the seminars themselves as well as during sponsored tasting opportunities across the several days.
Co-founders and Master Sommeliers, Drew Hendricks and James Tidwell celebrated the fifteenth anniversary during the awards ceremony at the Grand Tasting on the final evening. At the same time, the winners of the Top Sommelier competition, and the Guild Somm Social Media contest were also announced.
Part of what makes Texsom unique is its collaborative atmosphere. The event is co-presented with SommFoundation, GuildSomm, the Court of Master Sommeliers-Americas, and the Wine & Spirits Education Trust (WSET). In this way, it brings together many of the top wine trade organizations to lead a program that serves the broader needs of the wine community. Seminars join Masters of Wine with Master Sommeliers and top respected wine professionals to lead intensive educational experiences for attendees.
While known for its educational program, Texsom also recognizes and trains emerging talent in the trade community. Volunteers must apply to serve the event. But once accepted, volunteers not only polish glasses and assist with behind the scenes logistics. They also enjoy unique tasting experiences, attend exclusive seminars, and receive one-on-one training with Master Sommeliers and Masters of Wine. As available, volunteers are also able to attend Texsom seminars and spend time alongside the event's speakers. The experience has come to affectionately be called SommerCamp. In this way, driven individuals in the trade receive mentorship, build community with their camp fellows, and are offered opportunities to learn about wine from around the globe.
This year, for the first time, volunteer applications were opened to those beyond the sommelier community. Cathy Corison of Napa Valley served as the first winemaker volunteer in 15 years of the event.
While volunteers attend SommerCamp, the Texsom Best Sommelier competition also takes place. The competition has become a valued program for identifying new talent in the restaurant community of the extended region. To participate, candidates must not have passed the Court of Master Sommeliers' Advanced Certification exam, nor have won the competition previously. They must also be current residents of Arkansas, Louisiana, Oklahoma, New Mexico, or Texas. Candidates undergo a three-part wine examination including theory, service, and blind tasting. After the rigorous testing, judges announce the top three participants. This year, Christina Walther of Jeffrey's in Austin was the winner. For the first time, all three top three candidates were also from Austin.
Attendees of Texsom are also invited to participate in a Social Media contest sponsored by GuildSomm. Award categories are announced at the beginning of the conference every year. This year the competition included Justyna Brewczyk for Best Photo, Steve Beutler for Best Tasting Note, and Leslie Hartman for Best Conference Takeaway. Winners of each receive a free full-pass for the Texsom conference in 2020. (https://www.guildsomm.com/4cb697f52c/discussion_forums/f/general-discussion/15278/winners-of-the-texsom-2019-social-media-contest)
Texsom is known for its commitment to wine education as well as community building. The conference this year brought together seminars on not only classical regions and categories such as the reds of Burgundy, and production methods of sparkling wines, but also emerging topics such as how to develop a fine dining tea program, the new temperance movement, and regional wines such as fruit wines, hybrids, cider and mead. It also offered topical programs such as tasting seminars from the Court of Master Sommeliers versus the WSET perspectives, a deep dive into the reality of buying and serving after-market wines, and a consideration of the role of apparent flaws in the aesthetics of wine. This year, Texsom also offered an intensive two-day technical pre-conference seminar on wine chemistry for professionals.
In 2019, Texsom included more than 1400 attendees, 205 volunteers, 31 seminars, and 57 speakers, mentors, and competition judges. More than 15,000 bottles of wine were poured and more than 20,000 glasses were polished by volunteers in two days. In two days on social media, the event generated more than 107,000 hashtagged impressions on Twitter, and, coincidentally, the same number on Instagram. On Facebook it generated a more than a 30,000 post reach with a 12,000 post engagement.
Texsom depends upon sponsors from across the globe. However, to preserve the integrity of the conference, seminar design is kept separate from sponsorships and speakers are not allowed to speak in any seminar in which they make money from the region or wines.
This year's speakers, mentors, and judges included: Jesse Becker MS, Wayne Belding MS, Shayn Bjornholm MS, Bree Boskov MW, Devon Broglie MS, Dilek Caner PhD MW, Remy Charest, Christy Canterbury MW, Elaine Chukan Brown, Jim Clarke, Craig Collins MS, Olga Crawford MW, Brian Cronin MS, Charles Curtis MW, Ian D'Agata, Matthew Deller MW, Frederick L. Dame MS, Laura DePasquale MS, Jeni Dodd, Maureen Downey, Jessica Dupuy, Sarah Jane Evans MW, Ganna Federova, Klaus Gasser, Keith Goldston MS, Jamie Goode PhD, Mary Gorman-McAdams MW, Ian Harris MBE DipWSET, Drew Hendricks MS, Rich Higgins MC CS, Jay James MS, Terry Kandylis, Geoff Kruth MS, Paul Mabray, Peter Marks MW, Benoit Marsan PhD, Jack Mason MS, Mary Margaret McCamic MW, Andrew McNamara MS, Melissa Monosoff MS, Sheri Morano MW, Antony Moss DipWSET MW, Nicholas Paris MW, Rajat Parr, Bronwen Percival, Francis Percival, Emily Pickral MS, Thomas Price MS, Kyle Stewart, Larry Stone MS, Guy Stout MS, Chris Tanghe MS, Dirceu Vianna Junior MW, Kelli White, Laura Williamson MS, Emily Wines MS, David Wrigley DipWSET MW.
Sponsors for Texsom 2019 include: (Presenting Sponsors) Court of Master Sommeliers, Americas; GuildSomm; SOMMFoundation; Wine & Spirits Education Trust.

(Platinum Sponsors) Aqua Panna; Balzac Communications & Marketing; Banville Wine Merchants; Broadbent Selections; Classic Wine Merchants; Fortessa; Four Seasons Resort and Club Dallas at Las Colinas; ProWein; Ribera y Rueda; San Pellegrino; Silver Oak/Twomey; The Sorting Table; TEXSOM International Wine Awards; Washington State Wine; Wine Australia; Wine Dialogues; Wines from Spain.

(Gold Sponsors) Australia Classic & Rare; Banfi Vintners; Barossa Australia; Classified Wine Imports; Champagne Taittinger; Chappellet Winery; Club Crus Beaujolais; Coravin; Dreyfus, Ashby & Co.; González Byass; GoVino; Harvest Press Cider; Irving Texas Convention & Visitors Bureau; Kistler Vineyards; Loosen Bros. USA; Lux Wines; Mutual Trading Company; Newton Napa Valley; Old Bridge Cellars; Olé & Obrigado; Oregon Wine Board; Ruinart; Santa Lucia Highlands Wine Artisans; Santa Margherita USA; Texas Fine Wine; WhyNot; Wilson Daniels; Wines of Georgia; Wines of South Africa; Wines of Uruguay.

(Silver Sponsors) Ambiente; Austrian Wine; Cape Classics; Champagne Bruno Paillard; Consorzio di Tutela Prosecco Superiore; Crimson Wine Group; Empson USA; Europvin; Food Is Great Britain & N. Ireland; Folio Fine Wine Partners; Gerard Bertrand; Gimblett Gravels Wine Growing District; Graves – Sauternes; Iron Horse Vineyards; Jackson Family Wines; Kobrand Fine Wine and Spirits; Franciacorta; Lake County Winegrape Commission; Larkmead Family Estate; Lodi Wines; Louis Jadot/Zind Humbrecht; Mcpherson/Llano/Fallcreek/Brennan Vineyards; Multicarte Inc.; MundoVino; Napa Valley Vintners; New Zealand Wine; North Berkeley Imports; Pacific Highway Wines & Spirits; Paso Robles Wine Country Alliance; Petaluma Gap Wine Grower's Alliance; Rías Baixas; Serendipity Wines; Sideshow Wine Freaks Tour; Texas Wine & Grape Grower's Association; The Cultured Cup; The Wine Group; Terrien; Third Leaf Wines; Uncork Texas Wines; VQA Wines of Ontario; Viña Cobos by Paul Hobbs; Vinho Verde; Willamette Valley Wine; Wines of Argentina; Wines of British Columbia; Wines of Chile; Wines of Georgia; Wines of Germany; Wines of Greece; Yarden Inc.

(Bronze Sponsors) Achaval-Ferrer; Adelsheim; Alejandro Fernández Grupo Pesquera; Alexander Valley Vineyards; Almaviva; Arínzano; Athenee Importers & Distributors; Barnett Vineyards; Becker Vineyards; Bellavista; Beronia; Bodega Garzon Uruguay; Bodegas Hidalgo La Gitana; Brazos Wine; Bowler; Champagne Collet; Clos du Val; Coast Pinot Noir; Corison; Crown Point Vineyards; Dalla Terra Winery District; Daou Vineyards & Winery; David Milligan Selections; Delectatio; Dessai; Donald Patz Wine Group; Dry Creek Vineyard; Ehlers Estate; Entisquero; Faustino; Fisher Vineyards; Foley Family Wines; Fredrick Wildman & Sons; Freemark Abbey; Garnacha/Grenache; Groth Vineyards & Winery; Gruet; Guinness; Gundlach Bundschu; Hahn Family Wines; Hartford Family Winery; Hundred Acre; Hertelendy Napa Valley; Joseph Phelps Vineyards; Kerr Cellars; Land of Promise Sonoma; Lange Twins; Lede Family Wines; Lingua Franca; Lipman; Messina Hof Winery & Resort; Murrieta's Well; Obsidian Wine Co.; Pasalei; Passopisciaro Tenuta di Trinoro; Patz & Hall; Pedernales Cellars; Ranchos de Ontiveros Santa Maria Valley; Revana Family Vineyard; Rex Hill; Saint Arnold Brewing Company; Schmitt Sohne Family Wines; Siduri; Sinegal Estate; Ste. Michelle Wine Estates; Symington Family; The Hess Collection; Tinto Negro; Trefethen Family Vineyards; Villa Maria; Vina Don Machor; Vinkara; Vineyard Brands; William & Chris Vineyards; Winesellers LTD; ZD Wines; Zuccardi.
Elaine Chukan Brown served as a seminar speaker in Texsom 2019.