Free Flow Celebrates 10th Anniversary With Keggy Awards and Changes
Free Flow Wines, the company known for filling kegs with fine wine to allow restaurants and other businesses to serve wine by the glass, celebrated its 10th anniversary this year with changes at its production facility and on its staff.
Free Flow Wines co-founder Jordan Kivelstadt, who presented on Thursday the company's annual "Keggy" Awards to honor companies and individuals who use and distribute Free Flow's kegs, will no longer run the company as the top day-to-day executive.
"Jordan is not going to be actively working day to day with Free Flow," Rich Bouwer, chief operating officer, said during Thursday's ceremony at Sebastiani Vineyards and Winery in Sonoma. Kivelstadt, who is known for working 24/7, will join the board full time and work on other entrepreneurial projects, Bouwer told about 100 guests and staff members.
"We're going to miss him tremendously. Jordan really invented this wine-one-tap space and grew our company from nothing but a concept to where we are today," Bouwer said during his remarks, which ended with a standing ovation for Kivelstadt.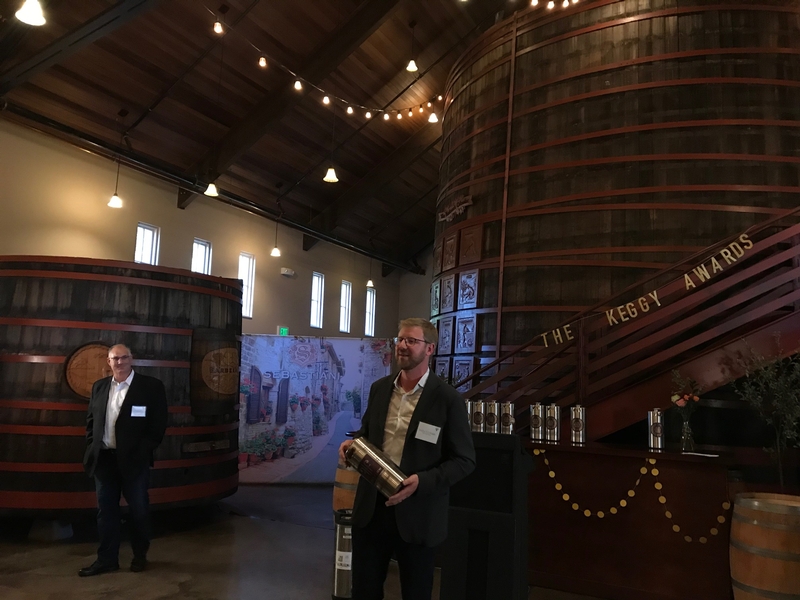 Rich Bouwer, (on left) chief operating officer at Free Flow, and co-founder Jordan Kivelstadt (on right) address guests gathered Thursday at Sebastiani Vineyards and Winery for the Keggy awards.Kivelstadt is stepping back from daily operations and will join Free Flow's board of directors. Kerana Todorov/Wine Business Monthly

During the ceremony, Kivelstadt recalled the history of Free Flow. The company started in a 2,500-square-foot building in Sonoma and has occupied larger buildings as it grew. Its production facility moved earlier this year from Napa into a 58,000-square foot building in Sonoma, a $10 million investment.
The company set a new record this year by filling 21,000 kegs in one month, Kivelstadt said. "That's a lot of kegs!" he said. "We've saved 23 million bottles from the trash cans. The vast majority of glass doesn't make it to the recycling plant. It actually ends up in the landfill."
The company, which fills more than 370 wines in kegs, has branched out, installing beer and wine systems and building its canning business. Its clients include more than 150 wineries and 270 distributors. It also operates a filling facility in Bayonne, New Jersey.
A new $5 million automated canning line by German manufacturer Krones will be fully operational in August at Free Flow's new facility off Carneros Lake Lane in Sonoma.
"We think this category is going to explode," said Bouwer, referring to wine canning, during a tour of the facility.
On Thursday, the Keggy awards were awarded to: O'Neill Vintners and Distillers; Prestige Wine Imports; Francis Ford Coppola Winery; Terlato Wines; Trefethen Family Vineyards; Winesellers Ltd.; Boisset Collection; Tuck Beckstoffer Wines; Round Pond Estate; Republic National Distributing Co. in Texas and in Indiana; Southern Glazer's Wine and Spirits in Florida; Skurnik Wines and Spirits; The Winebow Group; Opici Family Distributing; Epic Wines; Johnson Brothers – Mutual Distributing in North Carolina; and Quench Fine Wines in Arizona.
Restaurant representatives who have used wine-on-tap received "ambassador award recipients" Keggy awards: George Miliotes, master sommelier and proprietor at Wine Bar George at Walt Disney World Resort in Florida; Jessica Norris, vice president of beverage at Front Burner Restaurants; and Todd Rushing, owner at Two Urban Licks in Atlanta.
The "People's Choice" award recipient was Brick Wood Fired Bistro in Prince Frederick, Md.