Tim Martinson receives Outstanding Achievement Award from ASEV-Eastern Section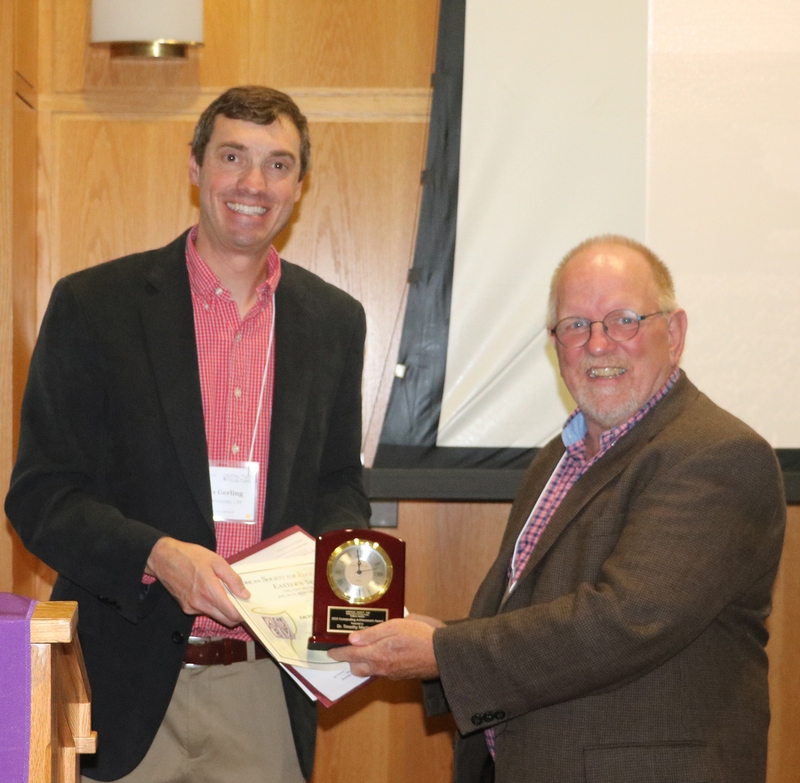 Dr. Chris Gerling, chair of the ASEV-Eastern Section, presented the Outstanding Achievement Award to Dr. Tim. Martinson, senior extension associate at Cornell University, at the annual Eastern Section meeting in Geneva, NY.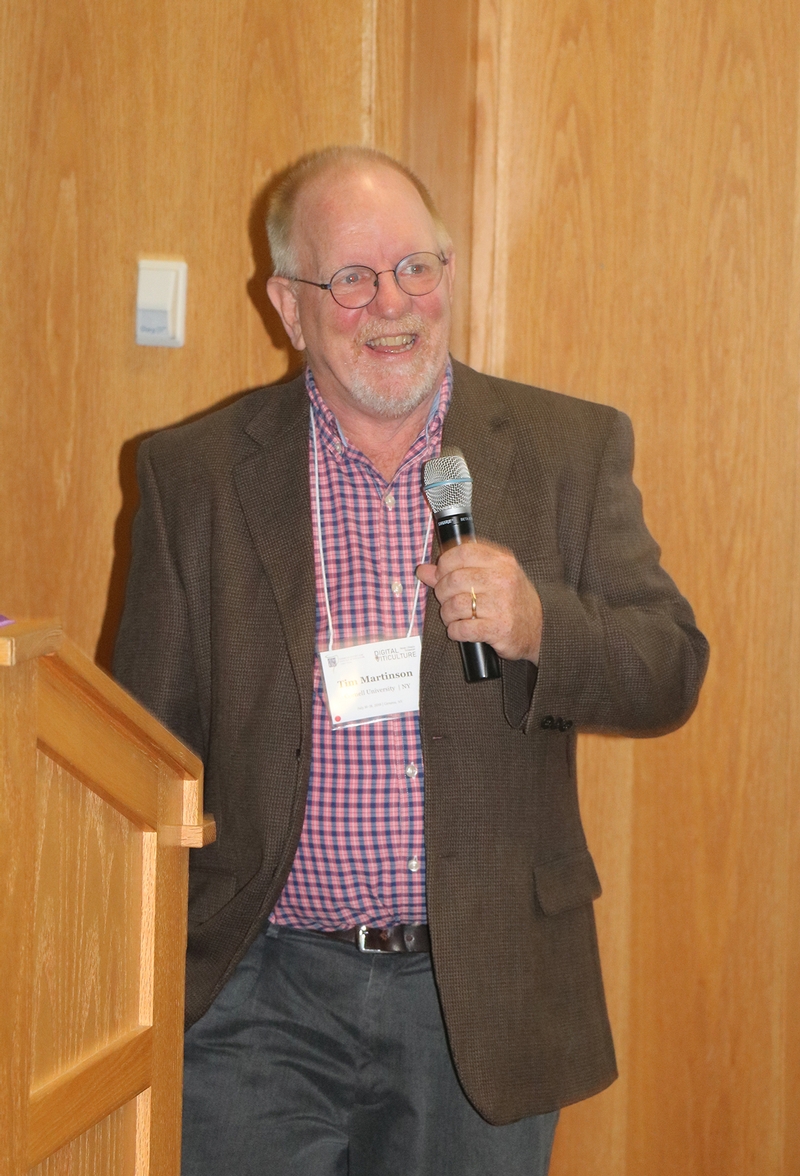 Dr. Timothy Martinson, recipient of the ASEV-Eastern Section's Outstanding Achievement Award for 2019.

Dr. Chris Gerling, chair of the American Society for Enology and Viticulture, Eastern Section, presented the Section's Outstanding Achievement Award to Dr. Timothy Martinson, senior extension associate at Cornell University at the opening session of the ASEV-Eastern Section conference in Geneva, NY on July 16. In presenting the award, Gerling noted that Martinson had been the senior extension agent and statewide viticultural extension person since 2007. "Tim is a really giving and generous colleague," Gerling commented. "He's one who 'shares the credit and takes the blame.'"
Martinson began his career at Cornell in 1991 after working for the Peace Corps in Central America for three years. He had completed both his Master's and Ph.D. degrees in entomology at Cornell and initially was research associate with the grape entomology program at the university's NY State Agricultural Experiment Station in Geneva. He became the grape extension specialist for the Cornell Cooperative Extension's Finger Lakes Grape Program in 1997, at a time when the Finger Lakes region had a vineyard base of 10,000 acres, 230 growers and 90 wineries.
For ten years, Martinson's focus was on the development of the VineBalance sustainable viticulture program and the production of The New York Guide to Sustainable Viticulture Practices Grower Self-assessment Workbook. He was appointed senior extension associate in 2007 with the goal of creating a statewide viticulture extension program. As part of that program, he edits the Veraison to Harvest weekly newsletter that is delivered across the state from late August through early November and Appellation Cornell, a quarterly online publication that features articles and news about viticulture and enology research, extension and teaching programs at Cornell.
From 2011 until 2017, Martinson provided the leadership for the Northern Grapes Project (NGP), a coordinated agriculture program funded by the United States Department of Agriculture that involved 12 institutions, 34 researchers and 23 industry associations. The NGP focused on the integration of viticulture, winemaking and marketing of the new cold-hardy cultivars in 12 Midwestern and Northeastern states.
After receiving the award, Martinson talked about some of the changes he has seen in research and extension in his time at Cornell. "In 1997," he said, "we advised people on how to grow grapes. Researchers generated knowledge, extension delivered that knowledge, and growers put it into practice." Today research and extension have changed: the outcome-driven project model starts with growers who generate the questions and ideas to be investigated, performance targets are set, and field trials are conducted. Research and extension are integrated to find examples in a vineyard and then figure out the net value to the grower. Both the NGP and the Sustainable Viticulture Project followed this model.
Currently, in addition to his extension responsibilities, Martinson is serving as the outreach coordinator for the VitisGen 2 Project which is funded by the USDA Specialty Crops Research Initiative and he is also a member of the National Clean Plant Network's outreach committee.
Scholarships, awards and officers

The ASEV-Eastern Section awarded seven student scholarships this year. Recipients included Suzanne Fleishman, Andrew Harner, Stephanie Keller, and Conor McComey, all from Penn State University; Sarah Mayfield of the University of Arkansas; Josh Vanden Weide from Michigan State University; and Hongrui Wang from Ohio State University.
A total of 14 students from seven different universities presented papers on enological and viticultural topics on July 16. Rachel Allison from Cornell University received the award for the best student enology paper for a talk about "Release of Hydrogen Sulfide in Wine During Storage – Investigating the Stability of Copper-Sulfhydryl Complex Precursors of Sulfur-Like Off-Aromas." Patrick Kenney of the University of Missouri was presented with the award for the best student viticulture paper, titled "Implicating Early Fruit Fly Life Stages in Sour Rot and Disease Progression in Absence of Adults."
The poster exhibits this year included eight entries by students from seven universities. The best poster award for enology was given to Sarah Mayfield of the University of Arkansas for a poster titled "Impact of Foliar Inactive Dry Yeast Application to Chambourcin Grapevines on Wine Anthocyanin Content." Harper Smith from the University of Missouri received the best viticulture poster award for his poster titled "Potential Insect Vectors of Grapevine Red Blotch-Associated Virus in Missouri Vineyards.
Dr. Andrew Reynolds announced the election results for officers and board members of Eastern Section for 2019-2020 at the annual business meeting. Dr. Paul Read, professor of agronomy and horticulture at the University of Nebraska-Lincoln, is the new chairperson; Dr. Amy Bowen, research director at the Vineland Research and Innovation Centre, Vineland Station, Ontario, will be chairperson-elect; Dr. Justin Scheiner, assistant professor in the department of horticultural sciences and extension viticulture specialist at Texas A&M University, will serve as secretary; and Dr. Jim Willwerth, senior scientist in viticulture at Brock University's Cool Climate Oenology and Viticulture Institute in St. Catharines, Ontario, is the treasurer. Three directors were elected to two-year terms: Dr. Cain Hickey, University of Georgia, Athens, GA; Dr. Karine Pednault, Université Sainte-Anne, Pointe-de-l'Église, Nova Scotia; and Dr. Tony Wolf, Virginia Tech, Winchester, VA. Dr. Elizabeth Chang, Virginia Tech, Blacksburg, Va., will serve a one-year term as director.
For the second time, next year's ASEV-Eastern Section Annual Meeting will take place in conjunction with the ASEV National Conference. The joint meeting will be held at the Marriott Portland Downtown Waterfront in Portland, OR from June 15-18, 2020.
At the national meeting of the ASEV in June, a total of $107,500 in financial support was awarded to 38 students to support their pursuit of scientific research and advancement of enology or viticulture. The two scholarship recipients selected to receive the ASEV Presidents' Award for Scholarship in Enology and Viticulture were both from university programs East of the Rockies. Sarah Mayfield from the University of Arkansas received the award in enology and Joshua Vander Weide from Michigan State University the award in viticulture. They will each receive $12,500 for exceeding the expectations of the traditional ASEV scholarship program and for showing remarkable leadership potential. Of the 36 students who were awarded scholarships to support their studies in enology or viticulture, 11 students were from East of the Rockies.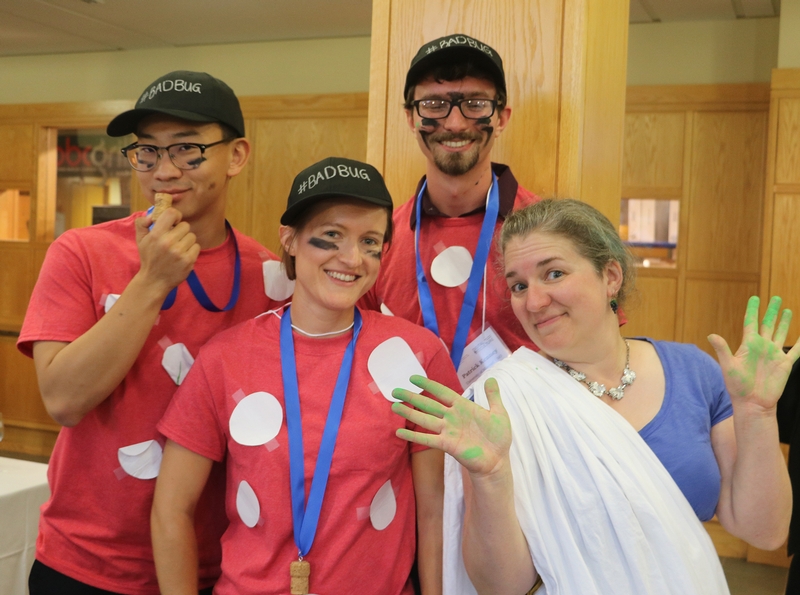 Each year at the Eastern Section annual meeting, Dr. Anna Katharine Mansfield, associate professor of enology at Cornell's New York State Agricultural Experiment Station in Geneva, NY. organizes an event called the "Oenolympics." Four teams of graduate students in enology and viticulture at different universities across the country compete in events ranging from pantomiming different trellis systems to hitting a target with a champagne cork. The winning team this year was the "Bad Bug" team (a.k.a. the Spotted Lanternflies), composed (from left to right) of Hongrui Wang (Ohio State University), Demi Perry (Cornell) and Patrick Kenney (University of Missouri). Dr. Mansfield, on the right, has green chalk on her hands from the champagne cork shooting competition (the corks were coated with chalk so that they would leave a mark when they hit the target).