The Seven Year Itch -- A Wine Business Plan Requiring Patience
When Justin and Karin Warnelius-Miller started their Alexander Valley winery in 2001, named Garden Creek Ranch Vineyard Winery, they had a dream of creating a world-class Bordeaux blend wine. But the vision was one that required not only passion for the land and vine, but a great deal of patience. This is because they made a decision not to release any of the specially named "Garden Creek Tesserae" wine until it had aged for seven years.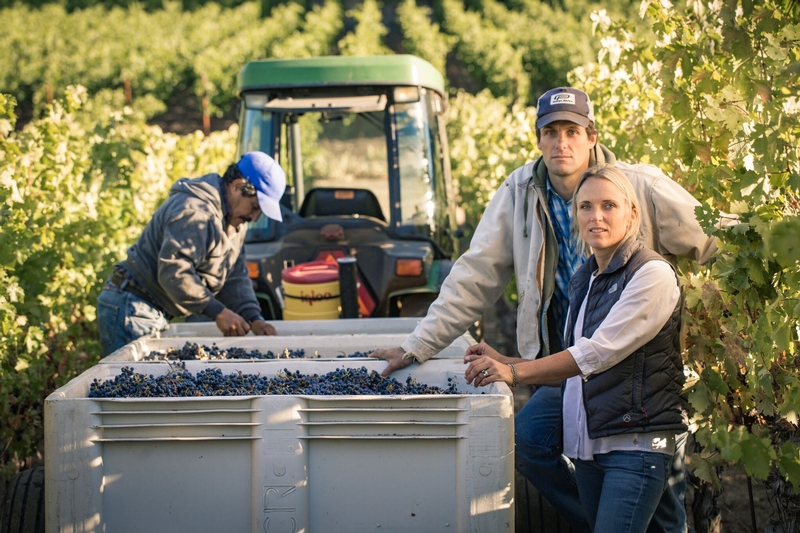 Justin and Karin Warnelius-Miller of Garden Creek Ranch Vineyard Winery

"We want to make sure our wine is perfect when we release it," explains Justin, who was born and raised on the property. "We believe with the tannin structure of Tesserae that it needs to age in oak for around 20 months, and then age in bottle for another five years."
Though a rare strategy for most California wineries, with even luxury wine brands such as Opus One and Silver Oak only aging their wines for four to five years before release, it seems to be a winning formula for Garden Creek. Producing only 1500 cases of all estate wine, they maintain a rather private profile with only word of mouth marketing and an allocated mailing list. Yet their Inner Circle, which receives one case of wine three times per year, has a waiting list; whereas the regular allocated list members receive six bottles three times per year. Members receive Tesserae, which currently retails for $100 per bottle, as well as the $60 estate Chardonnay and a rare Scheurebe for $50. Scheurebe, which is a white hybrid grape produced from a cross between Riesling and Silvaner, is only produced by one other winery in California, but is quite prolific in Germany and Austria.
So what has allowed this small under-the-radar winery to be so successful? The answer may reside in the vineyards and winemaking practices, as well as an extreme focus on quality with low production.
The Vineyards as Part of the Business Plan
Garden Creek Ranch Vineyard is composed of 72 acres in the Alexander Valley AVA, with vineyard blocks situated partially on rolling hills as well as the valley floor. They rest on a mélange of soils including sea-floor marine sediment, metamorphic rocks, and iron-rich volcanic soil. All five Bordeaux varietals are grown, as well as eleven clones of Chardonnay and three rows of the rare Scheurebe. Originally planted in 1969 by Justin's father, the average age of the vines is 42 years old. The majority of grapes are sold to neighboring wineries, such as Jordan and Aperture, but the couple harvest just enough to produce their 1500 cases.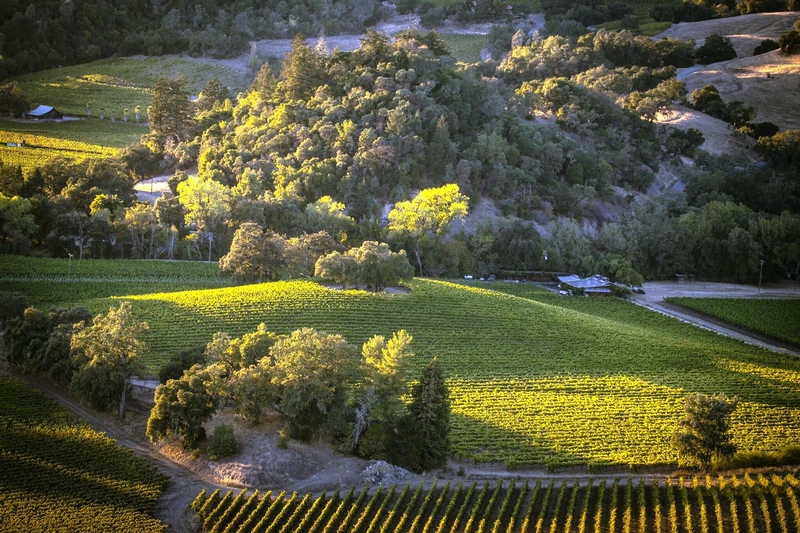 Garden Creek Ranch Vineyards in Alexander Valley AVA, Sonoma County, CA
Part of the reason the business plan works for the young married couple is because they inherited the vineyards from Justin's father and perform most of the work themselves, aided by the Gonzalez family who have lived on the property since 1965. The vineyard is sustainably certified, but they also employ biodynamic farming processes.
"We believe the most important part of sustainability is the human component," states Karin. "The Gonzalez family, which includes five brothers and their children, live in separate houses on our ranch. They are highly skilled vineyard professionals and know the vines intimately. We pay them above market rates, as well as provide free housing and utilities. Now the youngest are headed off to college, and we are very proud of them."
Natural Winemaking at Garden Creek
The philosophy of biodynamics in the vineyard carries through to the winemaking, with Justin and Karin serving as joint-winemakers using non-interventionist techniques. Grapes are sorted by eight people, first in the vineyard and then on a sorting table. They use natural yeast and ML, do not adjust acid, and use nominal SO2.
The same minimalist philosophy is used with oak aging. "Oak is a ghost in the background of the wine," states Justin. Chardonnay is fermented in older oak barrels by clone, with a portion of it picked at low Brix (around 21) to provide natural acid and freshness in the blend. Cabernet sauvignon and the other Bordeaux blends are fermented in stainless and concrete, and aged in one to four year old barrels for around 20 months. None of the wine is racked, fined, or filtered.
Bottle aging is extremely important, with the Chardonnay aged for an additional two years after one year in barrel, the Scheurebe aged for four years, and the Bordeaux Blend Tesserae (meaning "small pieces used in a mosaic") aged for a total of seven years including both barrel and bottle aging.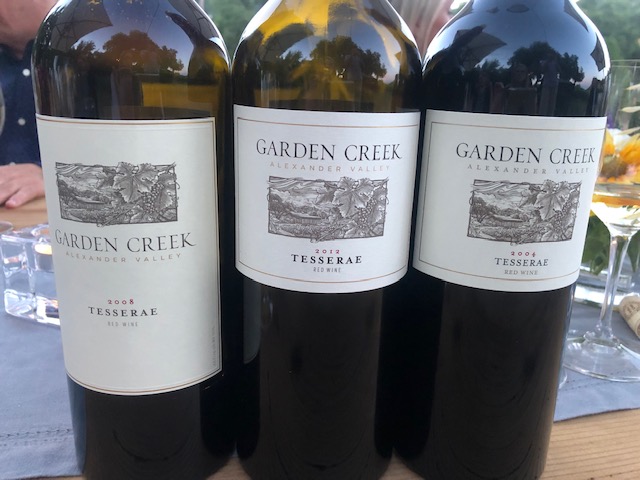 Garden Creek Tesserae Recent Vintage of 2012 with Older Vintages

The Result and Next Steps
The result of such a meticulous and long aging regime are wines that have some partial secondary aromas when released, which adds complexity and intriguing mineral notes of iron as well as savory qualities amongst rich fruit. The wines are also designed to age for decades, and over the years have attracted a secret fan base resulting in the allocated business model.
"What helps us to be successful," explains Karin, "is not only the fact that we own the vineyard, but that we keep our production small and strive to produce the highest quality of wine to reflect each vintage." Indeed, they did not produce any wine in 2017, because they felt the quality was not high enough due to some minor smoke taint from the wildfires. "It impacted our finances," Justin states, "but it was the right thing to do for quality."
So what is next for this young winemaking team? They recently purchased land in Anderson Valley and planted a seven acre Pinot Noir vineyard, from which they plan to produce an additional 500 cases of wine using the same winemaking techniques, including long bottle aging. They also want to keep the land in the family, with high-hopes that their two young children will eventually want to take over Garden Creek Ranch Vineyard Winery.

by Liz Thach, MW
Dr. Liz Thach, MW is a wine, food and travel journalist as well as the Distinguished Professor of Wine & Management at Sonoma State University. She can be contacted at Liz@lizthach.com.
Photo Credits: Garden Creek Ranch Vineyards