How to Build A Brand: Patience and Message Consistency Matter
Marketing campaigns in the wine industry typically include photos of beautiful wineries and discussions on terroir, vineyards and family history.
Not at Babe Wine. The marketing campaign for the brand started by Instagram star Josh Ostrovsky-- known as "The Fat Jewish" --includes photos of Ostrovsky clad in a hot pink, one-piece swimsuit.
Babe Wine was among the cases Stephen Rannekleiv, global sector strategist for beverages at RaboResearch, discussed Wednesday as he addressed how to build brands in a changing market at the Research Summit at Wine Business Institute at Sonoma State University for a morning seminar, "The Shifting Landscape in the Wine Industry."
"This is really one of the most important challenges facing in the wine industry today," Rannekleiv said before about 100 wine industry members gathered at the Wine Spectator Learning Center.
After all, up-and-coming brands that resonate with customers have crushed established brands.
AB InBev closed last week on the last remaining shares of Babe Wine, a positive move, Rannekleiv said.
The deal puts marketing support, dollars and muscle behind Babe Wine, a brand that has attracted younger consumers into the market. Z X ventures, the innovation division of AB InBev, has 1,500 employees who try to figure out ways to build brands with younger consumers, Rannekleiv said.
But what are the common traits of successful brands like Babe Wine?
These companies have a "clear sense of identity," Rannekleiv said. They are different and stand out.
For instance, NakedWines.com, the largest direct-to-consumer e-commerce company in the U.S. market, is mission driven. Customers fund winemakers, the company tells its customers. "'You're an angel,' and that message comes out very clearly," Rannekleiv said.
Bang, the fastest-growing energy drink on the market, claims its "super creatine" ingredient. "They do a nice job of differentiating their brands based on ingredients," Rannekleiv said.
Successful brands engage the consumer and have a well-defined personality, Rannekleiv said. They engage the consumer "consistently, creatively and constantly."
Mezcal El Silencio, for instance, maintains a Hell's Angels vibe.
"The consumer does not want to be advertised at. But they do want to be engaged in conversation with," Rannekleiv.
BrewDog, which sells craft beer, post blogs on its website at least twice a week, Rannekleiv said. The company also does crowdsourcing for financing projects, making consumers owners of the brand.
"Relationships are built on communication," Rannekleiv said. The brands also find new channels to engage the consumer, Rannekleiv said. For instance, RISE Brewing Co., which sells cold brew coffee, is found in in fashion stores, brew pubs and gyms. "It opens up opportunities for brands to engage customers in new places."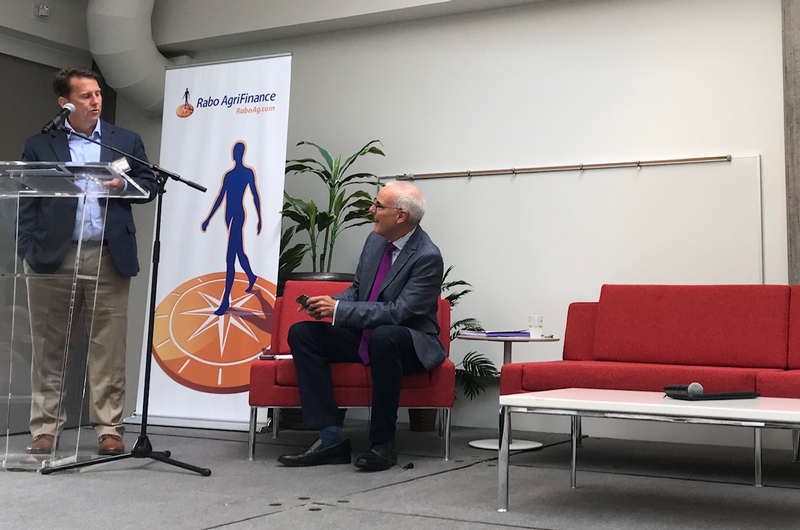 Stephen Rannekleiv, global sector strategist - beverages at RaboResearch, speaks at Wine Business Institute Research Summit at Sonoma State University. Ray Johnson, executive director, Wine Business Institute, seated, introduced Rannekleiv.
Photo: Kerana Todorov
Successful brands go deep rather than wide, Rannekleiv added. They focus not just on having products into more point of distribution but how to connect with customers. Owyn, an all-protein drink, is the number one drink in the all-natural channel. El Silencio Mezcal, a company started in Southern California, learned how to engage the customer and grew. On the flip side, Death's Door Spirits ran into financial difficulties when the company tried to distribute nationally, Rannekleiv said, adding the company never learned how to build its brand outside its Midwestern market.
Strong brands today are fast but patient, Rannekleiv said and agile brands act fast when they see an opportunity. "They take risks, they fail fast and they move on," he also said.
El Silencio Mezcal tried to sell Molotov cocktails in vending machines. "They did some risky stuff and it paid off," Rannekleiv said. They also had failures but moved on.
The most underestimated quality in a successful brand is being patient and consistent with long-term strategy, Rannekleiv said. Brands such as Tito's Handmade Vodka and Corona became overnight successes after sometimes decades in the making, he said. The messaging to the consumers was consistent. "There wasn't an immediate payoff but they were consistent and all of a sudden, when that thing starts to take off, it explodes."