Domestic Wines Boost U.S. Wine Sales in May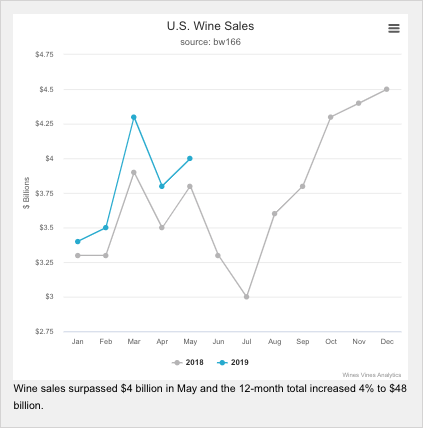 Sonoma, Calif. – Domestic wines are playing a key role in the growth of U.S. wine sales, according to the latest release of data from Wines Vines Analytics.
While tariff battles and shifts in global supplies complicate the international wine market, recent data from bw166 indicated that domestic table and sparkling wines gained 4% in the 12 months ended in May, totaling $48 billion. This worked out to an additional $1.7 billion in sales in the period. The growth outpaced that of packaged imports, which typically account for a third of total wine sales in the U.S. However, in the 12 months ended May, sales of packaged imports increased just 2% to $23 billion, inching down in their share of total wine sales in the U.S.
Meanwhile, imported bulk wines as a component of domestic wine sales dropped 20% to $1.6 billion, underscoring an ongoing shift to more affordable domestic supplies that began with the 2017 crop. Jon Moramarco, principal of bw166, noted in a recent webinar that the pendulum could shift in favor of imported bulk wine, but such a change would be a function of several variables.
Off-premise sales up 2% by value

Drilling into off-premise sales tracked by Nielsen, domestic table and sparkling wines increased 2% in the four weeks ended May 18 to $821 million. Consumers continued to spend more for the amount purchased, with volumes falling more than 1% from a year earlier to 9.3 million cases. Table wines led volumes lower while sparkling wine sales saw increases in both value (up 11%) and volume (up 8%). However, the long-term trend for both types of wine was toward greater value and less volume. In the 52 weeks ended May 18, domestic table and sparkling wine sales increased 1% to $11.2 billion, while volumes in the period declined more than 1% to 126.7 million cases.
While domestic wines are enjoying the upper hand in terms of growth, they've also benefitted from the momentum of popular imported wines, notably prosecco, rosé and Sauvignon Blanc. Nielsen data indicated that New Zealand and France saw strongest growth among imported table wines during the latest 52 weeks at 9% and 8%, respectively. The two countries represented 25% of the $3.8 billion of imported table wines sold off-premise in the period. Sauvignon Blanc and rosé have been key growth factors for both countries.
Prosecco leads among imports

Italy, meanwhile, is the dominant source of imported wines sold the Nielsen off-premise channels. It held a 31% share of table wine sales at $1.2 billion and a 58% share of sparkling wine sales at $584 million. Prosecco, the best-known sparkling wine from Italy, is the single best-selling sparkling wine in the U.S. and well represented among the country's top brands, including La Marca (the 19th largest by sales), as well as contributing to the growth of Josh, which saw the biggest sales increase of any off-premise brand in the latest 52 weeks.
Direct-to-consumer (DtC) shipments continue to increase, rising 9% in May to $249 million, according to Wines Vines Analytics/ShipCompliant. Shipment volume totaled 574,253 cases, up more than 5%. The channel's growth makes it one of the most appealing for wineries in a competitive market both in terms of the volume and access to shelf space.
Napa County wineries, which have long dominated the channel and maintain a 47% share by shipment value, illustrates the some of the trends at play.
The total value of DtC shipments by Napa wineries in the 12 months ended May increased 10% to $1.5 billion. This represented a lower proportion of DtC shipments than in previous years as more wineries across the country became active in the channel. Similarly, shipments went to a broader range of destinations as more consumers began taking advantage of the channel. Similar to off-premise trends, consumers were also receiving more expensive wines.
Winery hiring remained stable in May, according to Winejobs.com's Winery Job Index. While the main index slipped 1% in May to 464, year-to-date index activity was 8% stronger than two years ago. This pointed to an ongoing moderation rather than a downturn. Indeed, demand for vineyard labor as well as winemaking and production positions remained strong in May, rising 28% and 19%, respectively. The increases helped offset declines for direct-to-consumer positions, including tasting room and retail staff, which softened 23%.