How One Grapegrower Helps Her Grape Buyers and Winemakers Be Successful
"Shades of Shake Ridge" Showcases 50+ Wines from One Vineyard
Amador County grapegrower Ann Kraemer understands that her relationship with her grape customers doesn't end when the grapes are delivered to the crush pad. She knows the success and reputation of her vineyard depends on the success of the wines it produces. Kraemer is well-respected for her viticultural experience and attention to detail, and she works closely with winemakers to give them the best grapes possible for their desired wine styles. But she takes the relationship a step further, hosting an event where the winemakers come together to meet and compare wines, and to promote their brands to the wine trade.
The "Shades of Shake Ridge," trade tasting held May 20 was the third time Kraemer has hosted such an event at her Amador vineyard in the Sierra Foothills five miles east of Sutter Creek. This year, trade attendees included wine media, retailers, wine buyers and marketers, and prospective grape buyers, who sampled numerous varietal wines, blends and styles from one vineyard. The event featured 27 producers divided into four groups of tasting stations spread throughout the vineyard, in many cases with the winemakers located next to the vineyard blocks where their grape lots are grown.
Shake Ridge Vineyards was developed in 2003 by Kraemer and her family on rolling hills ranging in elevation from 1,650 to 1,810 feet. Vine blocks were planted to specific varieties based on different soil types, slope directions/characteristics, and microclimates. The 46-acre vineyard has grown in volume and reputation to become a high quality supplier to 33 different wine brands and has a waiting list of both current and potential buyers who desire more or new tonnage. The vineyard produces 160 to 180 tons annually, and sells to buyers in volumes ranging from 1 ton to 25 tons.
Shake Ridge is planted predominantly to red varieties with Zinfandel, Barbera, Syrah, Tempranillo and Petite Sirah leading production. Other reds are Graciano, Grenache, Mourvedre, Malbec and Primitivo. White varieties are Viognier and Greco di Tufo.
Most winemakers using Shake Ridge fruit are small- to medium-size producers who source from multiple California vineyards and focus on making high-quality, ultra-premium wines. Kraemer works with well-known brands and winemakers, some who have bought grapes since the vineyard's first vintage, but she also supports new winemakers to help get them off to a good start. Geographically, the winemakers are largely based either in the Napa/North Coast region, or in the Sierra Foothills. Most wines produced from Shake Ridge are vineyard-designated.
Kraemer said in the early years of vineyard production when her client list was smaller, the winemakers got together each year to compare and evaluate wines. As the number of wines and producers grew, Kraemer said, "We started having a trade event to get the winemakers together with the opportunity to promote their wines to make it more worthwhile for everyone."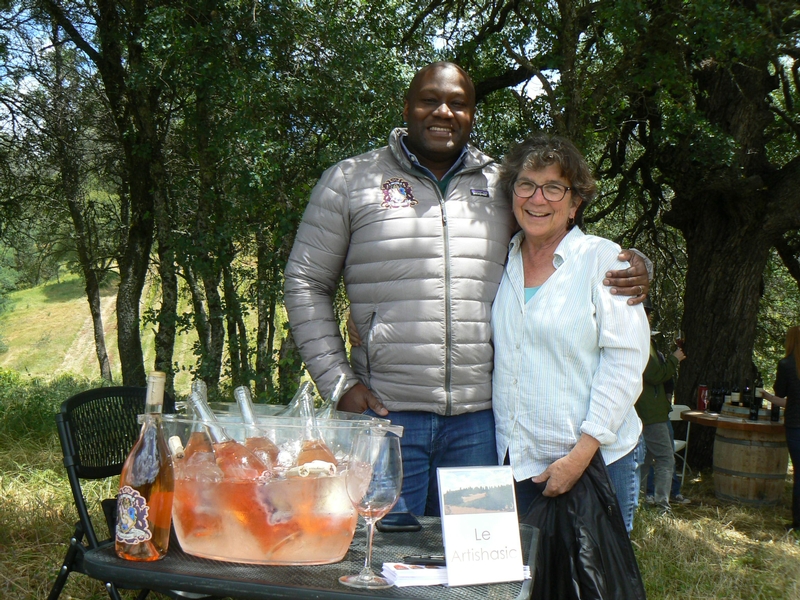 Artie Johnson, winemaker for Le Artishasic Wines, and Ann Kraemer, Shake Ridge Vineyards owner and viticulturist.
Photo: Ted Rieger
Portalupi Wines
Portalupi Wines, founded in 2002 in Healdsburg, specializes in Italian varieties, and was one of the early wineries to buy Barbera and Zinfandel from Shake Ridge beginning in 2008, according to winemaker Tim Borges. "I was fortunate to get the pick of the litter from these vineyard blocks," Borges said. He uses two blocks of Barbera that he believes are the most diverse on the ranch, and most often blends them to give his wines more complexity. The Shake Ridge Barbera has been a highly-rated wine that Borges feels reflects the Italian Piemonte style. "One sommelier told me this Barbera was 'the most Italian of any I've tasted from California,'" Borges said.
"Ann is far and away one of the most meticulous grapegrowers I've worked with, and Shake Ridge fruit is the most consistent from year to year of any of the vineyards we source from," Borges said. Borges has participated in all three Shake Ridge tasting events, and they've helped his wines receive press coverage and interest from the trade and consumers. "These events have helped open new markets, and have definitely had residual benefits," he said.
Borges also appreciates the chance to try wines by different winemakers. He observed: "The wines made from here are different styles, but there is a consistency of high quality in all of them. Regardless of the winemaker's style, they end up being great wines. That's a testament to Ann's eye to detail in the vineyard." He also noted, "She crops to everyone's requirements, and farms to each client's needs. It makes a big difference to have someone you can work with to get the quality you want."
Newsome Harlow Wines
Sierra Foothills winemaker Scott Klann of Newsome Harlow Wines in Murphy's is another long-time Shake Ridge grape buyer who has produced vineyard-designated Zinfandel since 2007 and Barbera since 2015. Klann, who participated in previous Shake Ridge events, said, "This event is pretty important for us, it's good to be here with other well-known brands and winemakers, and to be able to compare winemaking and wine styles."
Le Artishasic
A newer grape buyer participating in his first Shake Ridge event was winemaker Artie Johnson of Le Artishasic Wines, produced in Napa. Johnson spent many years working in the wine business for hotels and restaurants in Florida, Texas and New York City. He moved to California when he married Shannon Staglin of Staglin Family Vineyard. His goal as a winemaker is to produce wines with good balance between mouthfeel, acidity and drinkability.
Johnson was introduced to Kraemer through Napa winemaker Andy Erickson who produces Rhone wines for the Favia label from Shake Ridge. Johnson began buying grapes from Kraemer in 2015 with 2 tons of Grenache, Syrah and Mourvedre. He annually produces a Shake Ridge GSM Rose' with all grapes pressed with no skin contact and barrel fermented in neutral oak. Johnson said, "Ann helped me get started as a winemaker. It was important for me to start out working with a good grower and a reputable vineyard. She gave me that opportunity."
Bedrock and Desire Lines
Cody Rasmussen is assistant winemaker with Bedrock Wines that produces a Shake Ridge Barbera. More recently he started his own label, Desire Lines Wine Co., and poured his first Shake Ridge release, a 2016 Syrah. "This is one of the best farmed vineyards we work with at Bedrock," Rasmussen said. Attending his first Shake Ridge event he said, "When I first heard about it, I thought, how cool is that, to be able to see so many winemakers using the same vineyard all in one place." He added, "It's a great opportunity to see what other people are doing, and it can certainly help speed-up our learning curve, because it gives us so many more data points."
Yorba Wines
Yorba Wines, Kraemer's own label from Shake Ridge, produces varietal Syrah, Zinfandel, Barbera, Tempranillo, and a blend—Shake Ridge Red. Winemaker Ken Bernards makes the wines at his Ancien Wines facility in Napa. Bernards and Kraemer have had a working relationship for many years. She is the viticulture consultant for his Ancien estate vineyards.
Bernards said, "Yorba Wines display what the vineyard does, and we want their style to be bold with good tannic structure." He said the blends for each wine change from year to year based on different clonal mixtures and different block proportions. "As the vines mature, the blends will change, and we learn a little bit more every vintage," Bernards said.
A newer white wine, Greco di Oro, made since 2012 from the Greco di Tufo grape, is a small production wine (about 80 cases/year) and all is sold from the Yorba tasting room in nearby Sutter Creek. Bernards calls it, "A tannic white grape that's been fun and challenging to work with. It needs to have some evolution before it goes into the bottle." He added, "We've urged Ann to plant more."
Other producers and brands that participated in the 2019 "Shades of Shake Ridge": A Tribute to Grace, Aratas, Buccella, Cary Q Wines, Dirty & Rowdy Family Wines, Edmunds St. John, Enfield Wine Co., Fearless Wines, Favia, Gather Wines, Hatcher, Irwin Family, Keplinger, Miller Wine Works, Olivia Brion, Pennrose, Jeff Runquist Wines, Scott Pruett Wines, T-Vine, Tank Garage and Turley Wines.