IQ Day 2: Climate Change, Advances in White Winemaking, Trials, Salons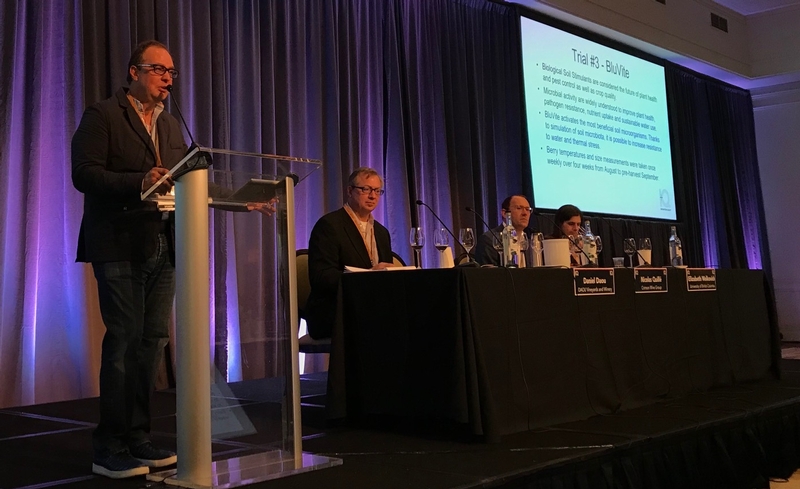 Daniel Daou, winemaker and co-owner at DAOU Vineyards and Winery, speaks during a panel on climate change at 2019 Innovation + Quality in Napa. The other speakers were Elizabeth Wolkowich, associate professor at the University of British Columbia, and Nicolas Quille, chief winemaker and operations officer at Crimson Wine Group. Wine Business Monthly editor Cyril Penn moderated the panel. Photo by Kerana Todorov/Wine Business Monthly.

Climate change was one of the topics discussed Thursday during Innovation + Quality (IQ) 2019 in Napa.

Elizabeth Wolkowich, associate professor at the University of British Columbia, studies how climate change affects winegrape varieties. Wolkowich urged wineries to collect as much data as possible and to share the information as they face climate change. "The more you share the data, the better you actually know what's working and what's not working and how well it's working and how much it's working," Wolkowich said.

"A big part of terroir, at least in Europe is picking the right variety for your climate," Wolkowich said.

Under the extreme climate change scenario, Cabernet Sauvignon may still grow in California thanks to its coastal influence. However, the heart of Cabernet Sauvignon's growing region may shift toward Oregon and Washington state, Wolkowich said.

Daniel Daou, winemaker and co-proprietor at DAOU Vineyards and Winery in Paso Robles, a region that has experienced heat waves, discussed how his winery copes with climate change. He applies short bursts of irrigation during heat spikes – just enough to wet the root zone and reduce water stress.

DAOU uses black shade cloth in blocks with southern exposure to reduce thermal stress. In addition, Daou showed the beneficial use of BluVite across the vineyard do deal water and heat stress. Experiments with BluVite at Daou Vneyards and Winery indicate its use leads to healthy vines, bigger crops and fruit with higher phenolics.

Nicolas Quille, chief winemaking and operations officer with Crimson Wine Group, discussed the impacts of climate change in the Napa Valley and several specific possible strategies and options. The company's holdings include Pine Ridge and about 160 acres in the Napa Valley.

Growers and wineries in the Napa Valley face erratic rain events, drought, fire and smoke incidents and rising average low temperatures.
Short-term mitigation strategies include water and soil management. Pine Ridge has applied for permission to construct more ponds to store more water, Quille said. The company also has reduced its water use in the vineyards, thanks in part to its irrigation system that turns on and off automatically and at night.

Pine Ridge has adapted soil management practices based on rain patterns. This year, for instance, the company left more cover crop to absorb moisture from the soils, Quille said.

Quille urged wineries to clear underbrush near their sites for fire prevention. Planning for fires should include boosting tank storage capacity at the winery in order to be able store fruit picked quickly in case of a fire or major weather event.

Grape contract clauses are evolving and should include provisions to make sure wineries and growers legally share the burden of a fire or smoke event, Quille said. "How do we make sure that it's not one sided to either the grower or the winery when we have a fire or smoke event?" he asked.

Discovery plans should be in place for insuring companies make sure everyone is safe and that facilities shut down in a timely manner.

Fire and smoke events recently led to dramatic drop in the number of visitors in the Napa Valley and Sonoma County. "So how do we adapt to that? One way is acquiring wineries in other regions instead of relying on one tasting room in one region, he said.

Expect more resilient pests – and diseases - with warmer winters, Quille said. This may lead to more pesticide usage even though there is a lot of pressure from consumers to reduce the amount of such chemicals. "How do we deal with that?" Quille asked. Vines may get weaker over time, he said.

Winemakers have been picking fruit earlier, he said. One option to consider is increasing yields to delay ripening and manage photosynthesis power in the vineyards, including removing leaves, Quille said.

Quille anticipates more fruitfulness in the vineyards as the climate changes. One adaption to climate change may include growing grapes on fewer acres but with more grapes per acre. Pine Ridge has been experimenting with changing row orientation in the vineyards in anticipation of climate change, he said.

Different trellis system, shade cloth and micro sprinklers may be used to reduce the heat stress of the plant, Quille said. He remains worried about freeze events even though there may be fewer incidents than in the past. "I suspect that the day we get to see one is going to be a good one"

The fog may protect the Napa Valley from the sun in spite of the risk of mildew pressure, he noted.

Pine Ridge has been planting Cabernet Sauvignon in Carneros (Truchard bottles Cabernet from cool climate Carneros as well). "Cabernet is creeping south," Quille said. "We could image that over time, a lot of the Chardonnay in Carneros could be replaced by Cabernet Sauvignon," Quille said.

Quille noted that there are concerns about the long-term viability of planting high-quality Cabernet Sauvignon grapes on hilsides that may not be as protected by fog over time as climate patterns shift. "It would serve us well as a region to think about that reliance on Cabernet Sauvignon and what happens if a chunk of the valley is not suitable for Cabernet Sauvignon at some point," he said.

Quelle, nevertheless, remains "bullish" about the Napa Valley. "I don't think we have to panic quite yet," he said.

Other sessions focused on trials. Kristen Barnhisel, white wine winemaker at J. Lohr, was among the speakers who described trials done at their wineries during a session focussed on innovatons in white winemaking moderated by Cara Morrison of Sonoma-Cutrer Vineyards.

J. Lohr uses Vivelys Cilyo system to measure the precise dose of oxygen required to saturate the unsulfured juice and effectively remove browning precursors, Barnhisel explained. The Visio system is used in the cellar for precise oxygen additions. Several tanks can be used at once. Caveats include the need to leave a 6-foot headspace and the importance of maintaining diffusers clean, Barnhisel said.

Donald Wirz, winemaker at Delicato Family wines in Paicines, San Benito County, described trials with the fermentation management system called Scalia, including using an automated lees stirrer set up inside large-size tanks. The end result was a clear preference for treated wines over wines produced under standard protocols, Wirz concluded.

Thursday's event was the second and last day of 2019 Innovation + Quality at Silverado Spa and Resort. The conference is a Wine Business Monthly event.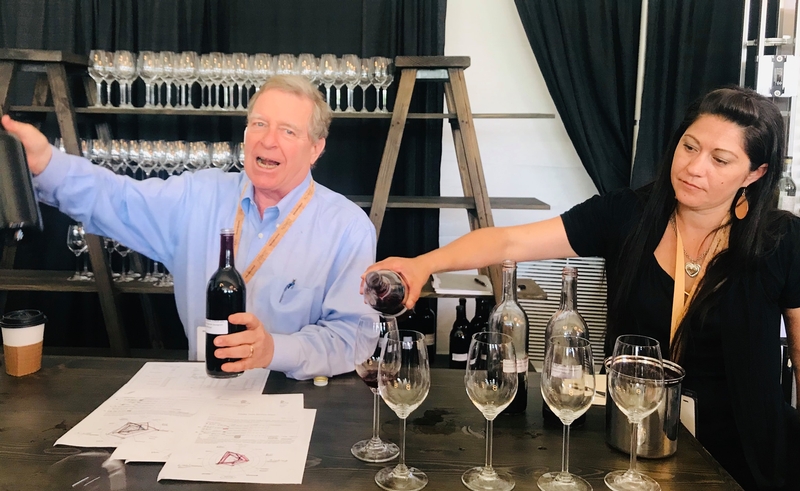 Clark Smith with WineSmith Wines & Consulting discusses and demonstrates results of various smoke taint treatments on Cabernet Sauvignon and Meritage in the trials tasting tent during IQ 2019. Results were eye opening.

IQ 2019 included twenty specially selected trials tastings with the winemakers pouring and discussing their methods and results.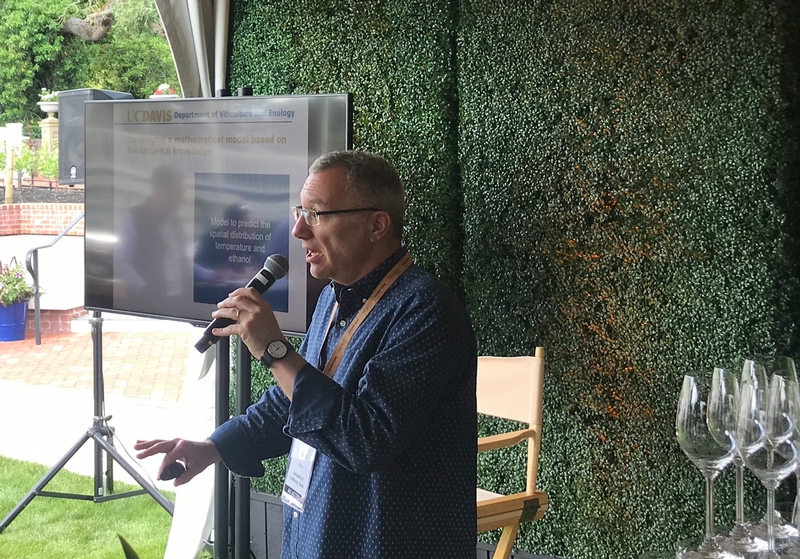 David Block, Professor and Department Chair with the UC Davis Department of Viticulture and Enology discusses the deveolpment of groundbreaking new tools for predicting and optimizing phenolic extraction in red wines at the Vinventions Platinum Lounge during IQ 2019.
IQ 2019 included Wine Business Monthly Salons - small, interactive sessions allowing for a personal "deeper dive" into pressing topics. Other salons included The Future of Winegrowing, hosted by: Zelma Long, winemaker, Vilafonté with writer Elaine Chukan Brown; Barrel Philosophies: Oak Trends and Best Practices, hosted by: Jim Gordon, editor-at-large, Wine Business Monthly with Matt Crafton, winemaker, at Chateau Montelena; and a session on meaningful analyses and trials focussed on how to interpret data with Peter Salamone, CEO, and Bryan Avila, director of operations and member services at Research Oenovation Collective (ROC)