ASEV-Eastern Section Meeting to Include Shaulis Symposium
Special program will focus on digital viticulture and new tools for growers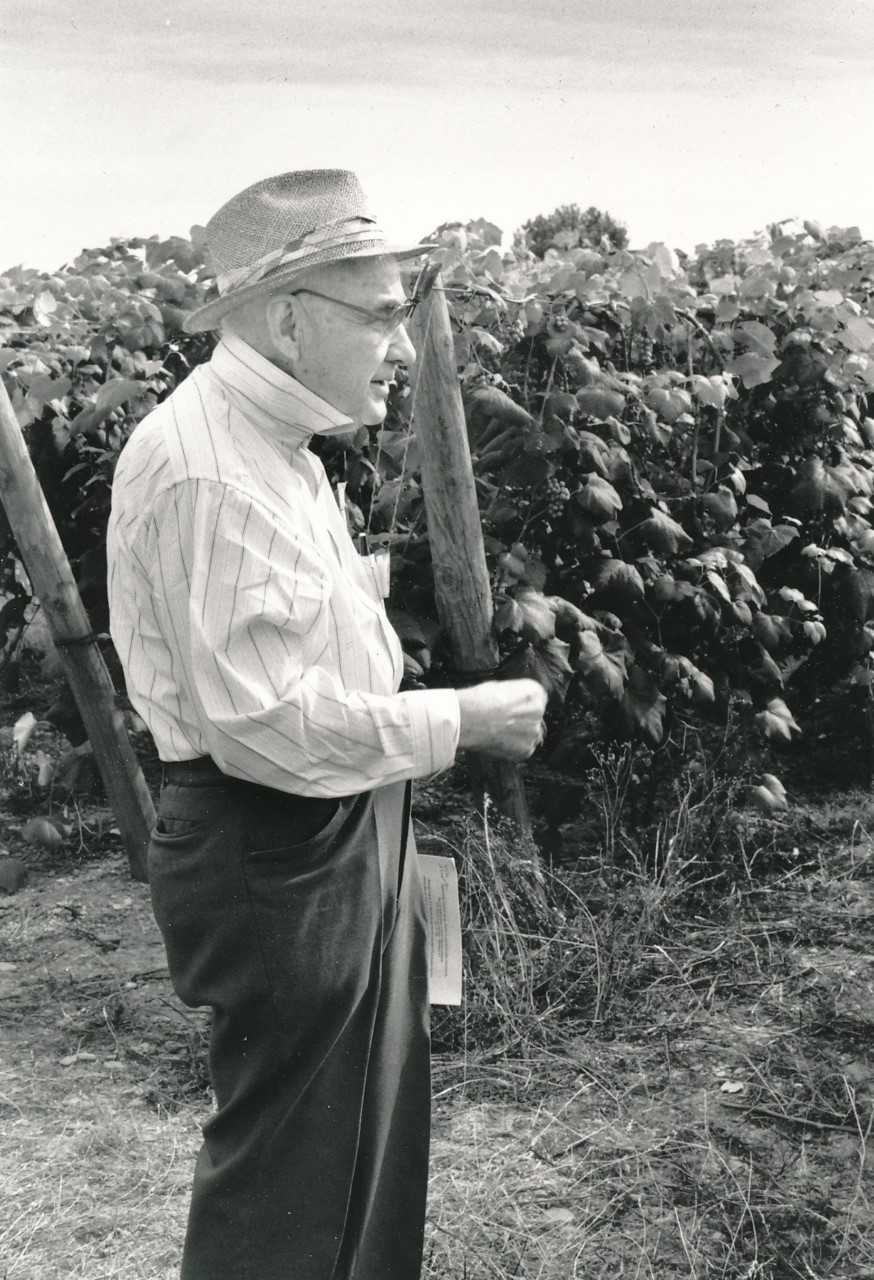 Dr. Nelson J. Shaulis attended the Shaulis Symposium held in July 1993 in Fredonia, NY.

Geneva, NY – This summer's American Society for Enology and Viticulture - Eastern Section (ASEV-ES) meeting will take place in Geneva, NY, from July 16 to 18 in conjunction with the Nelson J. Shaulis Symposium. It is a fitting location for the conference, as Dr. Shaulis was professor of viticulture at Cornell University's New York State Agricultural Experiment Station in Geneva from 1944 until his retirement in 1978.
The ASEV-ES meeting on Tuesday, July 16, will be held at the Scandling Campus Center of Hobart and William Smith Colleges and will include presentations on enology and viticulture by students and researchers from east of the Rockies. A wine reception in the evening will feature the eighth annual Oenolympics, an event comprised of student teams who compete in enological and viticultural-themed games. A faculty/industry team will also participate to offer an additional challenge to the students.
The Shaulis Symposium, entitled "Digital Viticulture: New Tools for Precision Management," will take place July 17-18. The two-day program and vineyard tour will allow participants to explore the tools and concepts of precision viticulture. According to Dr. Tim Martinson, senior extension associate in horticulture at Cornell University, "Nelson Shaulis and others developed principles of vine physiology that form the basis of modern viticulture over the past 50 years. Yet growers have lacked the tools to apply these principles on a vine-by-vine basis until now. New precision ag technologies are finally making it possible to vary management within a vineyard to achieve management goals."
On July 17, attendees will spend the morning at Clearview Vineyards in Branchport, NY, where the focus will be on spatial crop load measurement, yield monitors and mechanical yield estimation, tractor-mounted NDVI (normalized difference vegetation index) sensors, Brix mapping, and GPS-enabled tractors. After lunch (which will include Keuka Lake wines), the afternoon session will take place at Anthony Road Wine Company's vinifera vineyards in Penn Yan. Discussion will center on drones, digital imaging, novel sensors and tools for canopy management.
The Scandling Campus Center will be the location on July 18 for the Shaulis Symposium. Twelve speakers will focus on applying viticultural principles to address variability within vineyards.
The first session will look at vine balance and precision viticulture. A key organizing principle of viticulture and vineyard management is the concept of balancing vegetative growth and cropping levels for sustained production. Until recently, growers lacked the tools to apply this principle on a vine-by-vine basis to manage variable vineyards. However, new tools are giving growers the capacity to address variability through three steps: measure, model, and manage. The session will include the following speakers:
Andy Reynolds, professor of viticulture at Brock University, Ontario, will review some of the basic concepts taught by Nelson Shaulis;
Justine Vanden Heuvel, associate professor of horticulture at Cornell University, will talk about the physiology of vine balance; and
Nick Dokoozlian, vice-president of viticulture, chemistry and enology at E&J Gallo Winery in Modesto, CA, will discuss the "new metrics" – looking at grapevine response to crop load "through a different lens."
The second session will cover the sensor, drone, satellite and analytical technologies that are becoming available for growers, what they measure and how growers can use the information. The presenters will be:
James Taylor, senior researcher at the Institut National de Recherche en Sciences et Technologies pour l'Environnement et l'Agriculture (IRSTEA) at the University of Montpellier, France, will discuss the promise of precision agriculture;
Katie Gold, a PhD candidate in plant pathology and an MS candidate in biometry at the University of Wisconsin-Madison, will be joining the Cornell Agritech faculty as assistant professor for grapevine disease ecology and epidemiology in February 2020. She will talk about NDVI and multispectral sensors for canopy metrics, including early disease detection;
Jackie Dresser, research technician with the Efficient Vineyard project Cornell's Lake Erie Research and Extension Laboratory (CLEREL) in Portland, NY, will discuss mapping vineyard soils using proximal sensors;
George Kantor, senior systems scientist at Carnegie Mellon in Pittsburgh, PA, speak on 3-D image processing for cluster and berry counts; and
Jim Meyers, whose topic will be "What's in a pixel: satellite and drone imagery for crop estimation," is extension viticulture specialist with the Eastern New York commercial horticulture program;
Alan Lakso, professor emeritus of plant physiology at Cornell University, will talk about nanotensiometers for measuring vine water status; and
Tim Martinson, senior extension associate at Cornell Argitech, will present information on ultrasonic sensors for variable rate spray applications.
Speakers at the third session will look at translating the flood of data into practical tools for deciding "what I need to do and where." They will include:
James Taylor, senior researcher at IRSTEA, Montpellier, France, will review how viticulturists process spatial data and validate what the sensors measure, and how spatial data is then turned into "management zones;" and
Hakim Weatherspoon, associate professor of computer science at Cornell University, will speak about platforms for integrating information into decision-support systems that are user-friendly.
During the fourth session speakers will discuss examples of how mechanization and varying management within blocks will save labor and increase profitability and/or quality. The following individuals will be participating:
Richard Hoff, director of viticulture at Mercer Ranches in Prosser, WA, will look at a year in the life of a highly mechanized vineyard in Washington State; and
Terry Bates, director of Cornell's CLEREL in Portland, NY, will present information on the Efficient Vineyard Project in California and New York that is integrating spatial crop load and soil mapping into practical management plans.
Special events at the ASEV-ES conference

July 16: According to Eastern Section administrator Dr. Renee Threlfall, research specialist for the Institute of Food Science and Engineering at the University of Arkansas, ASEV-ES has raised $18,000 for scholarship funds from fundraising events at the Eastern Winery Exposition and from private donations. Students will receive scholarship awards at the business and awards luncheon. The eighth annual Oenolympics and Wines of the East reception will be held that evening.
July 17: A reception featuring wines from the Seneca Lake Wine Trail will be held following the vineyard tour.
July 18: The Shaulis Symposium will conclude with a reception for attendees after the last session.
Registration and lodging
Information about the ASEV-ES conference, registration forms, and hotels is available on the website asev-es.org. The options for hotel and room accommodations for the conference and the Shaulis Symposium include the Ramada Geneva Lakefront hotel in Geneva, NY, the Hampton Inn by Hilton Geneva, and dorm rooms at Hobart and William Smith Colleges. The deadline for reduced rates are June 1, 2019 for the Hampton Inn, and June15 for the Ramada and Hobart and William Smith Colleges.