Wine Sales Growth Steady as Uncertain Market Looms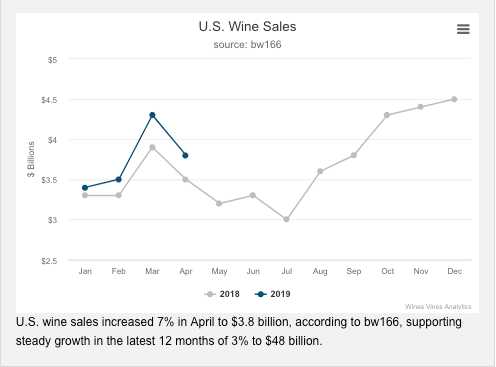 Sonoma, Calif.—The latest Wine Industry Metrics in the May edition of the Wine Analytics Report indicate that U.S. wine sales increased 7% in April versus a year earlier to $3.8 billion, while sales in the latest 12 months increased 3% to nearly $48 billion.
The data, supplied by market research firm bw166, indicates that bulk imports have pulled back, becoming a smaller component of domestic sales. This, in turn, has made domestic table wines the driver of sales growth.
That's good news as the industry grapples with the 4.28 million tons of fruit from the 2018 harvest, a volume that has resulted in 8 million gallons of Cabernet Sauvignon available on the bulk market. With even more Cabernet on the way as new plantings come on stream, and Pinot Noir production also picking up, vintners have to be pragmatic rather than hopeful if they want the pain to be short-lived.
Off-premise sales value up, volume down
Nielsen reported that sales of domestic table and sparkling wines through the off-premise outlets it tracks totaled $844 million in the four weeks ended Apr. 20, down a little more than 1% from a year earlier. But case sales fell 4%, totaling 9.5 million for the period. The pattern was even more clear in the latest 52 weeks, with sales increasing 1% to $11.2 billion while volumes fell more than 1% to 126.9 million cases.
The value of direct-to-consumer shipments reported by Wines Vines Analytics/ShipCompliant by Sovos rose 12% in April versus a year ago to $325 million while case volumes increased 8% to 648,631 cases. The average bottle shipped in April was worth $41.74, up 4% from a year ago.
Nielsen numbers indicate that rosé sales continue to be in the very pink of health in terms of growth opportunities.
Rosé sales remain strong
Rosé saw the strongest growth of any wine type at off-premise in the 52 weeks ended Apr. 20, with sales rising 37.5% to $525 million. This places it ninth among the country's top off-premise varietals. Rosé is also popular at on-premise venues, with the value of sales rising 3% in the 52 weeks ended Feb. 23, according to a report by Nielsen CGA, a new partnership between Nielsen Co. and CGA Strategy Ltd.
Rosé has also done well via direct to consumer, rivaling Cabernet Sauvignon in growth in the latest 12 months, but with a much lower value of $53 million. Cabernet Sauvignon remains the undisputed king of the channel in terms of share by value and growth. Shipments rose 12% to $899 million in the latest 12 months, giving it a 29% share of the channel, followed by Pinot Noir at 17% and red blends at 16%.
Regardless of where the market heads, hiring continues, strengthening 4% in April. Winejobs.com's Winery Job Index stood at 499 for the month. Among the major subcategories, demand for sales and marketing staff increased 24% while winemaking and production positions gained 11%. Demand for direct-to-consumer positions, including tasting room and retail staff, fell 16%. Weaker demand for vineyard labor resulted pushed the index for that subcategory down 11%.