Leading Port Producers Declare 2017 a Vintage Year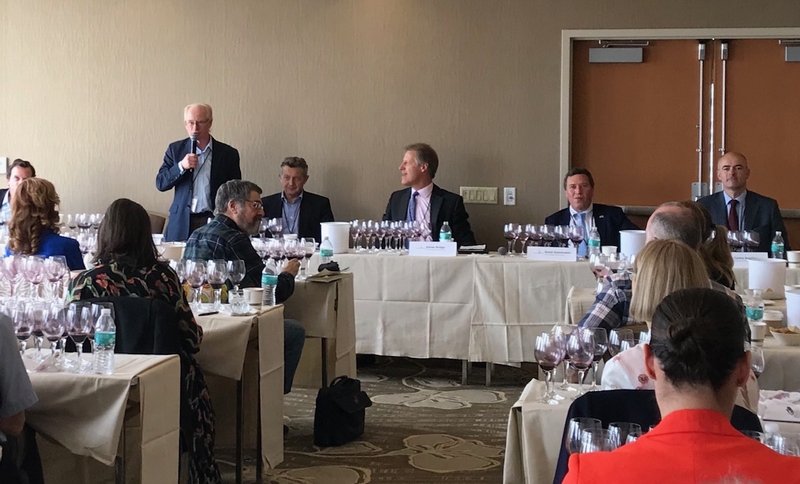 Dominic Symington, of Symington Family Estates, speaks during the tasting of porto wines in San Francisco. The three leading port houses have declared 2017 a vintage year. Kerana Todorov/Wine Business Monthly

The three leading port producers of the Douro Valley this spring have declared 2017 a vintage year - as they did in 2016.

The back-to-back vintage declaration is the first in Symington Family Estates' 130-year history, a Symington family member said Thursday in San Francisco before a tasting of 16 port wines from Symington Family Estates, The Fladgate Partnership and Quinta Do Noval.

"I think the wines speak for themselves," said Dominic Symington, one of three Symington family members present at the tasting. "We try to do as little as possible with the grapes. And then we let them do the talking."
The demand for high-end port wines is growing in the United States, Symington said. "The market is extremely strong."

The wines presented Thursday were the final blends. They ship to the United States in September or October, said Adrian Bridge, chief executive officer at The Fladgate Partnership.

"I think what we'll find today is that The 2017s do stand out as being very exceptional," Bridge said at the tasting.

Thursday's panel also included three winemakers from the three companies and Symington Family Estate's new chief executive officer, Rupert Symington, a cousin of Dominic's.

The 2017 growing season was particularly dry and the yields remarkably low, the speakers said during the tasting at Hotel Nikko. "The actual overall maturation cycle of the fruit during the 2017 vintage for everybody was extraordinary uniform," Dominic Symington noted.

The speakers also spoke on progress in winemaking and viticulture techniques.

"All ports today are being significantly better made than they were," Bridge said, adding the trend is "only likely to accelerate" as the demand for quality port wine increases.

Dominic Symington said today's knowledge in viticulture is "light years ahead" of what it was even one or two generations ago. "So the quality of the fruit that is coming in from our properties is absolutely outstanding."

There has been "a quantum leap in quality in every aspect," Symington said, "and it has helped to benefit the wines that we make."

The Fladgate Partnership owns four houses: Croft, Taylor Fladgate, Fonseca and Krohn. Symington Family Estates' family members run four port houses: Graham's, Dow's, Warre's and Cockburn's. Quinta do Noval produces Quinta do Noval and Quinta do Noval Nacional.

The port wines presented Thursday are expected to retail in the United States for between $85 and $820.