Wine Institute Applauds New Congressional Wine Caucus Leadership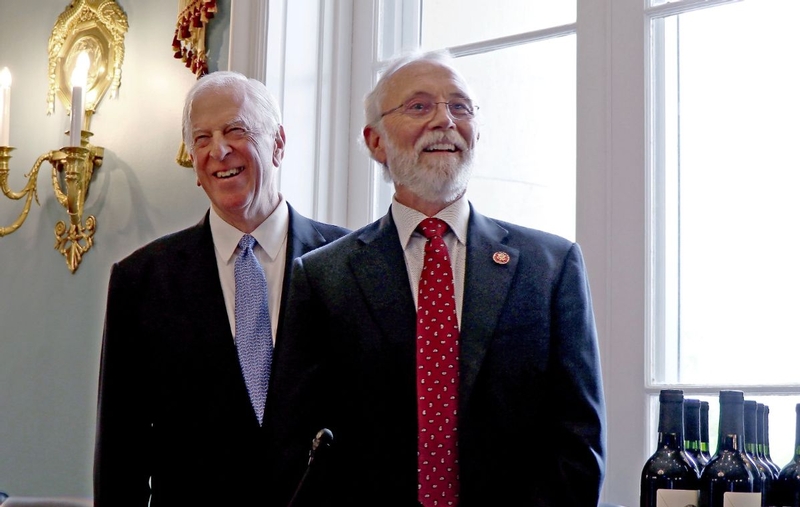 Washington D.C.—Today, Rep. Mike Thompson (D-Napa Valley, CA), the founder and Co-Chair of the Congressional Wine Caucus, announced that Rep. Dan Newhouse (R-Yakima Valley, WA) has been selected as the new Co-Chair of the Wine Caucus. Newhouse, a lifelong farmer and winegrape grower, represents the premier wine regions of Columbia Valley, Yakima Valley and the Walla Walla Valley. Newhouse will serve as only the fifth Co-Chair of the Wine Caucus in its 20-year history and the first Co-Chair from outside of California.

"Over the years, Mike has built the Wine Caucus into a bipartisan institution on Capitol Hill and an invaluable resource for the 10,000 wineries all across the country," said Robert P. "Bobby" Koch, President & CEO of Wine Institute. "We are thrilled with the selection of Rep. Newhouse as the new caucus Co-Chair and know that he and Mike will continue to do everything they can to support and grow value-added agriculture like wine. Rep. Newhouse's vast experience in agriculture in the Pacific Northwest will only strengthen the caucus as it pursues key industry priorities including renewal of the Craft Beverage Modernization Act and opening up critical export markets."
"When the Congressional Wine Caucus was founded, we had a mission to educate our fellow Members about the strong economic contributions made by grapegrowers and winemakers to our communities and to ensure they have a voice in Congress. I am proud that my new Co-Chair, Rep. Dan Newhouse, is a fellow grapegrower and knows these issues firsthand," said Thompson. "Together we will continue our mission of advocacy and education in order to support our nation's incredible wine community from the vineyard to the glass."
"I am proud to represent the flourishing, high-quality wine region of Central Washington, and I am honored to join my friend and colleague Rep. Mike Thompson to serve as the first Co-Chair of the Congressional Wine Caucus from Washington State," said Rep. Newhouse. "Mike truly understands the priorities and concerns of the wine community, and I look forward to working with him to ensure that our nation's wine industry – from winegrape growers to winemakers and sellers – can continue to thrive and grow."
The Congressional Wine Caucus was founded in 1999 to educate Members of Congress on the many benefits and challenges of growing winegrapes and making wine. The Caucus hosts numerous events and policy briefings throughout the year designed to foster collaboration between policy makers and grapegrowers and winemakers with the goal of promoting a vibrant and sustainable American wine industry.

Wine Institute is the public policy advocacy association of nearly 1,000 California wineries and affiliated businesses working at the state, national and international levels to enhance the environment to responsibly produce, promote and enjoy wine. California wineries are responsible for 81% of U.S wine production and more than 90% of U.S. wine exports. They also contribute $114 billion annually to the U.S. economy and create 786,000 jobs across the country of which 325,000 are in California, bolstering economies through hospitality, taxes and tourism and enhancing communities through environmental and social sustainability. See: www.wineinstitute.org.