Free Flow Triples Footprint at New Location
Canning operations expected to catch continually growing kegging volume soon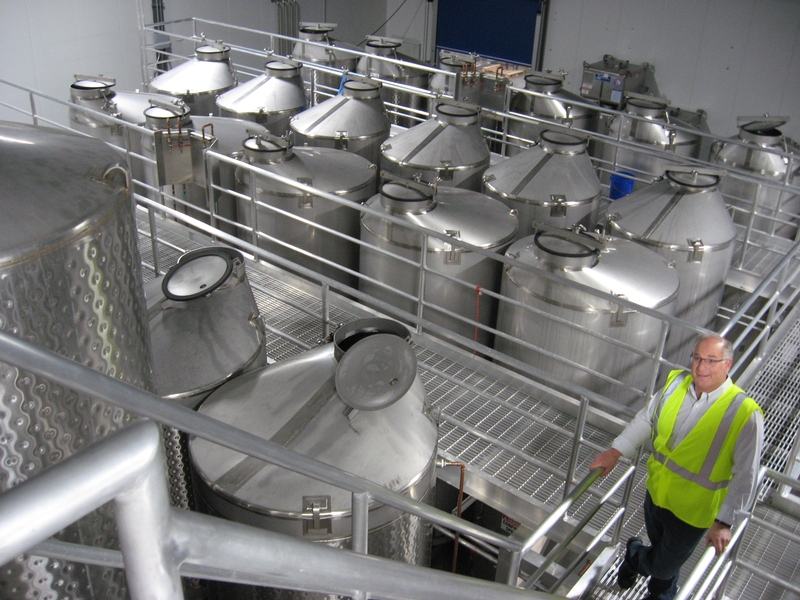 COO Rich Bouwer in the Free Flow wine cellar where 50 tanks and 30 portable tanks store wine to be kegged or canned.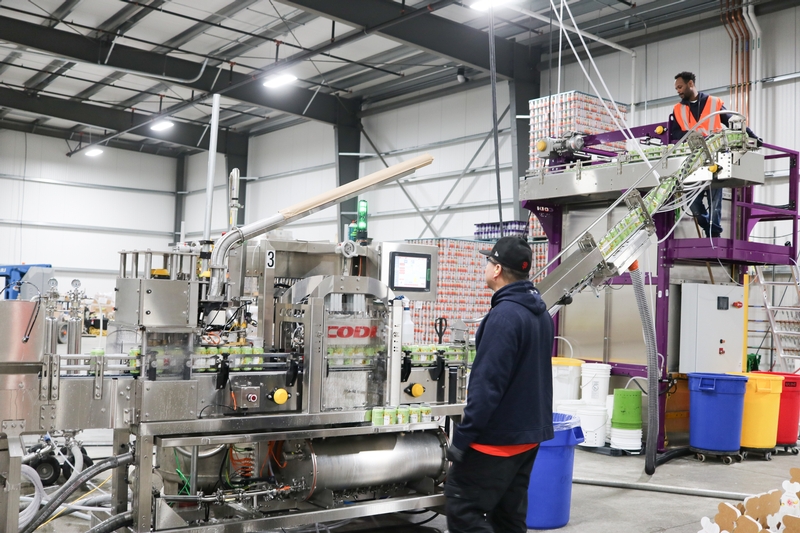 Workers manage one of three current can fillers at the new Free Flow facility, and a fourth filling line has been ordered. (submitted photo)

Free Flow Wines moved into its new 56,000-square-foot space in Sonoma, Calif., on Jan. 15, just in time to handle the continuing expansion of its wine-on-tap kegging service and accommodate its even faster-growing canning operations.
The location is a new warehouse-style steel building in the Carneros Business Park along 8th Street that cost Free Flow $10 million to equip. It's legally a bonded winery that produces no brands of its own but fills kegs for more than 145 wineries and 260 brands that go to 5,000 restaurant, bar, stadium, concert hall, and hotel accounts across the country.
Chief operating officer Rich Bouwer joined the company in 2018 in time to help organize the move from the Napa Valley Corporate Park to the Sonoma location about 12 miles away. Bouwer said the new location triples the company footprint at a time when the business has grown 50% a year in volume for six straight years.
Kegging has arrived, Bouwer said. "You go to a restaurant like Sixty Vines in Dallas, and they've got dozens and dozens of wines on tap. They can do a broader selection and have a cost advantage and quality advantage. All the big hotel chains, Hyatt, Hilton, Marriott, they all know this and they're all planning it for their future hotels. it just makes sense."
30 top wineries are clients

Of the top 50 American wine companies, 30 are Free Flow clients, and Free Flow has 98% market share of wine in steel kegs, according to Bouwer.
At least one other sizeable company, G3, offers kegging in plastic, one-way recyclable kegs.
Free Flow is owned by a group of investors including some former and current winery owners and executives. Jordan Kivelstadt is co-founder and CEO, and John Muse is chairman of the board. The company employs 105 people in California and also has a smaller crew that operates a joint-venture kegging operation in New Jersey, primarily putting imported bulk wine into kegs.
Free Flow added canning two and a half years ago, said Bouwer, who projected it will top 500,000 9-liter case equivalents this year. The new plant runs three canning fillers and has ordered a fourth one with more capacity than the current three added together. The new high-speed line from Krones will fill 300 cans per minute or nearly 6,000 cases per shift.
"The volume of canning will soon catch up with the volume of kegging in terms of liquid," Bouwer said, predicting the company will fill at least one million cases of cans in 2020.
The new Krones equipment will be able to handle 20 different packaging formats, filling cans with 187 ml, 250 ml and 375 ml volumes, automatically packing them into carriers and cases, and consolidating them into pallet sizes for shipping.
A 15,000-square-foot wine cellar inside the new facility looks and feels like a winery, but no fermentation takes place here. The air is cooled, the tanks are cooled, and trench drains in the floor take rinse water away. This is where wineries deliver their wines to be kegged and canned.
50 stainless steel tanks

Wine arrives in tanker trucks and various bulk wine containers and flows into an array of 50 upright, jacketed stainless-steel tanks from Santa Rosa Stainless and 30 smaller, portable tanks that altogether can hold more than 100,000 gallons, Bouwer said.
Before the wine goes into 5-gallon stainless steel kegs they go through a five-step cleaning process. The wine kegs are sometimes called "sixths" because they're one sixth the size of full beer kegs, and the same size in which many craft beers destined for taps are delivered.
Wine distributors are in charge of delivering the kegs to their on-premise customers, and in most markets they also service the nitrogen-gas tap systems for customers. Free Flow has 15 people of its own that service accounts for distributors covering the San Francisco Bay Area.
As Free Flow approaches its 10th anniversary in July, Bouwer said the increasing demand for kegs is firmly rooted in by-the-glass programs where they offer lower cost, better quality control and long-term re-usability. "The issue is if you go to a hotel bar and they offer a wine by the glass, if it comes from a bottle you don't know if that bottle has been open for three days or what. And if the guy behind the counter sprayed some gas in there or not. But with wine on tap, they just lock up the bar at night and come back the next day and the wine's great."
Further Reading
What's cool: Wine in Cans - Part Four, WBM, March 2018

The Business of Keg Wine is now Mainstream WBM February 2017
What's Cool: Canning Line Operations, Quality Control and Certification, WBM July 2017
"Case Study: Wastewater System at Free Flow Wines" WBM, June 2015
What's Cool: New Automated Keg Washing, WBM, May 2014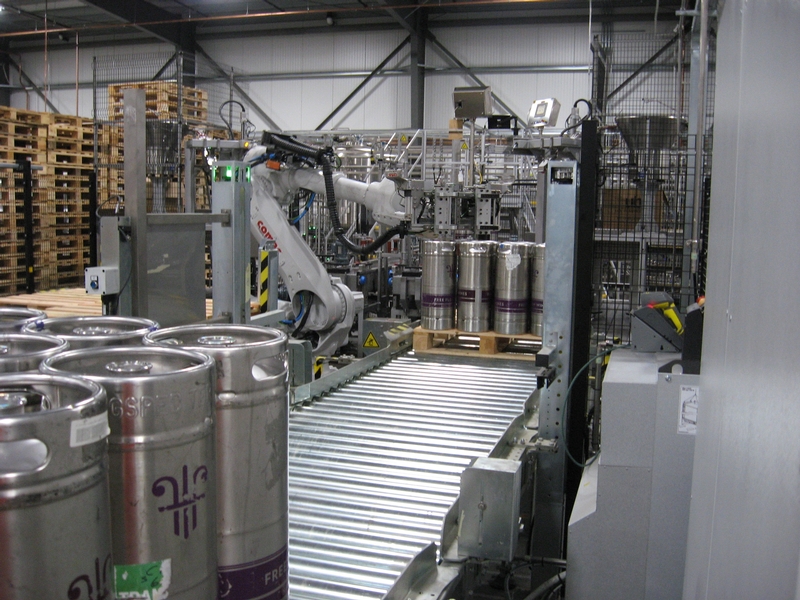 A robot arm moves kegs for cleaning and filling operations in the new Free Flow facility in Sonoma, Calif.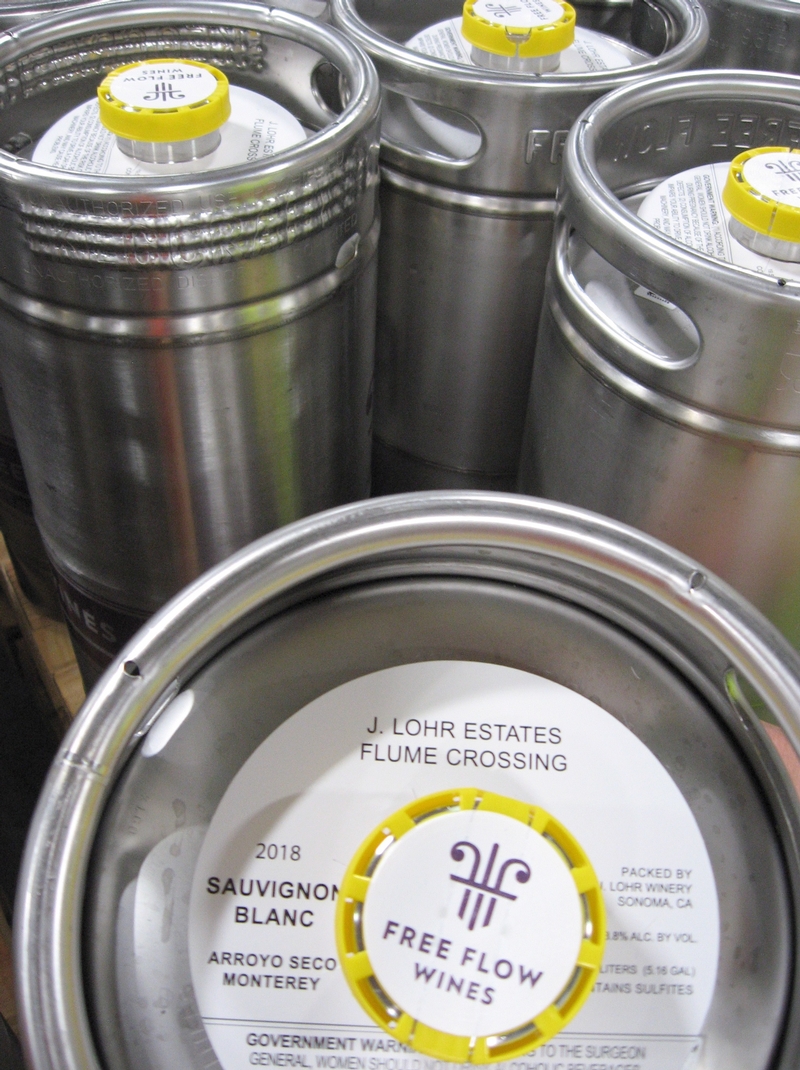 More than 145 wineries use Free Flow kegging to supply their customers by-the-glass programs.