Trends in Vineyard Irrigation: A Who's Who in Vineyard Water Management Honors Larry Williams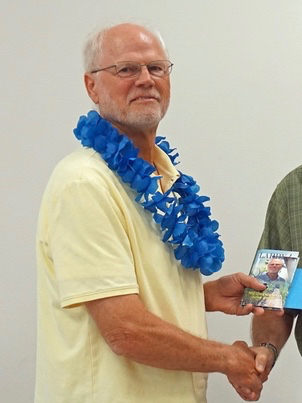 Larry Williams has remained busy since he retired last July from UC Davis after 36 years in the Department of Viticulture and Enology.

Last Thursday was no different. Williams was honored at an all-day seminar on vineyard irrigation and vine water management at UC Davis. Williams invited the speakers, including former graduate students and colleagues. Williams prepared two presentations of his own, including one with 141 slides on the highlights in vineyard irrigation over the past 36 years.

"This is my exit seminar," joked Williams, referring to the presentation UC Davis graduate students have to give before leaving campus.

The event was scheduled to honor Williams. Speakers discussed research on evapotranspiration, water footprint, new vine-growth models as tools for irrigation management, soil moisture monitoring. Many worked with Williams, a prolific researcher whose work included calibrating water irrigation methods for the vineyards. Many of the speakers referred to the work Williams had done over the years.

David Block, chair of the U.C Davis Department of Viticulture and Enology at UC Davis, praised Williams' contribution to the understanding of irrigation and deficit irrigation.

"That work is used throughout the industry today, throughout California and the world to help people get the quality of grapes that they want and use water in the most efficient way," Block said.

Williams, who was stationed at Kearney Agricultural Research and Extension Center throughout his career at UC Davis, also commuted to Davis to teach. He taught as many as three courses at the same time, leaving his home in Clovis on Tuesday morning to drive 3 hours to Davis and returning Thursday.

Block recognized Williams for his dedication to teaching. "Our department and all the students are also indebted to him for that," he said. Block also thanked Williams' family to "actually put up with that" while Williams served the department and the industry for all those years.

Nick Dokoozlian, vice president of viticulture, chemistry and enology at E&J Gallo Winery, moderated a panel on vineyard management. Dokoozlian noted Williams worked on three commodities at UC Davis: raisin, table and wine grapes.
"You really have had a remarkable and unprecedented career," Dokoozlian said, addressing Williams at UC Davis Conference Center.
Matthew Fidelibus, University of California Cooperative Extension specialist in viticulture, worked with Williams at Kearney Agricultural Research and Extension Center.

"It amazes me how much effort Larry has expanded into not only teaching as a professor but also his research in the extension program at the Kearney Ag Center," Fidelibus said Thursday.

His research besides irrigation management also focused on nutrition, physiology, working on three commodities at UC Davis, table, raisin and wine grapes. Williams, 70, who completed his doctorate at the University of Iowa, also worked on soybean and rice before taking the job at UC Davis in 1982.

Thursday's speakers included his most recent graduate student, Alexander Levin, assistant professor and viticulturist, at Oregon State University and an early student, Francisco Araujo, of Atlas Vineyard Management. His two sons, Scott and Mark Williams, also spoke, praising their father for instilling in them his work ethic.

"I owe it all to my dad," said Mark Williams, a winemaker at William Hill Estate Winery in Napa.
Scott Williams, who works in vineyard management company in the Central Coast, predicted his father will continue to work until "God knows when" before asking those gathered for a big round of applause for his father.

Larry Williams celebrated retirement last year by excavating 72 vine roots with his favorite tool – a backhoe - for a research project on quantifying Nitrogen uptake on wine grapes. The American Vineyard Foundation funded the project just before Williams retired.

"It's still nice to go out and do the work," Williams said. He's also given five or six talks since his official retirement. He is scheduled to travel to Greece with wife Christine in June for a meeting and to give a talk.
"I'm really retired but not really retired," Williams said.