U.S. Wine Sales Rise 9 Percent in March Despite Headwinds
Latest Wine Analytics Report covers the growing North American cannabis industry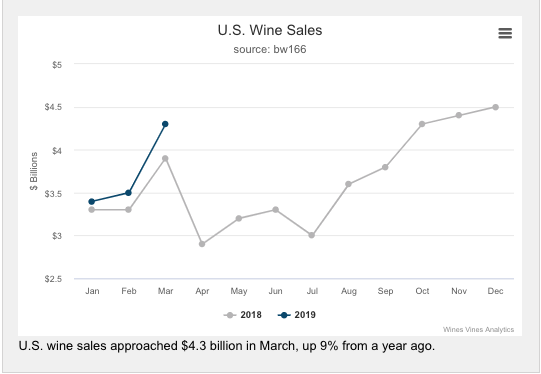 San Rafael, Calif. – Cannabis is not the threat to the wine industry it could be, according to industry metrics tracked by Wines Vines Analytics that show sales continue to grow across all channels.
U.S. wine sales increased 9% in March versus a year earlier to $4.3 billion, according to market research firm bw166. While the increase was strong relative to recent months, sales in the latest 12 months posted steady growth of 4% to total nearly $47 billion. Similarly, sales of all wine in the U.S. – both domestic and packaged imports – increased nearly 5% to more than $68 billion in the latest 12 months.
The size of the market and its ongoing growth indicates a mature sector with an established following. While growth may appear to be slowing, it's more a function of the size of the sector rather than less money being spent. Figures from bw166 indicate that U.S. consumers spent an additional $3.1 billion on wine in the latest 12 months versus the previous year.
Similar growth in legal cannabis sales, which the Boulder, Colo.-based cannabis market research firm BDS Analytics indicates totaled $10.5 billion nationwide in 2018 and expects to hit $13.1 billion this year, would translate to a far higher growth rate – nearly 25%, to be exact.
"Is the alcohol industry going to die because of legal cannabis?" Jennifer Lukas, vice president, consumer insights, with BDS Analytics asked. "No. … We're talking about a giant industry that's been here a long time, versus one that's just emerging."
Consumer sending patterns continue to change, however.
Direct-to-consumer (DtC) shipments tracked by Wines Vines Analytics/ShipCompliant by Sovos gained 5% in March versus a year earlier, totalling $358 million. The latest 12 months saw 10% growth, with shipment value rising to $3 billion in the period. This contrasted with flat growth in off-premise sales at outlets tracked by Nielsen. Sales in the four weeks ended Mar. 23 totaled $828 million.
Digging deeper into the numbers, consumers are opting for more expensive wines. While millennials are credited with spearheading a fresh embrace of a healthier, more sober lifestyle, the numbers show a trend among consumers at large toward spending more dollars on less wine.
Case volumes through off-premise outlets in the four weeks ended Mar. 23 fell 3% versus a year earlier to 9.3 million, Nielsen reported, while cases sold in the latest 52 weeks declined a scant 1% to 137.5 million. The average price of a bottle sold at off-premise outlets increased 3% to $7.38 in the 52 weeks ended Mar. 23. Similarly, the volume of DtC shipments was flat at 645,433 cases in March, pushing up the average bottle price for the month 4% relative to a year ago, to $46.19.
The biggest beneficiaries of the shift to more expensive purchases are the country's smallest wineries, those producing less than 50,000 cases a year. DtC is the lifeblood of small wineries, with those producing 5,000 to 49,999 cases representing 45% of shipments through the channel. While large wineries (more than 500,000 cases) are embracing the channel in a big way, increasing shipments 36% during the latest 12 months to $196 million, limited production wineries (less than 1,000 cases) were second in terms of growth with a 15% increase in shipment value to $100 million.
While the steady growth has helped keep fears of a consumer-led recession at bay, job seekers may not be so sure. Winejobs.com's Winery Job Index fell 5% in March from a year earlier to 471, while year-to-date activity was down 6% versus the same period a year ago. Yet the index remain relatively strong, sitting at a level last seen in May 2018. The index suggests a moderating trend rather than an overall decline, rising 1% in the latest 12 months versus the previous year.
Nevertheless, March saw weaker demand across the major subcategories. Demand dropped for vineyard labor (down 19%), direct-to-consumer positions, including tasting room and retail staff (down 13%) as well as winemaking and production positions (down 12%).