Beck Family Estates Unveils New Pinot Noir and Chardonnay Project Abbott Claim in Yamhill-Carlton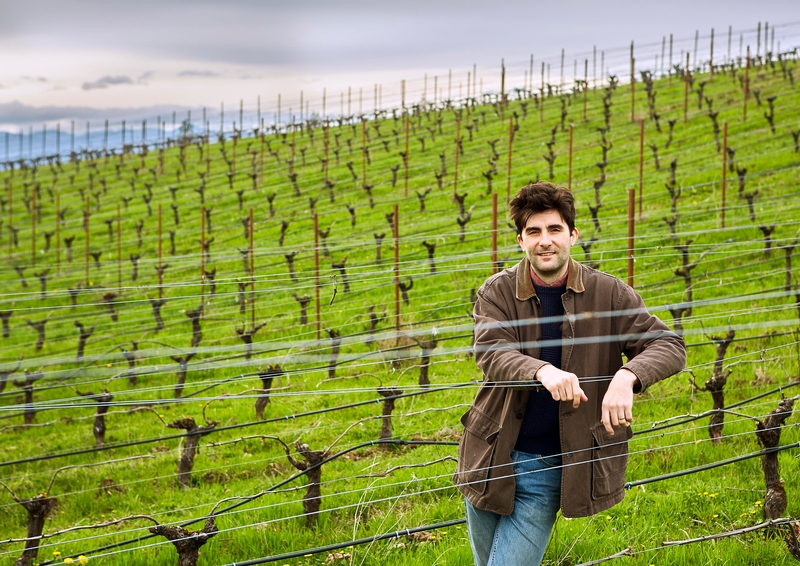 Alban Debeaulieu (c) Abbott Claim

Carlton, Ore. - Beck Family Estates has unveiled Abbott Claim, their newest Pinot Noir and Chardonnay project in Yamhill-Carlton AVA.
Abbott Claim comprises nearly 60 acres of vineyards and a state-of-the-art winery co-designed by Antony Beck and winemaker Alban Debeaulieu, formerly of 00 Wines.
Abbott Claim winery will accommodate 10,000 case production upon completion in May 2020, with the wines slated for release in early 2020. The facility, which abuts the vineyards, will feature two underground barrel rooms blueprinted to enhance humidity and cooling, fitted with American stainless steel tanks, Italian concrete vessels, and French oak fermenters. Angled corten steel panels will front the facade, designed to complement shifting seasonal lighting.
Abbott Claim honors the site's first homesteader, John F. Abbott, a coachman from upstate New York, who moved to Oregon in 1855. Beck carefully acquired these properties over time, patiently patchworking them into Abbott Claim. He acquired the first two vineyards, both planted to Pinot Noir, from winemaker Ken Wright in 2005 and 2012. The third he purchased from Dave Grooters in 2017. The south-facing site, located on Yamhill-Carlton's Savannah Ridge, sits at approximately 500 feet elevation, and boasts dry-farmed, ancient shallow marine sediments. Currently LIVE certified, Abbott Claim will achieve full organic certification in three years under the direction of Debeaulieu.
"This is a special vineyard with a track record of producing high-quality wine. We were so excited to learn about this site's history, and are grateful for the opportunity to build on its heritage, " said Beck. "When I met Alban, I knew he was the winemaker to bring this vision to life."
Debeaulieu arrived in Oregon from France after working a harvest at Maison Joseph Drouhin in Burgundy, where Véronique Drouhin invited him to work the 2013 vintage at their Willamette Valley winery. Upon arriving in America, the French transplant encountered some new concepts, such as the idea of wine as an 'industry.' "The term 'wine industry' is a word that does not exist in French," Debeaulieu said."We just say 'le monde du vin' (literally, 'the world of wine'.) It's not a business, it's just what you do - it's just agriculture."
Debeaulieu enjoyed his Oregon adventure, which led to ensuing stints at White Rose Estate, Chapter 24 and 00 Wines. In 2017, Beck offered Debeaulieu the winemaker position at his Willamette Valley winery Angela Estate, and the lead on the Abbott Claim project.
"Everything that Antony does is with a very long term and timeless outlook," said Debeaulieu, "That is something I've always appreciated and respected about established family-owned wineries. I find it extremely valuable, stimulating, and substantial to be a part of something that's bigger than we are."
The second reason for Debeaulieu's jump to Abbott Claim pivots on Beck's complete trust in the young winemaker, who was twenty-six when he was given the job. "Like any winemaker, I have opinions about what makes quality wine," Debeaulieu said, "So being trusted with such an ambitious project is an exciting opportunity."
Debeaulieu's drive to produce quality wines starts in the vineyard. He aims to enhance biodiversity, thereby avoiding an unnatural and undesirable imbalance to the ecosystem often found with strict monocultural farming. He also cautioned against an over-emphasis upon the use of a small number of clones. "Making great wine - it's not just making wine that is of objective quality," Debeaulieu said, "But also wine that has a personality - and is expressing something unique. I don't want the clone to be the defining factor of my wine. I want terroir to be expressed." To further illustrate this, Debeaulieu points out that he will be planting four acres composed of 13 different Chardonnay clones in the fall of 2019 on Abbott Claim's most recently acquired vineyard.
Just as he considers Pinot Noir, Chardonnay, or any other varietal the 'vector' that allows terroir to express itself in the wine, Debeaulieu feels the same about his role as winemaker. "I want to be a transparent vector for terroir expression," he said. "Doing things that are there to support the natural process of vinification, and just making sure that I don't do things that are steering the wine too much in one way or another."
This includes careful observation and tracking, but also the employment of native fermentations, reasonable sulfur additions, and the use of approximately 35% new oak, "just enough to help the wine mature and find its place, but not to imprint oak flavors."
Similarly, Antony Beck leaves little trace of himself in his projects, yet each reflect a quiet consideration for the land, those who work it, and his heritage. Abbott Claim allows Beck the opportunity to build upon his commitment to the Oregon community, honor its history, and leave something of value for future generations.