Bulk Wine Prices Ease on the Central Coast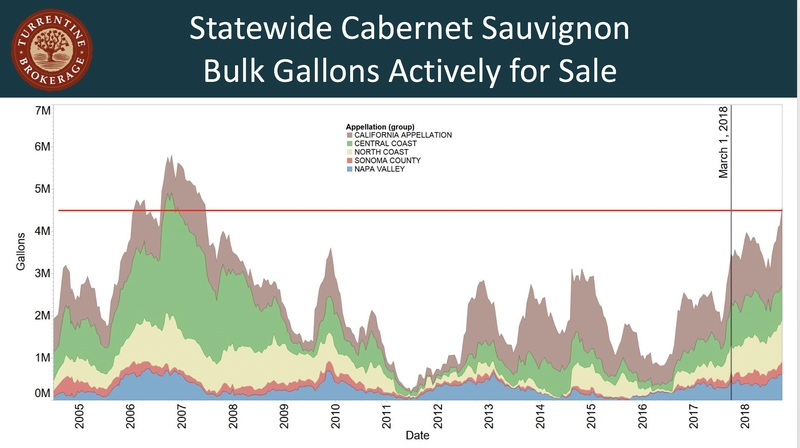 About 20 million gallons of bulk wine are for sale statewide, a result of a record 2018 harvest and slowing wine case sales, according to Turrentine Brokerage.

There are more than 4 million gallons of Cabernet Sauvignon for sale on the bulk market statewide. "it is available from everywhere. We've seen pricing come down as much as 50 percent or greater," William Goebel, broker at Turrentine Brokerage, said Tuesday at Central Coast Insights in Paso Robles. Goebel and Audra Cooper, broker/partner at Turrentine Brokerage, were among the speakers who gave an overview of the bulk and grape market.

Cooper expects this year's statewide crop to total a record 4.4 million tons. "It looks like it is going to be a historical crop," Cooper said.

The preliminary California Grape Crush report was not released in February due to the partial government shutdown. Instead the final report is scheduled to be posted April 10.

Still, tonnage from the 2018 harvest is projected to be up in all main growing regions, including the North Coast and the Central Coast, according to Turrentine. Tonnage crushed for Chardonnay, Cabernet Sauvignon, Pinot Noir, Merlot and Zinfandel increased in 2016 and 2017.

"And I don't think there will be any exceptions this year," Cooper said.

Goebel said there are new buyers and options for buyers. "This is also the new dating time when you can start looking at new relationships," Goebel said.

There are just under 3 million gallons of Chardonnay on the bulk market statewide, Goebel said. Demand is "moderate to slow," he said.

The Chardonnay bulk wine supply from the Central Coast is greater than anywhere else, according to Turrentine.

Chardonnay's grape market in the Central Coast continue to grow in size in the summer and early fall. "Unfortunately prices did plummet as we got closer to harvest," Cooper said.

Goebel said there are just under 2 million gallons of Pinot Noir on the bulk market statewide.

Most of the Central Coast Pinot Noir fruit comes from Monterey County, according to Turrentine.

Monterey County has been the "sweet spot for both quality and price," Copper said. Producers who want to start a new label look at Monterey Count as a place to go to, she said. Supply has started to stack up. "So now is the opportunity to start those new labels If you can if those opportunities still exist."

Who owns those gallons on the bulk wine market statewide? "A lot of the big wineries are now sellers of bulk wine which is limiting their volume movement in this market," Goebel said.

Cooper said "Another huge dynamic change has been the acquisitions that have occurred over the last 10 years has really started to limit the buyer pool for both bulk wine and grapes." That trend is likely to continue she said.

Large Cabernet Sauvignon crops are anticipated in the future in Paso Robles, barring heat waves or serious frost conditions.

After all, bearing acreage for Cabernet Sauvignon has increased from 9,800 acres in 2011 to 14,000 acres in 2017, Cooper said. There may be as many as 17,000 bearing acres in Paso Robles in 2020-2021, she predicted.

Craig Ledbetter, vice president and partner at Vino Farms, said there were 35 consecutive days of 100 to 105 degrees Fahrenheit –if not hotter - in Paso Robles. Farmers who fall behind in their irrigation schedule in Paso Robles run the risk of losing their crops – and their vines. Water was available in the ground. So, he irrigated to keep the vines healthy. Considering the heat, Ledbetter was "extremely surprised" by the production, he said during a panel discussion at Central Coast Insights.

But at the same time, there are a lot of new bearing acres. "New acres always produce more," Ledbetter said.
Old acreage not producing enough fruit to make the farmer financially sustainable ought to be removed, he said.

"You always hear 'don't plant without a contract,'" Ledbetter also said." But left and right, we're guilty. We do it anyway."

"Now we're going to ride the boat on getting it back into a decent supply."

Michael Haddox, senior winery relations manager and winemaker, Central Coast, at Agajanian Vineyards and Wine Co., listened to the discussion.

He, too, agrees older vineyards need to be removed. "I'm seeing it out there," he said.

There is an oversupply of fruit on the Central Coast – and one can argue in California, Haddox said. There is an oversupply and a lack of buyers in the Central Coast, he said. "That has led to extremely low prices," he said. "There is no silver bullet."

"We're just in a state of flux right now. We're going to come back out," he said.