Proposed New Rules for Napa Ag Watershed Reminiscent of Measure C Debate
Planning Commission may vote on ordinance March 6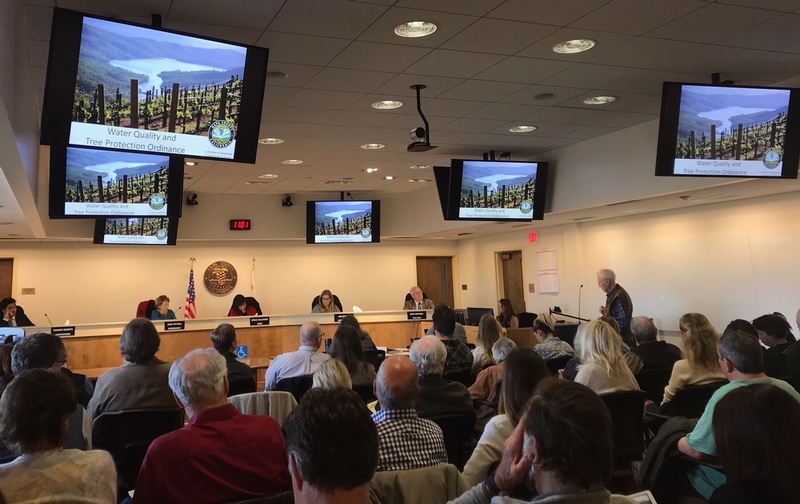 Photo: Napa County Planning Commission meeting drew a crowd Wednesday for a public hearing on a new ordinance to protect the watersheds in unincorporated areas. Photo by Kerana Todorov/Wine Business Monthly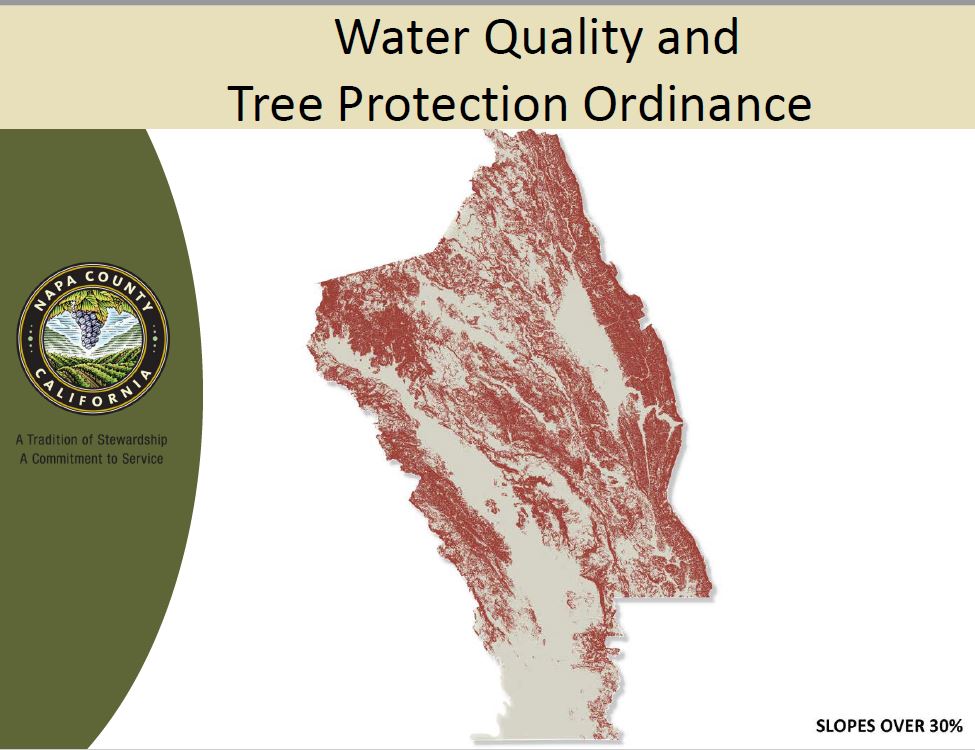 Map showing Napa County's lands with slopes greater than 30 percent. Map courtesy of Napa County.


Should Napa County enact new development rules to protect watersheds and water sources in unincorporated areas? Are existing regulations strong enough?

These were among the questions discussed Wednesday before the Napa County Planning Commission as it considered a proposed Water Quality and Tree Protection Ordinance. The proposed ordinance was drafted as part of the implementation of the Napa County Strategic Plan which the Board of Supervisors approved in December.

The proposed Water Quality and Tree Protection Ordinance was debated less than a year after Napa County voters defeated Measure C, 50.9 percent to 49.1 percent. Measure C would have curtailed vineyard development in hillsides.

The new ordinance, speakers said Wednesday, would also limit growth in unincorporated Napa County.

"In my opinion, if his proposed ordinance is approved, it will not only nearly stop the planting of new vineyards, it will derail the economic engine of the Napa Valley," said Tom C. Davies, of St. Helena, president of V. Sattui Winery.
Yet others said the proposal is necessary, given climate change and its effects on Napa County.
"The Napa River is like the canary in the coal mine. We are seeing the degradation of the river and that's the first indication," said Laurie Claudon Clark, of Clark-Claudon Vineyards. I don't think we need to wait until we have a catastrophe here with not enough water or contaminated water before we do something."
The proposed new ordinance includes provisions prohibiting new planting and structures on slopes greater than 30 percent. Currently, development on 30 to 50 percent slope is prohibited unless the project is exempt or the applicant receives a use permit.

It would boost tree canopy retention for new developments from 60 percent to 70 percent; it would also extend the 40-percent shrub canopy retention rule from lands in municipal watershed to all unincorporated lands.

In addition, the proposed ordinance would also increase tree mitigation ratio from 2 trees for every tree removed to three trees for every tree removed.

The proposed ordinance also includes a 200-foot setback requirement around reservoirs and a 50-foot setback around wetlands. Current restrictions include 25-foot minimum setbacks in industrial areas. The Calistoga City Council on Tuesday asked that these setbacks be 500 feet.

The proposed ordinance would not affect developments of less than 5 acres on land with slopes less than 15 percent.

Community activists asked for even stricter regulation to protect water sources in Napa County, citing climate change and what was said to be a lack of enforcement of current regulations.

Mike Hackett, a co-sponsor of Measure C, was among those who argued for stricter requirements on new development than the provisions included in the proposed ordinance.

"This ordinance as presented to you is not strong enough," Hackett said.
The Center for Biological Diversity has submitted studies on the issue.
Hackett said studies speak to one point. The county needs to keep 90 percent of its forested canopy, he said. "We have a finite water supply," he said.

"We are here to limit the amount of deforestation in Napa County," Hackett told the Planning Commission.
"Yes Measure C lost," Hackett said. "But it has obviously pushed this agenda forward. And that's why we're meeting here today."
Tony McClimans, of Napa, urged the Planning Commission to give this project enough time. But he does want the Planning commission to do something to solve longstanding problems.
I've watched decades of citizen action prodding the County to protect the County's forests and watershed from deforestation. And yes, if you live here and drink water, it's your watershed.
But opponents of stricter regulations urged the Planning Commission to study the fiscal impacts of the proposed ordinance.
PPI Engineering, a firm that prepares erosion control plans, presented the hypothetical development of two parcels under the proposed new rules.
The areas that could be developed on these two parcels would under the proposed constraints would shrink by 53 to 70 percent, according to the firm's presentation.
Speakers raised the specter of unintended consequences, including spurring non-ag developments in unincorporated Napa County once the land is devalued.
Others questioned the effects on land devaluation on property taxes which fund school districts.
"Are we going to have a devaluation of land values?" asked Peter Nissen, of Calistoga, a member of the Napa County Farm Bureau.
Ryan Klobas, chief executive officer of the Napa County Farm Bureau, said the ordinance will make farming economically unviable for future generations.
"This is not a routine ordinance that is designed to address a specific identified problem," Klobas said. "This is sweeping landmark legislation which, if it becomes more restrictive, will kill agriculture in Napa County for future generations. Period. There is no way around it."
Chuck Wagner, of Caymus Vineyards, said the ordinance is "being pushed by a few deep pockets."
He asked the commissioners if they are aware of the "downstream effects" of the proposed ordinance and how it would affect 1,900 land owners of 10- to 40-acre size parcels in Napa County. "Have you studied this?"
"Its implications are grandiose and at a minimum I feel it is your fiduciary duty to allow the land owners the time needed to assess the downstream effects," Wagner said.
Agustin Huneeus of Huneeus Vintners, said farmers in Napa are great stewards of the land. "People here care about the environment," he said.
His parents set aside 100 acres for trees and oaks when they purchased Quintessa more than three decades ago – before regulations were in place.
The family considered building a winery on a property in Coombsville, Huneeus said. But the areas is water deficient. Instead, the family bought St. Clement winery near St. Helena and recycle that winery instead of building a new one in Napa, he said.
He questioned "arbitrary rules" that are going to have big impacts. "We are all environmentalists. We all want to see the water clean," Huneeus said.
Alan Viader, winemaker at Viader Vineyards on Howell Mountain, questioned why the ordinance was being pushed so fast without an understanding of its effects on land values.
"I want to be able to pass on this business to my kids," Viader said.
Viader and others suggested to set a workshop to discuss the issues. "Everybody here has high hopes for Napa County," Viader said. "We're at a crossroads for agriculture here," he said.
Stu Smith, general partner at Smith-Madrone Vineyards and Winery near St. Helena, strongly opposed Measure C. Smith does not support the new proposed ordinance either, saying Napa County has demonstrated a "callous" disregard for the wine industry.
The current regulations work and there is no fact-based evidence to support the changes, Smith said. "The changes are politically motivated, pure and simple," Smith said. "What happens when you have stopped growth with these rules and it does not placate the vocal small minority out here?"

"Napa growers and vintners are more than willing to discuss and resolve real problems. But we will not allow our rights to be trampled on just to advance the County's policy of appeasement," Smith said.

About 80 percent of wineries in Napa produce less than 5,000 cases a year; 80 percent of the wineries are not profitable, Smith said. "It is my opinion that the Napa wine industry cannot survive without a supportive County government."

Proponents of the ordinance showed videos of water running through a Del Dotto Vineyard during the recent rains. Napa County has issued the company a code violation letter. Stricter rules are needed to stem code violators, they argued.

Gordon Evans, of Napa, and others bemoaned the lack of enforcement of the rules already in place.

"You cannot regulate human nature, particularly ego, greed and stupidity. But you can enforce existing laws that have been enacted over time to contribute to the greater good," Evans said. Effective enforcement is the best deterrent to avoid the micromanagement and litigation that pervades the environmental debate that rages today."

The Planning Commission took no action Wednesday. A vote has been postponed until March 6. The notice for the public hearing for the proposed ordinance that was printed in a local newspaper was too small under state law and had to be re-printed, according to the county.

The amount of total agricultural land has increased by 8.7 percent since 2005, according to Napa County statistics. At the same time, urban acreage has gone up by 4.6 percent. While the amount of producing vineyards has increased by 4 percent since 2005, the amount of forested land has decreased by 1.2 percent and the amount of shrub/grasslands has shrunk by 4.1 percent, according to the data.